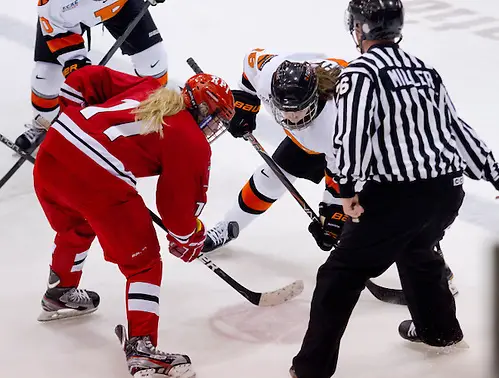 Rensselaer is another team that returned to the playoffs last year after an absence.
"We think we should be there every year and fighting for home ice," coach John Burke said. "Last year, we had five seniors but three dressed, two didn't play much due to injury. The playoff experience is definitely going to help our kids. We had 12 one-goal losses last year. Those kids have now been in those situations. Hopefully, they'll learn from it, but also, our kids came back and had a great summer, and they've had a really good fall in the weight room."
The Engineers have some pieces in place around which to build.
"We will definitely be led by [senior forward] Jordan Smelker this year," Burke said. "She went to the Olympic training camp this summer, had a great camp, unfortunately, didn't make it, but the experience she garnered at the international level is going to help her out mentally. Looking forward to her having a big year."
While Smelker is a strong two-way player, the Engineers have a star in the making in Alexa Gruschow, the team's leading scorer as a rookie.
"She just has off-the-charts speed, breakaway speed," Burke said. "Not just from a quick start, but also acceleration."
RPI also bolsters its depth with the incoming class.
"I think both Laura Horwood and Katie Rooney will add to our offense," Burke said. "We have a Finnish defenseman, Heidi Huhtamaki, that I think will surprise a few people with her play. We have a pretty solid class all around that's coming in to help our program."
The Engineers struggled in net two seasons ago when they came up short of a playoff spot. Burke credits junior Kelly O'Brien with solidifying the position as a sophomore. O'Brien lowered her average goals allowed and markedly improved her save percentage.
With the gains made at a number of positions, Burke expects Rensselaer to stick to its roots in terms of style.
"We're a team that loves to compete and loves to skate and get up and down the ice," he said. "That's been a staple of our program. Maybe with our inexperience last year, we weren't consistent with our effort for a full 60 minutes."