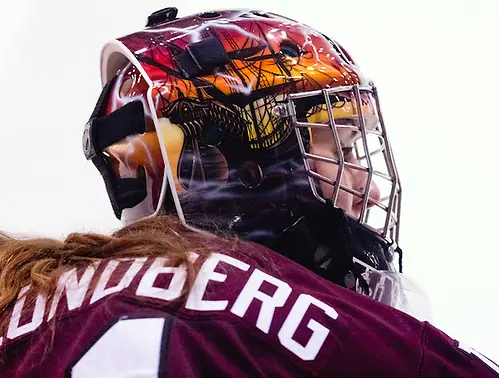 Over the years, those guarding the crease for Union have faced a lot of rubber, so while goal is a key position on any team, it is even more crucial for the Dutchwomen. Traditionally, it has also been a position of strength.
"We have two returning goaltenders," coach Claudia Asano Barcomb said. "[Junior] Shenae Lundberg played the majority of the games. I have great expectations for her. I think she's going to be in a really good spot. Maddy Dahl is coming off an injury. She had another injury, but will be back in the lineup in mid-October. We have an incoming freshman, Emma Pincott, who I think will add a lot to the goaltending position."
Union appears to have options in goal, and under Barcomb in recent years, the Dutchwomen have done a better job of making the shot differential more manageable with their team defense. She looks to seniors Maddy Norton and Ashley Johnston to provide leadership for the other defensemen.
The big problem is that in too many seasons, Union's shooting percentage is in the range of .050 to .060, and too few goals result. Last season, it scored only 15 goals in ECAC action, an average of 0.68 per game.
"I think we added some kids that can put the puck in the net," Barcomb said. "I think our veterans need to stop thinking about it and just do it. I think a lot of drills that we've created to be more offensive that we've built over the last couple of years, but this year an emphasis that we're doing a great deal of is to have our 'D' jump up in the play a lot more. I think that will add more offense to our team."
In the three games Union has already played in the young season, it has scored multiple goals in each after not doing so over a three-game stretch at any point last season. However, the Dutchwomen did have better results out of conference last season as well, posting a 7-5 record before going winless in the ECAC.
"I think some of it is the timing of games and we need to be far better prepared in the second half," Barcomb said. "The second piece is just being able to attack the league play. That's critical, and I think we were up and down in a lot of different games. I think we're best when we don't think we have a chance. When we're in it, sometimes in the clutch part of the game in the third period, we seem to not pull through. So we spent a lot of time in the off season thinking about that and talking about it and preparing, so I hope that we are ready for that."