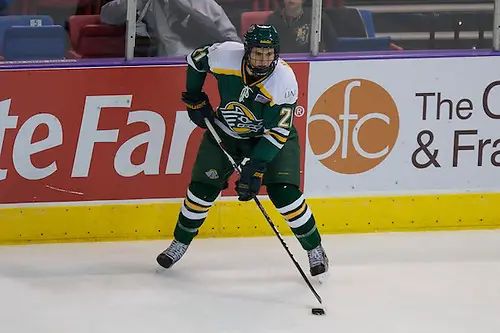 Matt Thomas' first order of business as the new coach at Alaska-Anchorage is to change the culture there.
After two consecutive last-place finishes in the WCHA and just 13 wins overall in those two years, there's work to do.
"Going through a season as tough as the Seawolves had last year [four wins, two in WCHA play], it would be easy to sit there and really question what kind of talent and what kind of character was in the room," Thomas said. "But it was kind of a tale of two seasons.
"In the first half, they were competitive; there were some games they deserved to win. The second half, I think any of us in the game understands how hard losing is. Mentally, it's more of a battle than anything physically."
Anchorage won just one game after Dec. 1 last season, and coach Dave Shyiak was fired in late March. Thomas, a successful minor-pro coach over the last nine years, was hired after a rather tumultuous search process, one that was suspended and restarted and led to the firing of athletic director Steve Cobb.
"For the players, I think there's a breath of fresh air for them," Thomas said of the season starting. "I think there's a renewed enthusiasm. For me and the new staff, we really looked to change the mind-set immediately, and I think we've done a good job of that early."
The Seawolves return some quality forwards from last season, starting with the top four scorers from last season. The group includes Blake Tatchell (25 points), Jordan Kwas (20 points), Scott Allen (12 goals, 19 points) and Matt Bailey (19 points). Brett Cameron, who is a captain along with Bailey, should add to the depth up front after missing most of last season with an injury.
"Blake Tatchell is a special player," Thomas said. "He's not only a player who has vision and skill, but he's got a real leadership quality about him. He's a focused individual who had a good year last year in a tough season."
Defensively, the Seawolves have two senior goaltenders in Rob Gunderson and Chris Kamal who have split time for three seasons, a situation Thomas calls "one of the most interesting … in the conference."
"We're looking to really change the culture of the program and the face of the program in terms of winning, but I think it's nice to have two seniors," Thomas said. "A dark horse there is Michael Matyas, a sophomore who didn't get any minutes last year."
Returning defensemen include Blake Leask, Quinn Sproule, Derek Docken and Austin Coldwell.
"We're concentrating on knowing how we need to play in order to win," Thomas said. "It truly is a clean slate here."
About the Seawolves
2012-13 overall record: 4-25-7
2012-13 WCHA record: 2-20-6 (12th)
2013-14 predicted finish: Ninth
Key losses: F Daniel Naslund, F Alex Gellert
Players to watch: F Blake Tatchell, F Jordan Kwas, F Scott Allen, F Matt Bailey
Impact rookies: D Chase Van Allen, F Tanner Dusyk
Why the Seawolves will finish higher than predicted: Their veteran lineup, including senior goalies Chris Kamal and Rob Gunderson, leads the way.
Why the Seawolves will finish lower than predicted: One season isn't long enough to clean up after a tumultuous offseason.