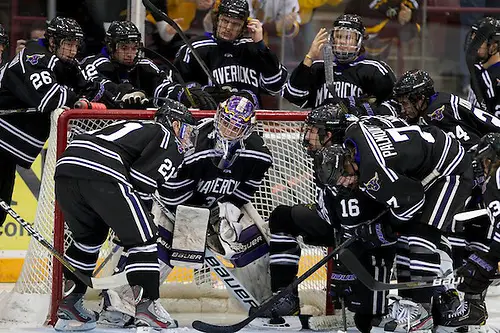 The big-name schools may have bolted for new conferences, but the teams that now make up the WCHA have pushed aside any hard feelings built up over the last 2½ years and finally embraced their identity.
Defined by who it is and not by who it is not, the WCHA may have a new look, but it's anything but new.
Some programs have storied pasts, others have veteran coaches and almost all, the coaches agree, are located in places where the sport remains important.
"Hockey is in the fabric of the universities as well as the communities," Ferris State coach Bob Daniels said. "It brings the campus and the community together. It's a league where hockey is valued in the community as well as on campus."
Minnesota State, Bemidji State, Michigan Tech and Alaska-Anchorage are the WCHA holdovers. They've been joined by Ferris State, Northern Michigan, Lake Superior State, Bowling Green and Alaska from the CCHA and former independent Alabama-Huntsville.
Bemidji State coach Tom Serratore ran down the WCHA's new resume during a league conference call, citing the small-college national titles won by his team, Minnesota State and Huntsville in their previous incarnations; the eight Division I championships won by Michigan Tech, Lake Superior State, Northern Michigan and Bowling Green; Ferris State's appearance in the Frozen Four and national-title game in 2012; as well as NCAA tournament appearances by MSU, NMU and Alaska in the last four years.
"It's a league with great programs, the coaching staffs are unbelievable and the programs are part of the culture and fabric of their communities," Serratore said, echoing Daniels. "It's a heck of a league. "It's going to be very competitive."
Minnesota State, an NCAA tournament team last spring, was the overwhelming choice to win the league by coaches and media, but second-year coach Mike Hastings isn't expecting any walkovers, especially when his team hits the road for some unfamiliar territory for the first time.
"I had an opportunity to go into [the CCHA] buildings [as a Nebraska-Omaha assistant]," he said. "They're going to have an education when we go into Ferris State, Lake State, Northern Michigan, Bowling Green — places a lot of them haven't been before. … They're going to be difficult places to play."
With the absence of some of college hockey's power schools (nine former WCHA and CCHA members are in the preseason USCHO.com Division I Men's Poll), several teams believe they have a shot at the MacNaughton Cup.
"It's exceptionally close," Northern Michigan coach Walt Kyle said. "That's the beauty of the league. There are so many like programs competing against each other, and that's going to be healthy for this league. … Any team can win a championship, and that was not necessarily the case in the past."
Even the rookie coaches agree.
"The parity in this league is really strong," Alaska-Anchorage's Matt Thomas said. "There's an opportunity for whoever comes out of our tournament. They're going to be tough to handle in the NCAA tournament."
Smooth transition
After nearly 2½ years of work and worries, WCHA officials and teams are glad they're finally ready to drop the puck on a new era.
"It's been a long haul to get here," commissioner Bruce McLeod said. "But now that it's here I feel like a young kid with a new toy."
During their preseason conference call with the media, several coaches, especially those from the former CCHA, had high praise for how the league put itself back together again after the big conference shakeup.
Daniels called the transition "seamless," for Ferris State, while Lake Superior State coach Jim Roque said his program "never felt like a stepchild," but rather "a good partner" throughout the process.
Rivalries renewed
College hockey conference realignment resulted in a college hockey reunion for the NCAA's programs in Michigan's Upper Peninsula and the 49th state.
Besides the three seasons Michigan Tech was a part of the CCHA in the early 1980s, the Huskies, Wildcats and Lakers have never been in the same league.
The Wildcats and Huskies, who have always maintained a rivalry, were league foes from 1981 to 1984 in the CCHA and during the 'Cats 13 seasons in the WCHA from 1984 to 1997.
Meanwhile, the Lakers are playing their first WCHA season ever after 46 years in the CCHA.
"It's awesome that us, Tech and Northern are finally in the same league and going to compete with each other," Roque said. "It's only a natural thing."
The last time Alaska and Alaska-Anchorage were league rivals was in the Great West Hockey Conference from 1985 to 1988 when the Nanooks were still called Alaska-Fairbanks.
Both were independents from 1979 to 1985 and 1988 to 1993.
"It's as good as it is in college hockey," Alaska coach Dallas Ferguson said about the rivalry between the Nanooks and Seawolves. "It goes beyond just the hockey team. It's the entire university. It's both communities."
This season also brings together Bemidji State and Alabama-Huntsville, who played together in now-defunct College Hockey America from 1999 to 2010.
The Beavers and Minnesota State are also the lone Minnesota schools remaining in the league after all five of the state's schools played in the WCHA the last three seasons.
WCHA TV is born
While the new NCHC and Big Ten chased down traditional media deals with established television networks, the WCHA pursued a different course online, partnering with America One Sports to create WCHA TV.
The service allows fans to watch all 140 league games live online at WCHA.com through their Mac or PC by paying for a daily ($8), monthly ($45) or season pass ($150). The prices do not include mobile access for Android and iOS tablets and smartphones; that's an extra $1 per day.
In comparison, the NHL Gamecenter Live online streaming package is $125 for a season and includes mobile access.
America One Sports director of programming Bruce LeVine said 90 percent of the broadcasts will be in high definition.
LeVine said WCHA TV is the first time America One Sports has rolled out a league-wide platform that spans so many time zones, from UAH and BGSU in the east to the Nanooks and Seawolves in Alaska.
"We're excited to be a part of it and the ability on a Friday night to hook it up to your big screen in HD and watch five games simultaneously or one after the other," LeVine said. "I think this is going to be a great benefit not only for the fans but for the branding of the new launch of the WCHA."
Final Five moves to Grand Rapids
After 13 consecutive seasons at the Xcel Energy Center in St. Paul, Minn., and 15 years in Minnesota's Twin Cities, the WCHA Final Five relocates to Grand Rapids, Mich., for 2014 and 2016, while the Xcel hosts again in 2015 and 2017.
The 10,834-seat Van Andel Arena in Grand Rapids is home of the reigning AHL champion Grand Rapids Griffins, an affiliate of the Detroit Red Wings. It has also hosted NCAA regional tournaments, most recently last season.
McLeod said every time he visits Grand Rapids, he likes it more and more. He boasted it even has more restaurants in the arena district than St. Paul.
"I keep telling those people, this part of Michigan and Western Michigan is kind of like a secret a little bit. It's really a nice, nice place," McLeod said.
Ferris State's campus is within 50 miles of Grand Rapids — BGSU is the next closest member at approximately 200 miles — and Daniels said the league is going to enjoy the new venue.
"For those who have never been there, it is unbelievable," Daniels said. "It is an extremely welcoming community, a very safe community. It's one of those big, small towns. I was down last year watching the Calder Cup Finals and stayed downtown. I had a great experience."
Predicted order of finish
Click on a team's name to see its full preview.
The Mavericks have never had this kind of preseason hype before. Read more
Goalie CJ Motte looks to backstop the Bulldogs to their second conference title in three years. Read more
WCHA coaches are expecting the Huskies to make a huge jump in the third year of the Mel Pearson era. Read more
The Falcons need more than just Ryan Carpenter to score if they want something other than postseason success. Read more
The only team besides MSU that had a winning record last season. Read more
The Wildcats' underachieving defensemen no longer have Jared Coreau in goal to bail them out. Read more
The Beavers have one of the nation's toughest early season schedules. Read more
Early signings are preventing the Lakers from moving up. Read more
New coach Matt Thomas is trying to change the Seawolves' culture. Read more
Finally, there's some stability with the Chargers' program. Read more