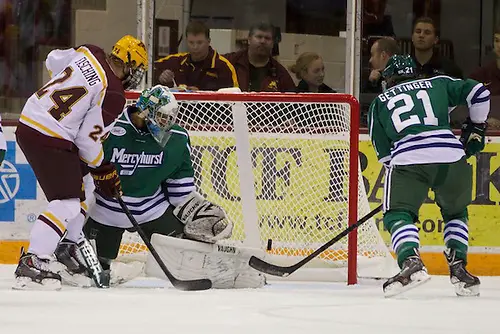 The Big Ten kicked off its first regular season weekend of existence last weekend with five of its six teams in action. All in all, it was a pretty successful one for every team, with the exception of Ohio State, which was swept by now-No. 1 Miami.
Conference teams went 7-2, and some young players made their first appearances in the spotlight with game-winning goals. Minnesota, Wisconsin and Michigan all got game-winners from freshmen last weekend.
Let's take a little bit of time to go through how each team did last weekend.
Minnesota defeats Mercyhurst, New Hampshire in Ice Breaker
The Gophers got tested for the first time this season in their second game. They passed thanks to some solid goaltending late.
Minnesota blanked Mercyhurst 6-0 in the first game of the Ice Breaker Tournament. Kyle Rau, Seth Ambroz, Sam Warning, Justin Kloos, Mike Reilly and Michael Brodzinski picked up goals for the Gophers on Friday.
That set up a championship game matchup against No. 13 New Hampshire in the championship game on Saturday at Mariucci Arena. Minnesota won 3-2, with all the goals coming in the second period.
The Gophers fell behind twice on Saturday. Warning and Hudson Fasching scored game-tying goals before rookie Vinni Lettieri scored the game winner. Adam Wilcox was solid in net all night and made two huge saves with seconds remaining to preserve the win.
"That was way too close," Gophers defenseman Justin Holl said after Saturday's game. "That was an unbelievable save; he was laughing when he came back to the bench with seven seconds left. It's all you can really do there. [Wilcox] has a flair for the dramatic. He's an awesome goaltender. We're happy to have him."
With the well-documented departures from last year's team, last weekend was a huge coming-out party for the Gophers' freshmen. Kloos, Brodzinski, Fasching and Lettieri wasted little time picking up their first career goals. Fasching had a great game on Saturday, and could have easily picked up another goal or two.
Wisconsin sweeps Northern Michigan
The Badgers got their first season-opening sweep since 2004. To put that in perspective, Wisconsin freshman Grant Besse was in fourth grade in 2004.
Wisconsin showed that it can blow teams out and also win the close ones. The Badgers defeated Northern Michigan 5-2 on Friday and 2-1 on Saturday.
Joseph LaBate, Jake McCabe, Michael Mersch, Tyler Barnes and Besse scored goals for the Badgers on Friday.
Besse, a freshman who should make a huge impact on this year's experience-loaded Wisconsin squad, broke a 1-1 tie on Saturday with a little more than four minutes remaining in the game. Nic Kerdiles also scored on Saturday.
"I just took the shot, tried to shoot for a rebound because I saw the middle drive going to the net," Besse said of his late goal on Saturday. "It kind of popped right out to me, hit off my shin pad, came right back down to my stick, the goalie was out of the net and I was able to slide it home."
For the Badgers to be successful, they need scoring from both their numerous experienced players and a select few youngsters. They got production from both parties last weekend.
Michigan takes down Boston College, RIT
Last weekend, Michigan proved that it could beat a good team, score a lot of goals and give up a lot of goals but have a goaltender stop a lot of shots in the process. It's kind of confusing.
The Wolverines started their weekend off in grand fashion by defeating Boston College 3-1 at home. Luke Moffatt scored twice on Thursday and Andrew Copp scored the game-winner.
On Saturday both Michigan and Rochester Institute of Technology didn't play much defense but the Wolverines won 7-4. Michigan scored seven goals on only 27 shots; RIT got 46 shots on frame.
Freshman Evan Allen had the game-winning goal on Saturday. Despite the four goals on Saturday, Steve Racine had a solid weekend. The sophomore had 42 saves against RIT and 20 against BC.
"I thought he kept us in the game in that second period," Michigan coach Red Berenson told reporters after the game. "Even though they scored four goals, he made some point-blank saves on guys that were wide open, that should never be wide open. I thought he looked good. He was our best player tonight."
Ohio State gets swept by Miami
I'll be the first to admit that I have followed the college hockey teams west of Lake Michigan a lot closer than those to the east of it in the past.
The series between Ohio State and Miami is usually close, but I picked a Miami sweep anyway. Much to the chagrin of Buckeyes fans, I was right. Ohio State fell 6-2 on Friday at home, before traveling to Miami on Saturday and falling 6-3.
Darik Angeli and Chad Niddery scored early in the third period Friday to pull the Buckeyes into a 2-2 tie before Miami scored four unanswered goals to end the game. Alex Szczechura scored twice and Tyler Lundey added a goal on Saturday for OSU.
Things didn't get better for the Buckeyes this week. They took a 3-0 lead over Bowling Green midway through Tuesday night's game but lost 4-3.
Penn State opens Pegula in grand fashion
Penn State couldn't have asked for a more perfect way to open its new building.
The Nittany Lions defeated Army 4-1 on Friday in the first game at Pegula Ice Arena. Nate Jensen scored the first goal in the new building, and Curtis Loik, David Goodwin and Eric Scheid also scored goals for Penn State.
Attendance for the first game in the new building was 6,370.
Schmidt makes NHL debut
One move that left Minnesota a little thin at its blue line was the departure of Nate Schmidt. On Saturday, Schmidt made his NHL debut with the Washington Capitals in a 5-1 loss to the Colorado Avalanche.
"It was tough," Schmidt told the media following the game. "We had a lot of good chances. It's frustrating for our guys because they're in there in the spots whenever we need to be, and it's just not going in for us right now."
Schmidt chose to forgo his senior season. The St. Cloud, Minn., native was fifth on the Gophers roster in scoring and had nine goals and 23 assists. He was also important on the Gophers' power play last season. In his 96-game career with Minnesota, Schmidt had 74 points.
Michigan, Minnesota capture Week 1 honors
The Big Ten will honor three athletes with weekly awards this season in the traditional hockey three-star format. This week, two players from Minnesota and one from Michigan were honored.
First star — Michigan sophomore forward Andrew Copp: Copp had two goals and three assists last weekend, which led the conference. He scored the game-winner against Boston College on Thursday.
Second star — Minnesota junior forward Sam Warning: Warning tallied a goal in both of Minnesota's games last weekend and added two assists in Friday's win over Mercyhurst. The Chesterfield, Mo., native was named MVP of the Ice Breaker Tournament.
Third star — Minnesota junior forward Kyle Rau: Rau had one goal and two assists for Minnesota during Friday's 6-0 defeat of Mercyhurst and added an assist in Saturday's victory over New Hampshire.
Big Ten in the polls
All three Big Ten teams that were in the preseason USCHO.com Division I Men's Poll moved up this week.
Wisconsin moved from No. 3 to No. 2; Minnesota went from No. 5 to No. 3; and Michigan jumped from No. 11 to No. 5. Ohio State and Michigan State received votes in the poll.