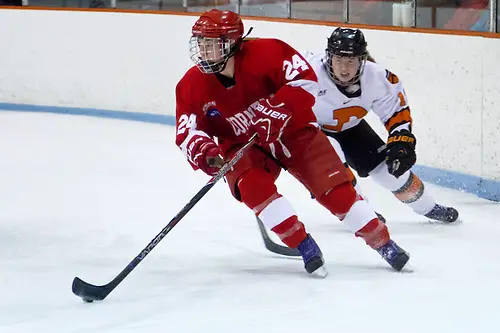 Candace: After a couple weeks of business as usual, we saw our first major upsets over the last couple of days, as Boston College fell to New Hampshire, 3-1, and Mercyhurst beat and tied Clarkson at Clarkson. Then on Saturday, Ohio State knocked off North Dakota. I'm not sure what the biggest of those upsets is, but I'd guess either BC-UNH or Ohio State over North Dakota. The bigger question is what those games might mean in the big picture. BC, perhaps having had its confidence shaken, squeaked by Yale, 4-3, on Saturday before rebounding and crushing Dartmouth on Sunday, 7-2. I think in the bigger picture though, the Clarkson one might point to more interesting things, as it showed that scoring could continue to be a problem for a team that last year finished 11 in scoring offense, the lowest total of any NCAA tournament team. What are your thoughts on the upsets?
Arlan: Without crunching the numbers at length, my gross generalization would be that scoring tends to be down in Olympic years. For example, in non-Olympic years, there has been at least one player that averaged more than two points per game in the NCAA era, and there have been seasons where six or seven have been over that mark. Only one player has done so in an Olympic year; Carly Haggard of Dartmouth averaged 2.22 points per game for the 2001-02 season. Last season, three players exceeded the two points per game threshold: Amanda Kessel, 2.73; Brianne Jenner, 2.19; and Jocelyne Lamoureux, 2.08. All of those players are gone this year, and currently, nobody is averaging over two points in the early going. That could change, but scoring averages usually tend to decrease rather than increase over the course of the season as defenses focus on the top scorers.
Obviously, the two underclassmen on that list from last year, Kessel of Minnesota and Jenner from Cornell, play for teams that have yet to lose. Of the upsets you noted, only BC without Alex Carpenter would qualify as having an obvious Olympic-year impact. But in general, I think we'll see more upsets this year. Then there are results like Robert Morris splitting with Boston University that doesn't even make your list of top upsets because the Terriers are not the same team without Marie-Philip Poulin.
The other factor is that many of the top teams are relying on a number of young players this season. Several of the top WCHA teams, like Minnesota, Minnesota-Duluth, North Dakota and Wisconsin have a lot of impact in their freshmen classes. BC has a talented freshman class on the heels of a great group of Eagles rookies a year ago. Young talent is generally a little less consistent than veteran talent. A freshman star can play over her head one week and contribute to a huge win, and come back to earth the next week as her team loses a game we expected it to win.
I think youth plays a big part in the losses for both BC and UND, but it may be a matter of matchups as well. North Dakota lost to Ohio State at some point in each of the previous two seasons. Boston College lost to UNH last year and has either a loss or a tie versus the Wildcats every year. Because of that history, I almost see those results as being business as usual.
I agree with you that the result having the greatest significance was the Clarkson loss to Mercyhurst, along with a tie. These were both tournament teams last year, but the Lakers hadn't been playing at that level so far. Three points versus the Golden Knights thrusts the Lakers back into the national picture. I don't know that the games against Mercyhurst tell us as much about Clarkson. Even after scoring just once on the weekend, the Golden Knights are still averaging four goals per game, tied for third nationally with BC and North Dakota, so I'm not ready to conclude that offense is a big problem in Potsdam, N.Y. A top-five offense coupled with a top-five defense puts Clarkson in select company with teams like Cornell and Minnesota.
In addition to Cornell, you mentioned Yale and Dartmouth debuting. Any thoughts on those Ivy League teams now that they have joined the fray?
Candace: Cornell looked awfully good on the weekend in sweeping Northeastern. I suspect the Big Red will be fighting Clarkson, and potentially Harvard, all season for the ECAC crown. That is all the more impressive when you consider some of the players Cornell lost to both graduation and the Olympics. Jillian Saulnier is back; she was second on the team in scoring last year, but in the first two games, some other players, notably Hayleigh Cudmore, Taylor Woods, Jessica Campbell and Emily Fulton, players overshadowed a bit last year by Jenner, Saulnier, and Lauriane Rougeau, have shown they can score the big goals. It's a little hard to read too much into Cornell, because Northeastern is a very inconsistent team, but Doug Derraugh has to be happy with the early effort.
I'm hesitant to see anything in the results of Dartmouth and Yale after one game. The question regarding the Bulldogs is whether that was a one-time effort, or something they can bring to bear more consistently. They led BC after two, gave up two quick goals, tied it up, but lost it on a short-handed goal with less than five minutes left. Part of that could be a belief thing, as Yale doesn't have that tradition of winning. If they can take that game as evidence of good things and keep working hard, perhaps Yale can play itself into the postseason.
Dartmouth was also leading BC, up 2-1 early in the second, before giving up five goals in the last 12 minutes of the period. I expect the Big Green to get better, but they may not be an upper-echelon ECAC team this season.
Speaking of ECAC teams, what are your thoughts on Quinnipiac? The Bobcats are 5-0-1 so far, but I don't feel they have played anybody that is a playoff-caliber team yet, so it feels hard to get a read on them.
Arlan: The schedule is a legitimate knock on Quinnipiac, but teams that started the season ranked above the Bobcats have had their struggles against non-playoff opponents, so I give them credit for remaining unbeaten. I did have the chance to watch Quinnipiac in person for my first time ever, and even though it was opening weekend, it gives another view of a team that can't be seen on a webcast. The Bobcats have a legitimate first line. Outside of the scoreless tie with St. Cloud State to kick off the campaign, the trio of Kelly Babstock between Nicole Connery and freshman Emma Woods has put something on the board every game. That is vital, particularly in the continued absence of Nicole Kosta. While waiting for her to return from injury, it would help their cause to get secondary scoring from players like Syracuse transfer Shiann Darkangelo, Amanda Colin, and defenseman Cydney Roesler. Defensively, a young blue line and junior goaltender Chelsea Laden have been strong so far. Laden is in her first year as the starter after the graduation of Victoria Vigilanti, so that had to be a bit of a question mark heading into the season. No matter the level of competition, I'm guessing coach Rick Seeley is happy to see her limiting opponents to one goal per weekend. It will be interesting to see how she manages over the next couple of weeks when the difficulty ramps up against offenses like Harvard, Dartmouth, and Cornell.
At this point, Quinnipiac looks to be a favorite to get a home-ice berth into the ECAC playoffs. Clarkson and Cornell should be near the top in some order, and Harvard remains a mystery due to the high amount of roster turnover and the lack of an official game to date. It's hard to put much stock in exhibitions, but a 5-2 win over McGill is more promising than most such contests. If anyone else in the ECAC has designs on a top-four finish in the league, they've kept it hidden to date. Rensselaer had shown some early promise, but a home loss to Vermont leaves the Engineers just 1-3-1 on the season, including a home loss to a Northeastern team that Cornell throttled twice. There will probably be a big group of teams like Union and Colgate, coming off of splits with Penn State and RIT respectively, that will take turns knocking each other off and not making a serious run at the top squads.
Do the Dutchwomen seem improved to you, or do we have to wait to see what happens when they get their crack at Dartmouth, Harvard, and Cornell in November?
Candace: I think we need to wait and see. Tentatively, I will say yes, but only on the basis of their results against Northeastern and Boston University two weeks ago, games that Union lost, but barely. A split with Penn State, no offense to the Nittany Lions, is not enough for me to say that Union is on track for the postseason. I feel the same about Colgate, although I'm annoyed that the Colgate OT win against RIT dropped me another game back in our picks race!
In terms of top-to-bottom competitiveness, I'd still rate the WCHA the best, followed by Hockey East, then the ECAC and CHA.
Speaking of Hockey East, what is your take on how things look there? I think we both agree that BC is the favorite, and should nip any inconsistency enough that the Eagles win the conference. After that, I see a lot of, dare I say it, parity. New Hampshire has a couple of good wins, and a couple of iffy results. Providence is sitting right at .500, finding a way to split each of its first three series. Boston University and Northeastern both look down a step or two from their heights of the last few seasons.
Arlan: The Colgate win over RIT was a very fortuitous development for me, but if it takes a five-on-three power-play goal in OT for me to gain ground on you, I'm not complaining.
Hockey East still looks like BC in a walk, not that the Eagles play over the last week was all that inspiring. I just don't see a team that has a run in it; every team has problems that look bigger than those facing BC. Connecticut — new coach and a long way to go; the season will be half over before the staff and players start to get comfortable with each other, plus a talent gap exists to BC. Maine — the team was a distant seventh last year, and now the Maria Lewis suspension adds more uncertainty. Vermont couldn't beat Penn State on home ice in two tries at home. Roxanne Douville was replaced after a period at RPI on Saturday despite not allowing any goals in that game, so maybe she's not healthy. I don't know enough about rookie goalie Madison Litchfield to say whether Vermont has a chance to contend if Douville isn't on top of her game, but I'm guessing not. Northeastern has been able to ease into its schedule the last couple of years, but Cornell made sure that wouldn't be the case this time. When I've seen the Huskies in the past, Kendall Coyne has been critical in establishing a presence in the offensive zone, and they'll miss her against better teams. Providence can look good when winning one-goal games over Mercyhurst and Syracuse, but the Friars will pair that with a clunker against the same teams, so I think they are bound for their usual middle-of-the-pack finish. If UNH could ever get strong goaltending over a long period, then maybe the Wildcats would be a serious threat, but that position has been a bit iffy in Durham ever since I can remember. BU is the wildcard; the Terriers look nothing like a championship club right now, but they were dreadful for stretches two years ago and still emerged as tournament champs. However, Brian Durocher can't even put the name "Poulin" on the line chart now just to strike terror in opposing coaches. So yes, BC remains my choice for the foreseeable future, no matter how much the Eagles may scuffle.
Can you sell me on the fine points of some other HEA crew, or is it time to move on?
Candace: No, I think we can move on. The one interesting idea I have is that you could end up with 3-4 teams all having similar records around .500 that are fighting for home ice in the HE playoffs. It could be an interesting year that way for sure.
You mentioned Boston University being a wildcard, but so is the team they split with over the weekend, Robert Morris. I can't get a handle on the Colonials. They seem up and down, but so do Mercyhurst and Syracuse. I'm wondering how the CHA regular season race might shake out. Offhand, I'd say that perhaps Mercyhurst has turned a corner after the three-point weekend at Clarkson. The Lakers have more talent and depth. Christine Bestland and Shelby Bram are both gifted offensively, and Amanda Makela is showing signs of being a strong netminder. What intrigues me about Robert Morris though, is that they have gotten things done without some of their usual top performers leading the way. Freshman Brittany Howard leads the team in scoring with seven points, and another freshman, Maeve Garvey, is tied for second with Rebecca Vint and Kylie St. Louis with four points. Then in net, freshman Jessica Dodds is undefeated and sports a .970 save percentage.
What are your thoughts on the CHA contenders right now?
Arlan: RMU's fate will be largely determined by goaltending and defense. That's always been a bellwether of the program, dating back to the Nate Handrahan days when Brianne McLaughlin was the face of the team. I got the sense that Kristen DiCiocco wasn't as consistent last year as a senior as she was in Paul Colontino's first season. Maybe the addition of Delayne Brian from Niagara as a transfer left them unsure of their roles for a time. In any case, those two have graduated, so it is left for Dodds and junior Courtney Vinet to compete for the minutes in net, and right now, Dodds is definitely putting her stamp on the position. The expanded CHA is quickly establishing itself as a goalie conference, so I think a team is going to have to be solid in the crease in order to claim the top spot. Colontino has shown that he can make a couple of goals on offense be sufficient when his goaltending is on point, so Dodds gives me reason to believe that the Colonials can be in the race to the end. RMU will need to get additional contributions from seniors Thea Imbrogno and Kristen Richards to come out on top.
Despite that optimism, Mercyhurst remains the favorite. The Lakers have more options up front, and a talented, although young, defensive corps. Where they have to improve is reducing their penalties. They are in a familiar spot near the top of the country in penalty minutes per game, currently fourth with 13.4 minutes on average. It is a much harder game when the other team has more skaters. Mercyhurst has a big edge over most of the conference playing five-on-five, so penalty trouble is the path that will most quickly undermine its chances.
Syracuse is only 2-4 to date, but the Orange don't have any of what I'd consider bad losses. Their schedule has consisted of solid opponents with five road games, and only the loss at Clarkson was by more than one goal. The offense has to get more consistent; Syracuse scored four goals in each of its wins, but only a total of four goals in the losses. If progress is made on that front, then the Orange could be in the mix as well.
RIT promises to be a scrappy bunch in spite of its youth. Unlike last year's veteran club, where people understood the systems, the players will need some time to adjust, but the Tigers don't seem to have any quit in them.
I expect a battle between Lindenwood and Penn State to stay out of the cellar, and early results suggest that I called that one wrong in my CHA preview. I've seen rumors that Alison Wickenheiser may be out for the year, and I don't know that the Lions can replace her offense. However, Vince O'Mara and his team last season were able to apply lessons learned in nonconference games against the WCHA and improve during the league schedule, so that could happen again.
The Nittany Lions don't have a big freshman class, with only four additions, but they've all shown up on the score sheet in the early going. I watched two of the forwards, Laura Bowman and Amy Petersen, combine to make plays to win the Minnesota High School Tournament three years in a row, and they were both involved in the winning goal down the stretch versus Union. Add some players that are accustomed to winning with the excitement that comes with a new arena, and some surprises could result.
The WCHA is the only league to have played a decent number of conference games thus far. Has anything surprised you there?
Candace: Oh, I can think of a couple of things. First, Wisconsin moved up to No. 2 in the poll this week after sweeping St. Cloud; I didn't vote them that way, but I can see why voters did.
I thought Minnesota-Duluth might put up more of a fight against Minnesota this past weekend than it did. It seems like the Gophers are still a potent team even with some of their losses.
I think the biggest surprise to date actually was Ohio State beating North Dakota in North Dakota while keeping North Dakota to a single goal. The Buckeyes have gotten blown out in most of their recent trips to Grand Forks, and you have to go back to November 7, 2010, when the Buckeyes nabbed a shootout win, for when they were successful in Grand Forks.
On the stat sheet, North Dakota fired 36 shots on Lisa Steffes; I'd be curious to know how many of those were high-quality chances. Regardless, the Buckeyes have to be pleased with their start; of course, last year, they had a good first half and then faded down the stretch, only to rally and sweep Minnesota-Duluth on the road in the first round of the WCHA playoffs before falling to Minnesota, so the track record could be there. I'm sure however, that coach Nate Handrahan doesn't want to go into a second-half swoon.
What do you see in the WCHA so far? Any surprises from your point of view?
Arlan: Wisconsin is likely the biggest surprise to date. I didn't expect the Badgers to be as good as they are this quickly, but I think a lot of that has to do with their freshmen added to that Mark Johnson team defense. For being October, Wisconsin is really playing well as a complete defensive unit, so it will likely be very stingy by the end of the year. The Badgers upcoming schedule is interesting. They are in the midst of a string of three straight home series, with Ohio State being the most challenging, followed by a bye. Coming out of the bye, they are off to Vail, Colo., to play Northeastern and BU, and then make road trips to Grand Forks and Duluth. If Wisconsin comes out of that stretch in good shape, then the second half sets up well because it has North Dakota, Minnesota-Duluth and Minnesota at home.
North Dakota is another team with a key sequence coming up starting in the second half of November after a bye. North Dakota goes to Minneapolis, hosts Wisconsin and Team Russia, and then opens December at Clarkson. If the WCHA winds up being as rugged as it appears, then the games against the Golden Knights will be extra important. North Dakota has that offensive upside, but it isn't as far along defensively or on special teams as it will need to be for that stretch.
I watched the highlights of the Saturday game between OSU and North Dakota, and the Buckeyes were definitely in scramble mode at the end, but Steffes and her defense were able to keep all the pucks but one out of the net. A lot of those were second-chance opportunities, so I'd say there were some dangerous shots. OSU is off next weekend and then heads to Madison, which is where it started to go wrong for the Buckeyes in January. That series should set the tone for them for the rest of 2013. They have traditionally given away too many points to teams below them to make a big move up the standings, but the Buckeyes will definitely be someone teams won't want to face in the first round of the WCHA playoffs, no matter the venue.
Minnesota-Duluth is considerably better that it was 12 months ago. Shannon Miller thought the difference last weekend was Minnesota getting bounces, but in my opinion, there was still some separation. When you don't get within three goals of a team, it's hard to say how much more they had in reserve. The Bulldogs were able to pressure the Gophers in stretches, but not to the extent that Wisconsin did, and their defense isn't as tight. I'll have more on Minnesota-Duluth and freshman Lara Stalder in this week's column, but I do think their upcoming series at Minnesota State will be huge. With only a shootout loss through four WCHA games, it is mandatory that the Bulldogs bring a bunch of points home from what could be a contentious series in Mankato.
Regarding their potency, what the Gophers still have going for them is balance. They don't have one line that is going to worry anyone excessively, but it has been a different line every week that has been key. They'll have to stay healthy. They have had two skaters out and a third went down on Saturday, so they are getting very thin as far as forward depth goes. Next they get Bemidji State, Minnesota State, and St. Cloud — with five of those games on the road — before hosting North Dakota. You proved to be very accurate regarding Minnesota last year; when do you foresee its first loss this season?

Candace: Perhaps in the North Dakota series, but I'm not sure. I don't foresee it happening before then, because I think Brad Frost will have his troops ready and able to avoid any potential letdown. The goaltending and defense were supposed to be x-factors coming into this season, but so far, both have done well. Amanda Leveille sports a .952 save percentage, and that includes series against Wisconsin and Minnesota-Duluth.
You mention that the Gophers don't have one dominant line, but the depth really is incredible when you look at the roster. Hannah Brandt and Maryanne Menefee are both avoiding the dreaded sophomore slump, and playing very well. Rachel Bona leads the team in scoring, and Sarah Davis is putting up key points. Plus, Dani Cameranesi is looking like a very good player in her freshman year. I don't feel that Bemidji State, Minnesota State, or St. Cloud have the horses the stay with Minnesota.
If I had to bet, I would say the best first-half chances would be one of the North Dakota games, followed by the road series against Ohio State. If Minnesota remains unbeaten after the first-half closing series in Columbus, then I would guess either in Grand Forks at the end of January or in Madison in mid-Feburary.
I'm just glad I don't have to bet money (aside from our six-pack race), because Minnesota still looks like the team to beat.