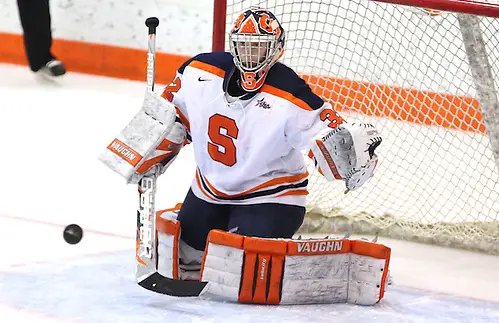 Candace: Well, another week of some puzzling results, and some expected ones. Let's start with the biggest result of the weekend from my perspective. Syracuse beat Boston College, 4-1, despite being outshot, 44-25. I have a couple of questions after that result. First, should BC be concerned about defense and goaltending, which were one of its weaknesses last year? Second, does this mean that we need to start looking at Syracuse as a legitimate threat in the CHA and a possible NCAA team, or is it too early for that consideration?
Arlan: We've definitely seen this same pattern from BC in the recent past, where the Eagles will outshoot an opponent by a wide margin and still lose. I think it was worse a couple of seasons back, when teams would be in the teens in shots and still manage about five goals on BC. A 4-1 loss can invite criticism in a number of areas. Offensively, how many good teams can you beat by scoring one goal? I didn't see any of the BC game at Syracuse, so I can't comment on any of those plays, but there were definitely cases in the loss to New Hampshire where the defense wasn't doing its goaltender any favors. Those plays happen, particularly early in the season, and I'm sure that Katie King Crowley expected there would be some growing pains as the team adjusts to life without Blake Bolden and Dru Burns. Sometimes it happens with strong offensive clubs that are accustomed to possessing the puck most of the time that they don't get as much practice defending in game situations, so they aren't as accomplished at it. Boyles can play well, and we've seen evidence of that in the past. Can she channel Molly Schaus and slam the door and keep the scoreboard stuck on 0-0 until her offense gets going if she must? I'd say that she can, but with a lower frequency than one would see from someone like Schaus. Maybe we just chalk the Syracuse loss up to it being the Eagles' first road game of the year and move on.
Is Syracuse legit as far as the CHA race? Sure. The Orange were last year, except for that tricky problem of being unable to beat Mercyhurst, and Robert Morris can only provide so much help; eventually, a team has to help itself. The challenge will be finding a way to beat the Lakers more often than not, and that is a huge mountain against a team that one has never defeated. At the same time, they need to hold off Robert Morris and not give away games to the other teams in the league. On the positive side, Syracuse seems to be more set in goal with Kallie Billadeau than its nearest challengers. Amanda Makela has definitely been stronger for Mercyhurst the last couple of weeks, so maybe the Lakers are getting their defensive zone figured out. Robert Morris started Jessica Dodds in both games on the weekend for the first time, and her numbers weren't as solid as they had been, but she did get the all-important wins over Vermont. So I'd put Syracuse in the race, but at this point, they are still at best the second choice behind Mercyhurst.
As for NCAA consideration, that may be premature. The Orange have four losses already, and while the two to Clarkson may not be that damaging, they've also split with New Hampshire and Providence. That middle layer appears to be broad this year, but to squeeze into the top eight without an automatic bid, a team like Syracuse will need to distance itself from the middle of the pack teams, not fit right in with them. Are you more optimistic about the Orange being in the conversation come March?
Candace: I'm going to say no until I see Syracuse beat Mercyhurst. Until the Orange finally pull that off, which they have never done in their history, I think Syracuse will have to be deemed that team no one really wants to play in the CHA tournament, but which will be unable to ultimately pull it off. However, if, in two weeks, Syracuse manages a split in its first series with Mercyhurst, I may revisit that opinion.
Speaking of conference races, a few weeks ago, we were talking about Clarkson being the possible favorite in the ECAC. I don't know if Cornell read those columns or not, or used the coaches' poll as motivation, but judging by Cornell's decisive 6-3 win over Clarkson on Friday, the Big Red have something to say about it, and aren't going to go quietly. Are you ready to revisit your preseason prediction of Clarkson taking the ECAC crown?
Arlan: My preseason predictions may be even less accurate than my weekly picks, if that is possible. I doubt that many of the players spend too much time worrying about what people like us or the league coaches are forecasting. They are elite athletes because they have that desire to compete, and that already fuels them more than any keystrokes we could dream up.
The ECAC went down to the wire last year, and I expect that it will again this season. Cornell definitely got the jump on Clarkson out of the blocks and looks like the favorite, but that could change drastically once the Golden Knights get the Big Red in Cheel Arena. Clarkson has too many impact players, particularly in its senior class, to just go away quietly. I wasn't expecting that it would face a three-game winless streak by this point, but it's a long season and everyone will encounter adversity.
While I'm not ready to give the Golden Knights the last rites, I appear to have underestimated Cornell. The Big Red will be the subject of this week's column, and senior Jessica Campbell and junior Emily Fulton will shed some light on their team. Those two have joined with Jillian Saulnier to shred opposing defenses thus far, and any team with a top line like that will be a force in a conference race and beyond.
Harvard has also started quickly, so it may be a three-team race once more. We'll have to see how the Crimson progress without Katey Stone at the helm as the campaign unfolds. It still looks like those three with Quinnipiac as the best of the rest, but until teams go out and win big games on the road, it is tough to declare who will emerge.
What has surprised you more so far: the goal-scoring prowess from Cornell, or Harvard yielding 44 shots to Princeton in a shutout win?
Candace: I'll go with the latter. Cornell hasn't exactly been an offensive dud in recent years, and even with some of the players the Big Red lost to graduation, they still returned plenty of offensive talent. At a certain point, I think teams with a history just build on it. I talked with Air Force coach Frank Serratore a few years ago, and he said something interesting in the context of men's teams like Boston College and Minnesota and Wisconsin. He said that those teams weren't rebuilding teams, they were reloading teams. Every year, when they lose players, they just reload, because they have that tradition and the best players want to go there, whereas some of the teams from smaller leagues like Atlantic Hockey are more cyclical. I think the same holds true in the women's game right now, perhaps even more so, and maybe we are seeing that in a Cornell team that just has that tradition and a coach who knows how to get the best players to come there, in spite of the academic demands of that school. Right now at Cornell, I think you are seeing a situation where perhaps talented players who were overshadowed by big guns like Brianne Jenner and Lauriane Rougeau and Laura Fortino are getting more ice time and getting a bigger chance to shine.
Speaking of reload teams, Minnesota had another one of its close games at Bemidji State this past weekend, but still won. What is it about Sanford Center that seems to make the Gophers nervous? Bemidji last year was one of three teams that threatened Minnesota's perfection, despite having a so-so year, as the Beavers took Minnesota to overtime before the Gophers pulled through.
Arlan: More than the Sanford Center, I'd say it is the Beavers that Minnesota find to be problematic. True, the two most recent wins for BSU over the Gophers came in that building, but the teams had that overtime game in Ridder last year. Also, just weeks before Minnesota won the 2012 title, Bemidji State came from two goals down in one game in Minneapolis to earn a tie a day after the Gophers were the team fighting back from a two-goal deficit.
Bemidji has a nice mix of attention to defense with skating ability. Coach Steve Sertich said that he thinks his club matches up well with the Gophers in terms of team speed, and I concur. Where the Beavers may fall short at times is generating offense out of that speed, but in that 4-3 game, they got some pucks to go. The problem that most teams not named Wisconsin have had is stopping Minnesota's offense at crunch time. After BSU scored to make it 3-3 early in the third period, the majority of the game was played in the Gophers' offensive zone until they had the lead back. In many facets, the Gophers aren't the same team that they were last year, but one thing that they still retain is quality through three forward lines. At any point, any of those can become a scoring line and take over a game. Sertich agreed that made them tough to defend, because you can't focus on one line to shut down.
Against BSU, sophomore defenseman Milica McMillen was out with an injury, so only two members of last year's defense were in uniform. Minnesota survived that Friday night, but it was a lot more vulnerable on the back end Saturday. However, Brandt and Kelly Terry said that the forwards shared in those breakdowns.
I'd say that as the streak has lengthened, opponents of Minnesota have had even greater purpose and brought a top effort every game, but outside of the first two NCAA tournament games last year when faced with the prospect of having their season end early, the Gophers have seemed to take a positive from the streak rather than pressure to avoid losing. You sometimes mention teams having belief. For years, Wisconsin seemed to believe it would win every time it was in a tight game. Now, some of the Minnesota players have a similar belief when a game is on the line in the closing minutes, because lately, winning is all they know.
Speaking of the No. 2 Badgers, they are about to embark on a very crucial sequence of games in November. How many wins over those eight games do you think they need to consider it a success?
Candace: I'm thinking at least six. Wisconsin really can't afford to lose any, but I expect a split for sure in Grand Forks. That leaves either one of the Ohio State games or one of the Minnesota-Duluth games for them in reserve; personally, I think Northeastern and Boston University are too inconsistent this year to be able to beat Wisconsin, although you never know. Realistically though, Wisconsin can't afford to lose much, because with as competitive as the WCHA is, and with the way the PairWise works, it's going to be hard to get more than two teams in from any one conference, especially with Hockey East and the ECAC both looking like a team could step in at the last minute and take the playoff title and thus push a bubble team farther down. So far, Wisconsin has been able to win the games it needs to, and I think that will continue. Aside from the two games at Ridder, the Badgers have been scoring at a good clip. Brittany Ammerman's welcome return to the lineup has given the Badgers another potent offensive weapon; she's tied for third in scoring nationally. Alex Rigsby is her usual fortress in net. Wisconsin is currently tied with Harvard for first in team defense nationally, and has played far more games than the Crimson. The offense is a respectable eighth.
How do you see the Badgers? Do you expect them to come out of this brutal stretch unscathed?
Arlan: The most important games for Wisconsin will be the two in Vail. Northeastern and BU are its final games out of conference, the series last weekend versus Lindenwood being the only other games. The Badgers should be in good shape against those teams, because I don't think the Huskies or Terriers will be able to score more than a goal, maybe two. Wisconsin doesn't take penalties and has a great penalty kill, so opponents have to score five-on-five goals. The Badgers have the best team defense I've seen thus far, meaning it will be an uphill climb for anyone.
The schedule may pose the biggest threat. Fly to Vail and play at altitude. Return home, then head to North Dakota, and Madison to Grand Forks is another long trip. Follow that up with a trip to Duluth, which is at least a shorter bus ride. Around the end of the first semester, young players especially can hit a wall. Rookies are vital to Wisconsin's fortunes this year, so if they bonk, then a shaky weekend at Minnesota-Duluth could result. Other than that, I don't see them losing more than one game in November. North Dakota should get at least a tie from the Badgers, probably a win on home ice. North Dakota's offense is dangerous enough to score against a great defense.
No matter how that all plays out, I don't see Wisconsin missing out on the NCAA tournament altogether. If the Badgers slump a bit, they'll likely miss out on home ice, but that's it. With Mercyhurst losing two of three to WCHA teams, on top of Lindenwood's struggles against that league, I don't see the CHA getting two teams into the NCAA field without an autobid. Right now, the third best team in the WCHA looks to be ahead of the second team from Hockey East. So unless there is a major shift, this is setting up to be a year where the WCHA is back to three teams in the tournament. An early guess would be three WCHA, three ECAC, and one Hockey East, with either a CHA team or another Hockey East entry completing the field.
I think we both expect BC to rebound at some point, but through the first handful of games, BU is the top Hockey East team in RPI, and the Terriers are 10th. Their tie with Rensselaer is looking worse as the Engineers continue to spin. Nobody in the league looks that good in terms of being one of the top eight. New Hampshire has likely been the biggest surprise in a positive direction, and the Wildcats have a loss to St. Lawrence, a loss to RIT, and a tie with Maine. I have trouble coming up with a hypothetical NCAA scenario that doesn't include Wisconsin with what we've seen so far around the country.
Do you have your eye on a tournament dark horse that can throw a wrench in the works?
Candace: Well, there are a lot of unknowns, but say that Mercyhurst wins enough in the CHA that it gets an at-large, as it has done seemingly every year. Then say Boston College wins the league regular season crown for Hockey East, and its PairWise is hovering around five. Then say Boston University or Northeastern or New Hampshire wins the Hockey East tournament, gaining the at-large bid. Then all of a sudden, there are only five spots in the NCAA tournament available. I think we can safely say that things will go as planned in the WCHA, and either Minnesota, Wisconsin, or North Dakota wins that tournament. But what if, say, it's North Dakota that wins that tournament, and North Dakota is ninth in the PairWise? Or say those three are in the top eight, but someone outside the top eight wins ECAC? See, I still think that something could happen to throw off the entire playoff picture, depending on where a couple of teams are hovering in the PairWise when the conference tournaments start.
Speaking of New Hampshire, I am having a hard time getting a handle on the Wildcats right now too. They sit at 5-2-1, and they beat both Syracuse and Boston College. Alexis Crossley is so far not producing as she did as a freshman, but Nicole Gifford is off to a good start in her senior season, and Sara Carlson is playing well. In net, Vilma Vaattovaara has produced good stats. Is New Hampshire a program on the rebound, perhaps heading back to its glory days?
Arlan: I'm not sure how I address that without touching on the topic of UNH goaltending, and it might be simpler to discuss Einstein's Theory of Relativity, but here goes. Last season, Jenn Gilligan emerged from the goalie carousel as the starter. She has yet to appear this year, and Brian McCloskey has described her situation as "a conditioning thing." Vaattovaara looked strong in the win over BC, but followed that up with a win over Penn State where the Nittany Lions scored on five of 28 shots. I'll concede that PSU has more offensive pop than the average second-year program, and she is playing behind a retooled blue line where forwards are being converted as the team loses natural defensemen. Crossley didn't play in Pennsylvania; per a reliable source, she is dealing with multiple injuries and her return is unclear, so that likely explains any lack of production on her part. In any case, rookie Ashley Wilkes was between the pipes on Sunday and yielded a single goal on 18 shots. So who starts versus BU on Friday? Vaattovaara would be my guess, but if it is Wilkes, sophomore Marie-Eve Jean, or Gilligan by the time the Terriers return on Nov. 24, it wouldn't be a shock.
So, yes, I'd say the Wildcats are still rebounding. There appears to be a partial vacuum near the top of Hockey East, and they look to be as promising as anyone else for this season. More sources of offense seem to be present than a couple of years back. As for a return to glory days, probably not if we are talking about a four years between losses sort of glory. The Wildcats don't have a Marie-Philip Poulin, Alex Carpenter, or Kendall Coyne returning next year, so this appears to be a rare chance to make up some ground.
What do you think about another storied program in Providence so far? I had high hopes for the Friars, but to date, they've been one step forward and the next one back. They get the Eagles twice plus a game with UNH in the first week of November, so we should get some more information on whether Bob Deraney's squad is capable of contending.
Candace: There's a lot of potential upside over in Providence. Two key players, Molly Illikainen and Haley Frade, are actually off to slow starts offensively. Yet Providence has a lot of people putting up points. Corinne Buie is off to a great start in her senior year with eight points, and freshman Cassidy Carels seems to be a great addition to the lineup; she's tied with a few other players for second in team scoring with four points. If Illikainen and Frade start producing at the same clip they did last year (close to a point a game), Providence is going to be a team no one wants to get into a shootout with.
The downside for the Friars is defense. I'm reluctant to throw a goalie under the bus, because a lot of things can be the cause of stats, but Sarah Bryant, who has played the majority of games for the Friars so far, has only an .892 save percentage and a 2.83 goals-against average. That's just not going to get it done. Providence has to tighten up the ship defensively to have a shot at the playoffs. I'm sure coach Bob Deraney is wishing that he had Genevieve Lacasse back in net with the offense he currently has, but goaltenders like Lacasse only come along so often.
If the defense can tighten down and provide Bryant some support, Providence could be a dangerous team to face come playoff time. We'll know more about Providence after its next six games, as in addition to BC and UNH, the Friars travel to Clarkson for a pair. I think Providence should be shooting for 4-2 or better over this stretch if the Friars want to prove themselves a legitimate playoff team.