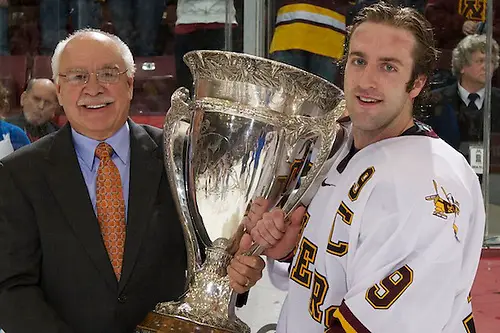 WCHA commissioner Bruce McLeod said two years ago, he received a note from then-CCHA commissioner Fred Pletsch.
The topic of discussion: the online streaming of college hockey games.
"He said, 'Bruce, I'm telling you, I think this streaming is the route to go. It's going to get better and better,'" McLeod said as he recounted the story from the Berry Events Center seats in Marquette last Friday. "He said, 'Kids on campuses, they look at things on their iPads and laptops. They don't look at television anymore.'
"Fred was really an early proponent of this whole thing, much more than I was. I didn't know anything about it. The more I get into it, the more I like it."
McLeod cited Pletsch as one of the early influences for the month-old WCHA streaming video package that was launched this season for the new-look, 10-team configuration of the 62-year-old league.
Available on >America One Sports, fans can purchase a season, 30-day or 24-hour pass that gives the viewer access to all 140 conference matchups, nonconference games in WCHA rinks, plus even select nonconference WCHA road games if the opponent also uses America One Sports to stream its games.
As a fan of college hockey, McLeod said he's really enjoyed the productions, though there are still some wrinkles to work out when it comes to using multiple cameras, broadcasting from every rink in HD and adding replay for every broadcast.
As the commissioner of the WCHA and as a businessman, McLeod said he's also been surprised by the revenue generated in the first month.
"Up to this point, personally, I've been thoroughly, thoroughly impressed," McLeod said before taking in the Northern Michigan vs. Michigan Tech games on Friday in Marquette and Saturday in Houghton. "I sat at home the [first] two weekends and have gone from game-to-game. I've watched it on my little handheld. It's pretty neat.
"Even the money we generated so far has been kind of overwhelming for me. I didn't imagine this was going to happen, to tell you the truth.
"The revenues are really good. I'm surprised at it, actually."
McLeod was unwilling to divulge the amount of revenue generated by WCHA TV or the number of WCHA TV subscribers.
What McLeod did say, however, was the league was seeing more fans purchasing the season pass as opposed to the 30-day and 24-hour passes, with all three including video on demand as well for the length of the pass.
McLeod said the league and America One Sports even received inquiries from establishments in Houghton and Bowling Green, Ohio, about airing games in HD on their big-screen televisions.
"I think it's only going to grow and get better for us," McLeod said. "I really believe the WCHA, we're barking up the right tree here."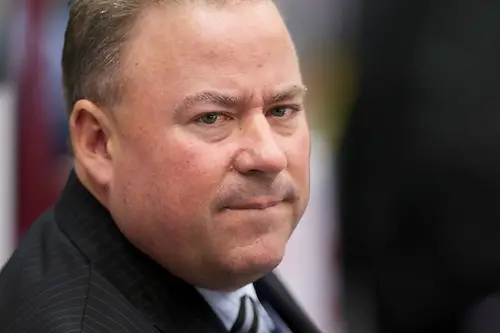 Minnesota State relies on youngsters
With notable veterans Matt Leitner, Johnny McInnis and Zach Palmquist, among others, back, you'd think Minnesota State would allow its rookies to ease into their first season of college hockey.
Not so.
The Mavericks have given their newcomers some big responsibilities early, most notably defensemen Casey Nelson and Carter Foguth, who have played significant minutes in the team's first four games.
Nelson, the younger brother of senior Josh Nelson, had a goal and an assist and was plus-4 in Minnesota State's 6-1 victory over Connecticut on Oct. 12. His big brother, a senior and alternate captain, sat out that game and could miss even more time this season with a lower-body injury.
Forwards Jordan Nelson (no relation) and Zach Stepan have played in every game so far and gotten special-teams responsibilities, while Michael Huntebrinker has played in two games. Defenseman Sean Flanagan has played in one game but was used as a forward.
Before the season began, coach Mike Hastings talked about the impact of last season's rookie class, which included not only standout goaltender Stephon Williams but double-digit point-scoring forwards Dylan Margonari, Teddy Blueger, Brett Knowles and Bryce Gervais and minutes-eating defenseman Jon Jutzi, among others.
"They came in and did not play like freshmen, did not act like freshmen," Hastings told The Free Press of Mankato, Minn. "They were part of the fiber of the success of the team. We need our freshman class to do the same this year: Make an impact on this program and this team."
Meanwhile, sophomore defenseman Mat Knoll, who missed all of last season after undergoing surgical procedures on his eyes, played his first two games against UConn, including one game as a forward.
Another newcomer, sophomore defenseman Blake Thompson, will be eligible to play for the Mavericks in the second half of the season. Thompson transferred to Minnesota State from Minnesota midway through last season.
Around the WCHA
• Alabama-Huntsville is the only WCHA team still seeking its first victory of the season. The Chargers rank last in the league in both scoring offense (1.00 goals per game) and scoring defense (4.75 goals allowed per game). However, freshman goaltender Carmine Guerriero leads the league in save percentage (.942) and GAA (1.91) in two starts.
• Alaska-Anchorage is 3-1, which is the same start it had two years ago when it finished the season 9-25-2 following its own Kendall Hockey Classic and Fairbanks' Brice Alaska Goal Rush. The Seawolves' first shot at improving on their solid start comes in this weekend's conference opener at Bowling Green. The two teams have played each other in just a single series, on Oct. 14-15, 1988.
• With a win and a tie against Mercyhurst last weekend, Alaska wrapped up its nonconference schedule with a 3-1-2 record. With a three-point weekend against the Lakers, Nanooks senior forward Cody Kunyk is two points shy of 100 for his career (43-55–98 in 117 games). He leads the WCHA in scoring with eight points (5-3–8).
• Bemidji State has been known as a team that likes to D it up and eke out a low-scoring victory. However, the Beavers' 1-0 victory at Alabama-Huntsville on Saturday was the team's first win by that score in nearly two years. Bemidji State was more comfortable in the series opener, which it won 6-1. The sweep was the Beavers' first in WCHA play since March 2-3, 2012, at Alaska-Anchorage.
• Bowling Green began three games in five days with a 5-3 loss at Ohio State on Tuesday. Sophomore Ben Murphy took over the goal-scoring lead in the WCHA in the loss, recording his fifth and sixth goals of the year. It was his second game in a row with two goals.
• Ferris State sophomore goaltender Charles Williams may have the better save percentage (.931-.900) and GAA (2.03-3.00) than junior goalie CJ Motte, but the veteran netminder has all the wins thus far. Motte is 3-0 while Williams is 0-2. The Bulldogs open WCHA play this weekend at Alabama-Huntsville.
• Lake Superior State is the last team is open WCHA play as it heads to Wisconsin this weekend before hosting Alaska on Nov. 8-9 at Taffy Abel Arena in Sault Ste. Marie, Mich. The Lakers are the last undefeated team in the WCHA, having swept Robert Morris at home and Union on the road.
• Houghton native Blake Hietala, a junior forward, is leading Michigan Tech in points with two goals and three assists. Both goals came in the first eight minutes of Saturday's 4-1 win over Northern Michigan. Going into this season, Hietala had three career goals and three career assists.
• Northern Michigan embarked on the first of three air trips Wednesday morning, taking off for Fairbanks, Alaska, to take on the Nanooks on Friday and Saturday. NMU will also fly to Anchorage in three months for a series Jan. 24-25 against the Seawolves and to Alabama-Huntsville on March 7-8 to wrap up regular season play.
The only other team to travel to Huntsville, Anchorage and Fairbanks is Minnesota State, but the Mavericks will play the Nanooks and Seawolves in back-to-back weekends over the semester break and remain in Alaska.
The Wildcats are scheduled to travel to Huntsville, Anchorage and Fairbanks again in 2014-15 as part of the league's five-year scheduling rotation.
• WCHA players of the week: Bemidji State sophomore forward Markus Gerbrandt (offensive); Michigan Tech sophomore goaltender Pheonix Copley (defensive); and Bemidji State freshman forward Brendan Harms (rookie).