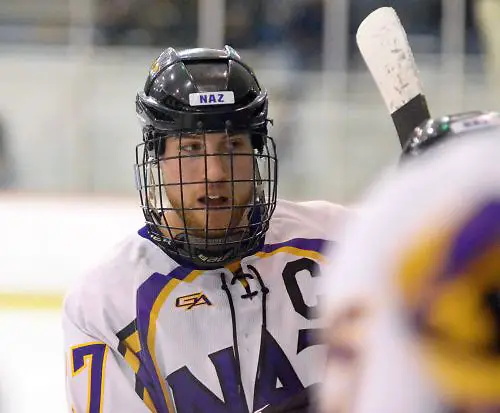 The roster says that defenseman Jordan Ciccarello is a senior, that forward Tom Seravalli is a junior and that winger Ben Blasko is a wet-behind-the-ears freshman.
Truth is, they, and the rest of their Nazareth mates, are sophomores.
Well, the second-year program itself is a sophomore.
A year ago, the Golden Flyers put both feet in the Division III waters, joined up with the ECAC West and brought in an accomplished coach in George Roll.
There were high points – such as winning their first-ever outing – and low points – like losing eight straight to finish their freshman year.
All told, Nazareth took its lumps, savored its lone conference win (against Manhattanville) and began salivating for Year Two.
So far, all that chops-licking has been warranted.
"This year over last year is like night and day," said Ciccarello, who transferred a year ago from D-I Sacred Heart. "Our team chemistry is unbelievable compared to last year."
Even though they still have that new program smell, the Flyers have established their own identity – and an entertaining one it is.
"We see Flyer hockey as being run and gun," Ciccarello said. "We play a gritty kind of game. We have skill players, but at the same time, we want to be hard to play against. That's Golden Flyer hockey."
They showed as much in last Friday's tilt against No. 9 Hobart.
Although it wound up as a 4-4 tie, Nazareth came just short of doubling its all-time conference win total while notching a program-first victory over a ranked opponent.
Both milestones will have to wait, at least a little while.
But perhaps, not for too long.
"We're past that stage of moral victories," said Roll, who helped shape Oswego into a D-III powerhouse before serving at D-I Clarkson for eight years. "We think we've made some big strides in our program in a year's time. We need to start winning those games, but we'll take what we can and move forward."
That encounter with the Statesmen was made up of equal parts tennis tilt and steel cage wrestling match.
The Flyers led 2-0 in the second period (with Ciccarello supplying the second goal), trailed 3-2 late in that stanza, then nursed a 4-3 edge into the final seconds of regulation, thanks in part to a pair of goals from Chris Murray [who really is a sophomore].
The Golden Flyers might have pulled off the upset win, too, but for Mac Olson's game-tying goal for Hobart with just 24 seconds left.
"Coming out with a tie is okay," said Ciccarello, a business administration major. "We gave it quite an effort. I know they outshot us by quite a bit (44-21), but in the long run, this should help us out when it comes to big games against highly-ranked teams."
Roll said the deadlock with Hobart served as something of a measuring stick and helped to confirm his gut feel for his club in season's early going.
"If anything," said Roll, "we're ahead of where I thought we'd be. I really started this season not knowing what to expect. The guys came back in unbelievable condition and with the new guys in our program, it's an unbelievable group of guys. They do things right, [both] in the classroom and the community. It's pretty well exceeded my expectations."