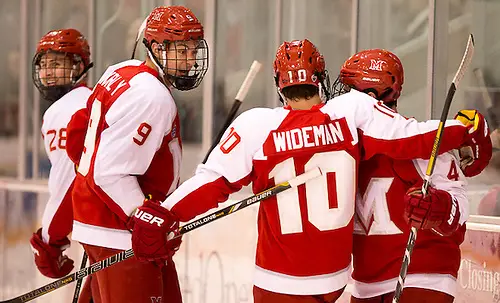 While a road split against the No. 3 team in the country would make most teams happy, for No. 8 Miami, it's all about the process rather than the results.
Miami (6-3-1) has a lot of positives that it can take from its most recent series, including a stronger defense (goalie Ryan McKay was named NCHC co-goaltender of the week for the NCHC for his play against St. Cloud State.)
"It was a big game for us," said Miami coach Enrico Blasi. "I thought we did a lot of good things defensively, blocking shots, and positioning and keeping them to the outside, and those are things you need to do against good teams.
"Unfortunately, we didn't make one play on Saturday, and they did and they were able to win the game. That's the way it goes. That's kind of been the trademark of our team, to play good team defense and do the little things that translate to good outcomes."
Miami has, to date, played one of the tougher schedules in the country (ranked eighth), so that focus on defense and the staying in the moment has helped it tremendously.
"Again, I think it is part of what we try to create in our locker room, and that's staying in the moment and not worrying about the past or the future and just focusing on the task at hand," said Blasi. "We have a pretty good, resilient group that has been through a lot as a young team, and we just go out and take the game as it is and play our game and make plays and see what happens."
One of the biggest bright spots for the RedHawks has been the play of their first line, headed up by Riley Barber and Austin Czarnik. The two have posted 15 points each, placing them third nationally in scoring. Barber was named NCHC offensive player of the month for October.
"Riley has played extremely well in the first month, and I think he and Czarnik have a pretty good chemistry together," said Blasi. "He logs a lot of minutes for our team, so he is a key component to our offense."
This weekend, the RedHawks have another stout test, as No. 12 Wisconsin comes to town for a pair of games. After that, the RedHawks travel to Omaha to face conference co-leader Nebraska-Omaha.
Blasi said that his players have enthusiastically embraced the challenge of the team's new conference.
"If you consider playing North Dakota and St. Cloud pretty good tests, we know what to expect from our conference," Blasi laughed. "I think everybody is excited about the games and the excitement around it. The buildings have been electric when the games have been played, so it's been a lot of fun."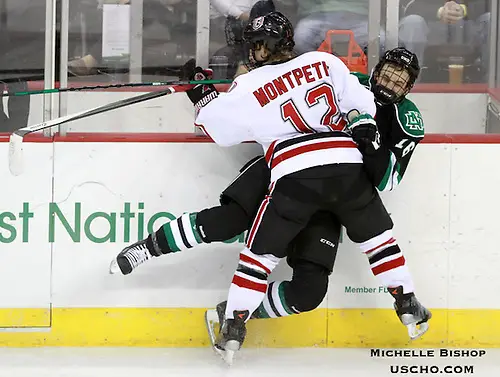 Sitting on top
It was just a couple of weeks ago that Nebraska-Omaha looked like it was in for a long and possibly dreadful season.
The Mavericks had lost three in a row, including getting swept at home by Cornell, and their penalty killing was horrible. In that Cornell series, the Mavericks gave up seven power-play goals in two games, including two five-on-three goals.
Things have changed, however, as the Mavericks sit in a tie for first place in the NCHC after a road sweep of Denver (two overtime wins) and a split at home with North Dakota. They have climbed back to .500 overall at 5-5.
Part of the reason for the Mavericks' recent success is a balanced offense, spearheaded by Josh Archibald and Ryan Walters, who each have 12 points. Right behind them are Dominic Zombo and Jake Guentzel with eight points each. Zombo was named the NCHC offensive player of the week most recently, one week after Archibald nabbed the honor.
"We broke up Dominic Zombo, Archibald and Walters, just because on the road, the other teams got to put their best defensive line out there, and top two defensemen, and then all your scoring is nullified," said Mavericks coach Dean Blais. "We put Walters with [Brock] Montpetit, two seniors, and we've been changing the right wingers, but certainly that gives us Zombo, Archibald and Guentzel together. Secondary scoring from a guy like James Polk or some of the other guys is just a bonus."
Even more than the offense has been the recent play of goaltenders Ryan Massa and Kirk Thompson and the team's defense. After giving up four or more goals four times in their first six games, the Mavericks have clamped down, and had given up two goals in three successive games before giving up three to North Dakota on Sunday.
Most important has been the improved penalty kill, which has given up only four power-play goals in its last 18 penalties in the last four games. That's still not world-beating stats, but it's moving in the right direction after a three-game stretch during their losing streak where the Mavericks gave up 11 goals on 25 power-play opportunities.
"We were trying to be aggressive when we played Cornell and Northern Michigan," said Blais. "Your best penalty killer is your goaltender, and quite frankly, they weren't playing very well, and we weren't doing a very good job of taking good penalties.
"We were taking the undisciplined penalties, we were taking penalties that put us down five-on-three, we were taking slashing, cross-checking, undisciplined penalties. It finally got to the point where we quit taking them, and since then, we've obviously done better because of it."
This weekend, the Mavericks will face another tough test when they host No. 2 Michigan. Overall, the Mavericks are 7-26-3 against the Wolverines. Friday's game will be on national TV (CBS Sports Network), Nebraska-Omaha's only such appearance this year during the regular season.
"It's big for us, for exposure, recruiting and our program," Blais said of being on national TV. "We feel that we have a pretty good hockey team, and usually are up there in the top 10 in shots taken. With our offense, we are playing exciting, fast hockey and defensively we are not as structured as some teams, as we are giving 25-30 shots a game and generating 35-40 ourselves. So we are a good up-and-down-the-ice hockey team, and it's exciting."
Shootout question
When the Denver Pioneers and Colorado College Tigers played to a tie on Friday night and ended the game with a shootout, it raised a question about how the game would count toward the awarding of the Gold Pan, which is the trophy given to the winner of the annual rivalry series between the schools.
The rivalry dates back to the 1949-50 season, making it the longest running rivalry in college hockey. Denver leads the all-time series 162-114-16.
However, the Gold Pan wasn't established until the 1993-94 season, and since then the two teams have virtually deadlocked on it, with Colorado College capturing 11 and Denver capturing nine. To capture the Gold Pan, the team that doesn't hold it must outright win it. If the four games during the season are split, the current holder of the Gold Pan retains it.
In 2012-13, Denver captured it back from Colorado College. After the first two games, one of which Denver won outright and one of which Denver won in a shootout, is the Gold Pan still in play? Both coaches seem to think so, though there hasn't yet been a formal decision.
"It's a good question," said Tigers coach Scott Owens. "Jim and I had a little discussion. … I don't think we got to the official what we are going to do. My understanding was that we were going to leave it just the way it has been over the years, you know what I am saying, a tie, out of tradition to how it was established originally. Points are 3-1 for them right now. That's my interpretation. I haven't talked to them since then."
Montgomery seemed to indicate he agreed with Owens' interpretation.
"I actually have to go back," said Montgomery. "Coach Owens and I talked about it on Thursday. We were talking about whether we would keep the tradition. I think we are leaning toward keeping the tradition, but we haven't confirmed it yet."
If the Gold Pan is still in play, the Tigers would need to win both games on Feb. 21-22, 2014, to bring the Gold Pan back to Colorado Springs.
NCHC players of the week
Offensive player of the week — Dominic Zombo, Nebraska-Omaha: Zombo scored three points in two games against No. 11 North Dakota on two assists and a goal. He scored the second goal in Saturday's series-opening win and assisted on the empty-net tally that sealed the 4-2 win. He then assisted on the goal that pulled Nebraska-Omaha to within a goal in Sunday's 3-2 loss. Zombo is third on the team in scoring with four goals and four assists. It was the second consecutive week that the Mavericks had the offensive player of the week, as Josh Archibald earned the nod for the week of Oct. 28-Nov. 3.
Defensive player of the week — Joey LaLeggia, Denver: LaLeggia continued to pace the Pioneers' offense last week, scoring the game-tying goal with 82 seconds left and then a goal in the shootout against archrival Colorado College on Friday. He posted a plus-1 on the weekend while logging heavy minutes on the penalty kill and helping the Pioneers kill nine of 10 penalties. LaLeggia leads the Pioneers in goals scored with six, and is second on the team in points with eight.
Rookie of the week — Sam Rothstein, Colorado College: Rothstein notched two assists for the Tigers in their series with Denver. He assisted on Alexander Krushelnyski's goal on Friday, the Tigers' only goal in a 1-1 tie that preceded a shootout loss, and again assisted on the Tigers' only goal in Saturday's game, which came on a power play late in the third period. Rothstein won nine faceoffs in the two games and finished plus-1 on the weekend.
Co-goaltender of the week — Sam Brittain, Denver: Denver goalie Sam Brittain earned his second goaltender of the week nod for posting a .970 save percentage and 0.96 GAA in two games against Colorado College, making 65 saves and giving up one power-play goal in 10 chances. In the shootout Friday, Brittain stopped both CC chances (from Charlie Taft and Krushelnyski) after making 26 saves through 65 minutes. On Saturday, he stopped 39 shots while giving up only a late third-period goal. Brittain is fifth nationally among goaltenders with a .945 save percentage and 1.63 GAA.
Co-goaltender of the week — Ryan McKay, Miami: McKay helped Miami earn a road split with No. 3 St. Cloud State while giving up only two goals on the weekend, stopping 64 of 66 shots. On Friday, he stopped 31 shots in earning a shutout, while he stopped 33 on Saturday. He posted a 1.01 GAA on the weekend and stopped all 10 St. Cloud power plays. McKay is 11th nationally among goaltenders, with a .942 save percentage and 1.81 GAA.