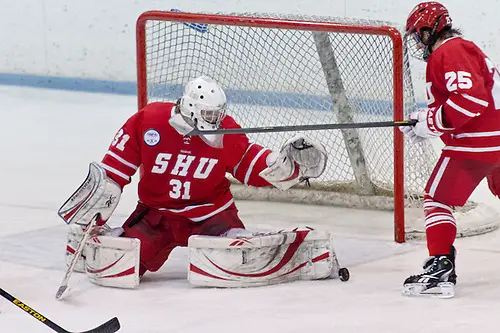 At this point last year, Sacred Heart felt like a Thanksgiving turkey. Opponents stuffed their net to the tune of 56 goals over nine games. Defenses basted and cooked their offense, and the Pioneers scored only 26 times.
And they'd been carved up, winless at 0-8-1 and well en route to being digested 28 times before they'd pick up their first victory.
What a difference a year makes.
The Pioneers are 4-8 as they get set to host Rochester Institute of Technology for a Thanksgiving weekend series, miles ahead of where they were a year ago. But they're settling in for a nice dinner with some solid company, 3-3 in league play, good enough for six points and a spot among five other teams all mashed together in third place.
"We've been much better [this year] at managing games," said coach C.J. Marottolo. "We're doing much better of playing without the puck and getting into the right spot, and our team defense has gotten much better. We still have to get more consistent offensively, but we've gotten timely goals out of our power play, and we've had key guys come up big in big spots.
"We've become harder to play against as a group. But while it's great to be where we are, we know we have to bring our 'A' game. We're happy but not satisfied."
That power-play unit accounts for nearly half of the team's goals, scoring 11 of the 26 goals they've counted to date. Defenseman Will Rayner helps lead that charge with four (accounting for all of his goals this year), and juniors Drew George and Brian Sheehan each have two.
The trio is part of a group of five players that accounts for 17 goals this year, with the other two being junior Ben Lake and freshman Evan Jasper. Justin Danforth leads the assist attack with 10.
The biggest key for the Pioneers is that team defense, which is seeing a dramatic reduction in goals allowed. Allowing over six goals per game through the Thanksgiving stretch a year ago, Sacred Heart finished the season ranked dead last in Division I with a 5.06 GAA, nearly a full goal behind Alabama-Huntsville's second-to-last pace.
To date, the SHU GAA stands at 3.83, still only 10th in the league and 54th overall but also 0.01 behind AHA ninth place RIT and within one-half goal per game of the top of the conference.
That's the equivalent of allowing one less goal every other game, and Sacred Heart is on pace to slash its goals allowed cumulative number by 60.
"We've shown we are able to win one-goal games," said Marottolo. "But now we need to grow as a team and get more consistency from our offense."
Standing behind that defensive unit is a goaltending tandem that quietly has becoming one of the more serviceable units in the AHA. While netminders like Matt Grogan, Jason Torf and Branden Komm steal the headlines, Alex Vazzano and Andrew Bodnarchuk are working hard in their own right to stabilize a position that was a cavern for two seasons in Fairfield County.
Vazzano defeated then-No. 1 Massachusetts-Lowell to open the season, then established himself within the league by stopping 37 shots to defeat Bentley at home.
But last weekend, Vazzano gave up three goals in the first period against Army, and Marottolo made the change to go back to last year's starter Bodnarchuk. Spurred on by rest and the chance to play, Bodnarchuk made 20 saves to help the Pioneers rally from 3-0 and 5-3 deficits to win 6-5.
He earned the start the next night, where he shut down the Black Knights for 31 more saves, winning 4-1. More importantly, it helped Sacred Heart take its first season series since going an identical 2-0-1 against Army two years ago.
"Andrew played great this past weekend and earned a start [on Saturday]," Marottolo said. "When you have two goalies who are pushing each other, it creates a competition. And both of those guys are working hard to earn playing time. That's something that's going to help our club for the long run."
Prior to the season, RIT at Sacred Heart on Thanksgiving weekend would result in a prediction of a Tigers sweep. But with RIT sitting in 12th place at 1-3 in league play, anything's now possible.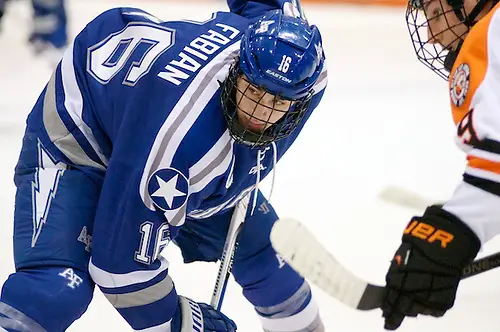 Westbound and down
As the AHA heads into interdivisional play this weekend, it'll be a good respite from the two divisions cannibalizing themselves.
Through the first slate of games, only Air Force and Mercyhurst are multiple games over .500 at 4-1 and 3-1, respectively. No team is more than two games under .500 (RIT is 1-3 and Army is 2-4).
The result is a logjam in the middle of the conference, where six teams are tied for third place, two points out of first. Since the introduction of pod-based scheduling, the west feasted on the east, creating a separation where no western team has ever finished worse than ninth.
Last year was the first time the east placed two teams in the top four of the league. Two years ago, the west occupied the entire top four, and three years ago, Holy Cross finished third with four eastern teams occupying the standard 10th through 12th spots.
While the east teams have gotten significantly better, they still haven't gotten over the western hump. The next month and a half of scheduling will go a long way to determining just how far they've come, with 72 games scheduled between the two divisions.
Last year, the west went 43-21-8. And while many point out the struggles of Army and Sacred Heart, the east only won two series — a win and tie by Holy Cross against RIT and a sweep of Canisius by Bentley — and Niagara went 11-1.
If the east wants to fight the perception that the AHA is a west-heavy and dominant league, it starts this weekend when interdivisional play opens up.
Planes, trains and automobiles
With the start of the east-west battles, travel days will get pushed out to Thursday to allow teams to make long bus rides (or plane rides, if they're heading to Air Force).
That means four teams this weekend will spend their Thanksgiving Day traveling. Bentley flies west to take on Air Force, with RIT coming east to play Sacred Heart. Mercyhurst comes east to play American International, while Connecticut heads to Buffalo to take on Canisius.
While not much, it is noted by several players and coaches that it's a perk to be able to spend Thanksgiving dinner at home when applicable. Last year, road teams went 1-4-1 in league play over the Turkey Day weekend, with only Mercyhurst defeating Bentley on Friday.
Players of the week
I see no reason to argue with the league on this one.
Player of the week — Dan Shuler, RIT: Give credit to Shuler for one heckuva week despite RIT losing two of three games played. Shuler scored five of the Tigers' nine goals, including two in a two-minute span against Canisius and a power-play strike against St. Lawrence. He hit the game-winner the next night against the Saints, then iced the cake with an empty netter to help RIT split with SLU. How good was he? He actually could've had more goals — he had one disallowed during the first game against the ECAC school.
Goalie of the week — Andrew Bodnarchuk, Sacred Heart: Welcome back, welcome back, welcome back! Bodnarchuk relieved Alex Vazzano on Friday night after the latter gave up three in the first period and made 20 stops to help the Pioneers come back from down 3-0 and 5-3 to win 6-5. He then slammed the door on West Point with 31 stops in the 4-1 win. He tallied a 1.67 GAA and a .944 save percentage for the weekend.
Rookie of the week — Todd Skirving, RIT: Skirving had himself a weekend with 1-5–6 totals for the Tigers. On Tuesday, Skirving assisted on both first-period goals in the loss to Canisius. On Friday, Skirving struck after just 58 seconds the and added a pair of assists for three points in a 5-3 loss to St. Lawrence. On Saturday, Skirving drew the primary assist on Schuler's game-winning goal in a 6-4 win over the Saints. Skirving has seven points on two goals and five assists, all in the last four games.
Happy Thanksgiving, everyone
Speaking for Chris, we'd like to wish you all a happy and healthy Thanksgiving. May your turkey be warm and your hockey rinks cold, and thanks to all who've tuned this year for our poetic words of wisdom. Actually, that's just Chris. Happy Thanksgiving, everyone!