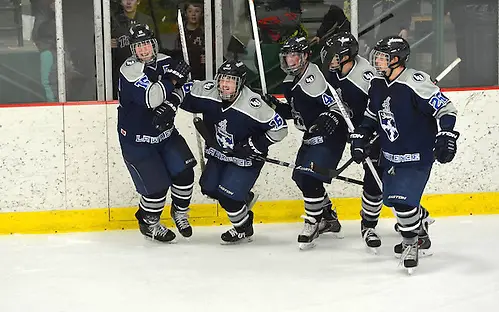 It's hard to believe that the first half is coming to a close, but with that said, there still are some meaningful games this weekend, so let's see what our columnists have to say about those.
ECAC East – Tim Costello
Last week's picks finished at 3-2-0 (.600), which brings this season total to a very good 16-6-3 (.700). There is just one more weekend for a few remaining teams and these nonconference showdowns will still have a lot riding on the outcome for morale heading into the break.
Here are this week's picks:
Friday, Dec. 13
Wentworth @ Massachusetts-Boston
The Beacons really want to end the semester on a roll and haven't played at home in quite a while, so what better way to head into the break than by sending the home fans home with a fifth straight win? UMB is hitting its stride and not so sure the coach is happy to see the break coming now. Massachusetts-Boston 5-2.
Cortland @ New England College
This pair of games over the weekend is the return end of last year's visit by the Pilgrims to Cortland for a pair of weekend games. Home team had the advantage last year and the Pilgrims look to repeat the phenomenon with some home cooking of their own against this SUNYAC rival. New England College 4-3.
Saturday, Dec. 14
Plymouth State @ Castleton
The Spartans host another team that wears green and white. However, the visitors from the MASCAC have all they can handle with a Castleton team that seems to need those magical four goals offensively to pick up a win this season. Go one better in this one with the desired outcome. Castleton 5-3.
Cortland @ New England College
Always difficult to beat the same team back-to-back, but the similarities in this game to Friday night's are scary, including a bookend score that makes the Pilgrims happy to head into the break on a winning streak. New England College 4-3.
Done until after Christmas, so lots of time to rest up. Play hard for just one more weekend – drop the puck!
ECAC Northeast – Nathan Fournier
Buffalo State at Johnson and Wales
Buffalo Stare comes in to Providence for two games this weekend on Friday and Saturday. Johnson and Wales has allowed under two goals per game and its penalty kill has been outstanding at 90.2 percent this season. The Bengals of Buffalo State have been front runners so far this season with a 3-0-2 record when leading after one goal. I believe both games will be close, but I think Johnson Wales sweeps – 4-3 on Friday and 6-4 on Saturday.
Friday, Dec. 13
Wentworth at UMass-Boston
The Leopards seem to be getting it together the last few weeks. They are still having trouble putting the puck into the net and will have a big test against UMass-Boston. They have scored over four goals a game and only allowed a little over two goals a game. With a 2-5-1 record on the road for Wentworth, I will go with the Beacons of Boston in a 6-2 game.
ECAC West – Dan Hickling
Sunday, Dec. 15
No. 14 Geneseo vs. Nazareth – Geneseo 5, Nazareth 2
Home-ice advantage? Not really, because this one will be played outdoors at Frontier Field in Rochester, N.Y. Both teams will be able to draw upon a loud, festive fan base that may be as taken with the occasion than the actual play on the portable ice. That means the result should come down to talent and although Nazareth has some good young building blocks in place, Geneseo's cast is far deeper. Still, it would be a surprise if anyone came away from this one grumpy.
MASCAC – Nathan Fournier
Plymouth State at Castleton State
The lone game on the schedule in MASCAC is a nonconference game for Plymouth State against Castleton State. This could be a high-scoring affairs as both teams struggle on the penalty kill. Plymouth State has a very good power play and that could be the difference-maker in this contest on Saturday night. I'll take Plymouth State, 6-4.
MIAC/WIAC – Brian Lester
Well, here we are, just about done with the first half of the season. The final games of 2013 will be played this weekend and I've selected a few games to make predictions on.
We shall see how smart I am this week.
Hope everyone enjoys their Christmas and New Year and look forward to resuming the picks in 2014.
MIAC
Friday, Dec. 13
St. Scholastica at St. John's
The Johnnies are looking to get back on track after dropping two of their last three games. The good new is St. John's is coming off a shutout win over Augsburg and that momentum should carry over into this week in a key nonconference game. For St. John's to prevail, goalie Saxton Soley needs to be on top of his game. Soley has a goals-against average of 2.15 and a save percentage of .912. The Saints have a stellar goalie as well in Tyler Bruggeman, who has allowed only eight goals and has stopped 117 shots. I expect this one to be a defensive battle. St. John's 2-1.
Saturday, Dec. 14
St. Thomas at St. Scholastica
Goaltending could be again as the Tommies feature one of the best in college hockey in Drew Fielding. The Tommies have been playing well all year, sitting atop the MIAC and Fielding has had a lot to do with that success, owning a goals-against average of 1.47. He has three shutouts on the year as well, which ties him for the most in the nation. I like the Tommies to steal a big win on the road. St. Thomas 3-2.
Concordia (Minn.) at Northland
The Cobbers close out December with a two-game road series against Northland. Concordia has played well for the most part, going 2-1-1 in its last four games, and Caleb Suderman will need to have a big game for the Cobbers to thrive on the road. Suderman has scored seven goals and tallied three assists on the season as well. Goalie Chris Neamonitis needs to be sharp as well. He has givein up 19 goals on the year and owns a goals-against average of 1.89. He has racked up 325 saves. Northland is just 2-9 on the season and has dropped four of its last five. Northland has only scored 26 goals and has given up 67. Concordia, which has 29 goals and has allowed only 20, should be effective and get the job done both nights. Concordia 5-2, 6-2.
WIAC
Friday, Dec. 13
Lawrence at Wisconsin-Superior
Superior has been up and down lately, going 2-2-1 in its last five and it needs to take advantage of this home game on Friday night. Superior has to be able to rely on its goaltending duo of Drew Strandberg and Dayn Belfour. The two have combined for 245 saves. Pat Dalbec has to play well, too. He has five goals and four assists and Superior is usually successful when he has a good game. Lawrence has picked up steam, winning its last two, including a 5-4 win over nationally-ranked St. Norbert. I'll give Superior the edge at home in a game that could go either way. Superior 4-3.
Wisconsin Eau-Claire at Milwaukee School of Engineering
Eau Claire needs to get back on track badly. The defending national champions have lost three of their last five games during a rugged stretch of their schedule and the key to success is going to be getting on a roll offensively. Jon Waggoner and Joe Krause lead the Blugolds with five and four goals, respectively. Those need to play well for Eau Claire to break out of its funk offensively. Eau Claire has seven goals in its last five games. It has 30 goals on the year and has given up 24. Milwaukee School of Engineering is 0-7 at home and has been shut out five times this season. If the Blugolds can attack early and score a couple of early goals, they should be fine against an opponent that has scored only 11 goals and has given up 33. Eau Claire 5-1.
Saturday, Dec. 14
Wisconsin-Eau Claire at Lawrence
I think the Blugolds have the edge on defense and a strong performance by Tyler Green should help Eau Claire nail down this win. Green has a goals-against average of 3.18 and has made 163 saves on the year. Eau Claire 4-2.
Wisconsin-Superior at Finlandia
If you are going on what the numbers look like on paper, this should be a win for Superior. Finlandia is 0-10 on the season and has managed to score only 13 goals while giving up 52. Superior, which has scored 29 goals and has given up 31, is too good on both ends of the ice to not win this game. Superior 7-2.