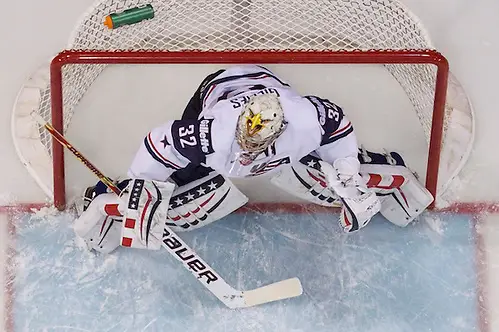 Jon Gillies treated last year's World Junior Championship as a learning experience. This year, the Providence goaltender may have a bigger say in how the United States fares in Sweden.
Gillies was on the 2013 U.S. World Junior Championship team that won gold in Ufa, Russia. Even though he logged only 20 minutes of game time, the 6-foot-5 South Portland, Maine, native said that the experience he earned was tough to quantify.
2014 World Junior Championship
Dec. 26-Jan. 5, Malmo, Sweden
All U.S. games on NHL Network; times Eastern
Dec. 26: U.S. 5, Czech Republic 1
Dec. 28: U.S. 6, Slovakia 3
Dec. 29: U.S. 8, Germany 0
Dec. 31: Canada 3, U.S. 2
Jan. 2: Quarterfinal — Russia 5, U.S. 3
• Preliminary U.S. World Junior roster boasts 19 NCAA players
• After golden World Juniors apprenticeship, Providence's Gillies ready for leadership role
• Miami's Barber named U.S. World Junior captain, Compher and Fitzgerald among cuts
"Last year was a learning experience, and I went over there with an open mind-set ready to play any role that they needed me to," Gillies said. "It was a pleasure to be around those guys and on that team and part of that family we built. It was a memory that I will cherish forever, that gold-medal win."
Gillies said it was an honor to be on last year's team because it was loaded with so much talent.
"You've got guys playing in the NHL that were on that team and you have John Gibson leading every category in the AHL," he said. "There was a lot of superstars on that team that just made it fun to be around. They were great guys that accepted everyone else; they were never cocky."
What he learned from playing behind Gibson was instrumental in the success that he's had at Providence since last year's tournament.
"I came back a better goalie just from watching him," Gillies said of Gibson, who with the Norfolk Admirals has played more games this season than any other AHL goalie. "His mental makeup is unbelievable — he never gets too high and never gets too low. And that was the biggest asset of his game. Obviously on the ice he's a superstar and he's spectacular. He was the best goalie in the world and there's no doubting that — it's a fact."
Gillies said last year's team dynamic, not only the fact that it won gold, set the bar high for this year's squad.
The Americans lost two of their four pool games last season — both 2-1 against Russia and Canada — before outscoring opponents 15-2 in three medal-round games.
"It's a great precedent for this year, to make sure that we stay the same way," he said. "We keep plugging, we stay even-keeled and we remember that it's not over until it's over because anything can happen, especially when you get to the medal round."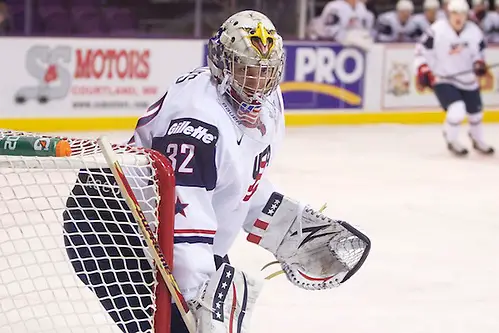 Even though the team is different, Gillies said that camp has went a little smoother the second time around.
"Definitely the second time around is a little better because you know what to expect," he said.
He added that it was easy to get a feel for this year's coaching staff — Minnesota's Don Lucia, Boston College associate coach Greg Brown, St. Cloud State's Bob Motzko and Denver assistant David Lassonde.
"They're very straightforward with what they demand of us," Gillies said. "They let us know what they expect, and that's all you can ask of a coaching staff. It's black and white, there's no gray areas."
Gillies finished his freshman year at Providence with a 17-12-6 record and a 2.08 GAA. This season, he has posted a 10-1-3 record and a 1.88 GAA. His eight collegiate shutouts are a Providence record.
In Tuesday night's game against Minnesota State, Gillies started for the U.S. and played the first half of the game before Lucia put Anthony Stolarz in net. Gillies gave up one goal and had 11 saves in the junior team's 3-2 overtime win over the Mavericks.
Lucia did not disclose much about who would get the majority of the time in net in Sweden, but he said that he liked the way both goaltenders played on Tuesday.
"I thought both of them did a good job," Lucia said. "They did what we hoped they would do."
Boston College's Thatcher Demko, who is the team's third goaltender, did not dress on Tuesday.
Gillies said that he felt a little pressure to be a leader on the team this year, having experienced all the travel and commotion from last year's tournament. But he added that leadership comes with being a goalie.
"Goalies on every team are a leader," he said. "It doesn't matter if you're a veteran or a rookie. I just tried to answer questions about the guys on what to bring and what not to bring, how fast the tournament is and how things work and different things like that. Most of it is just trying to lead by example."