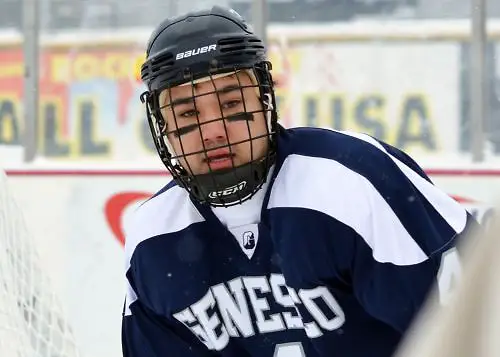 Call it a style statement, if you like.
Or winter wear fit for the occasion.
The solid white worn by Geneseo's Tyler Brickler and his linemates during the Ice Knights' outdoor clash with Nazareth last Sunday proved to be both fashionable and functional.
Brickler, a junior and a key cog in the Knights' attack, cut quite a figure on the frozen Frontier Field rink in Rochester, N.Y., potting two goals in leading the nation's 12th ranked squad to a hard-fought 3-2 triumph.
He scored his seventh goal of the season in the second period to put Genny up 2-1, then added some insurance – which would prove to be quite necessary.
Coming as it did in the final five minutes, Brickler's second of the day turned out to be the decisive goal in a most memorable contest.
"It was a great play by David Ripple," said Brickler. "He passed it over to [linemate Ryan] Stanimir. I was sort of just alone and 'Stanny' ended up putting it right on my stick. The goalie [Ed Zdolshek] sort of shifted to the right, so I decided to put it on my backhand. It just trickled in. I was really happy."
Brickler has been playing left wing on a line with right wing Stephen Collins and centered by Stanimir.
The chemistry between the three is readily apparent as the trio occupies the first three spots on Geneseo's scoring ladder.
All of them landed in Geneseo after beginning their college careers elsewhere. Brickler (Massachusetts-Lowell) and Stanimir (Sacred Heart) both were transfers from Division I schools, while Collins (Arizona State) was discovered while playing club hockey.
With all those similarities, it's little wonder that they chose to dress alike for the outdoor tilt, with their white collars providing a stark contrast to their deep blue Knights' sweaters.
"Our line decided to get white turtlenecks," said Brickler, who is in his second year at Geneseo. "So when our line would come up for a shift, the coaches would yell for the 'White Turtleneck Line.'"
Warmed by their color-coded layers, the trio kept matters hot in the Nazareth zone, having accounted for 10 of the Knights' 29 shots on goal.
"The conditions were fine," said Brickler. "In the first and second periods, we were dealing with the sun. But I think Cortland has a colder arena, to be honest with you."
Elements or not, Brickler said that the Knights' objective was to play its standard game and let Nazareth deal with that.
"We wanted to keep our same attitude, which is blue collar," he said. "Do unbelievable on the forecheck and back check. The coaches did a good job preparing us. We just had to carry out that mission, so it was good."