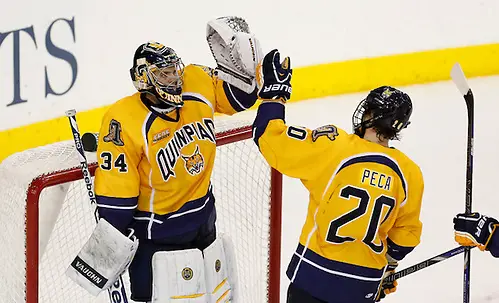 Here's a look at the college hockey holiday tournaments that start Sunday:
UConn Hockey Classic
Where: XL Center, Hartford, Conn.
Sunday's schedule: Massachusetts (6-12-2) vs. No. 8 Quinnipiac (13-3-3), 4 p.m. EST; Sacred Heart (4-12) at Connecticut (6-5-2), 7 p.m.
Monday's schedule: Third-place game, 4 p.m. EST; championship game, 7 p.m. EST.
Live audio: Massachusetts | Quinnipiac | Sacred Heart | Connecticut
Notes to know: After 20 years on campus in Storrs, Conn., the tournament is being played for the first time in Hartford, where the Huskies will be playing home games next season when they enter Hockey East.
• The Sacred Heart-Connecticut semifinal game counts in the Atlantic Hockey standings; the Huskies beat the Pioneers 4-2 in a nonconference game on Nov. 2.
• Massachusetts senior Michael Pereira is three goals away from becoming the fifth 50-goal scorer in Minutemen history.
• Quinnipiac won its only other UConn tournament appearance, beating Merrimack and Air Force in 2008.
• Sacred Heart freshman Justin Danforth leads the team with 13 points and is tied for the Atlantic Hockey league in rookie scoring.
Social snippit:
The Latest Episode of "Center Ice" just in time for the Holidays and the UConn Hockey Classic #BleedBlue http://t.co/dE1JvJznZW via @youtube

— UConn Men's Hockey (@UConnMHOC) December 23, 2013
Ledyard National Bank Classic
Where: Thompson Arena, Hanover, N.H.
Sunday's schedule: Air Force (7-5-4) vs. No. 16 Northeastern (10-5-2), 4 p.m. EST; No. 5 Providence (12-2-3) at Dartmouth, 7 p.m.
Monday's schedule: Third-place game, 4 p.m. EST; championship game, 7 p.m.
Live audio: Air Force | Northeastern | Providence | Dartmouth
Notes to know: This is the 25th year for the Ledyard National Bank Classic, previously known as the Auld Lang Syne Tournament.
• Air Force is making its fourth appearance in Dartmouth's tournament and is still looking for its first win. The Falcons lost t Dartmouth and Maine in 1979; to Dartmouth and Vermont in 1984; and to Dartmouth and Minnesota State in 1998.
• Northeastern's Kevin Roy is one of six players in the country with at least 13 goals this season. He leads the Huskies with 13 goals and 11 assists.
• Providence is one win away from equaling its most number of victories in the first half of a season (before Jan. 1). It won 13 games in the first half of the 1989-90 season.
• Dartmouth has advanced to the championship game in the last two seasons but hasn't won its holiday tournament since 2008.
Social snippit:
Give the gift of hockey. Tickets to the 2013 Ledyard Classic! https://t.co/1MI8uWPfCc

— Dartmouth Hockey (@Dartmouth_MIH) December 28, 2013
Others
Started Friday: Great Lakes Invitational, Three Rivers Classic
Started Sunday: Florida College Hockey Classic, Catamount Cup
Starting Jan. 3: Mariucci Classic (No. 2 Ferris State, Rensselaer, Colgate, No. 1 Minnesota).