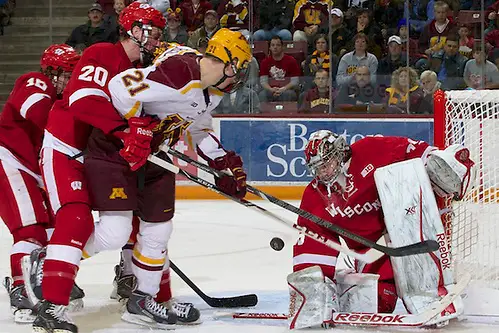 In the spirit of the season I thought it would be interesting to take a look at each Big Ten team and make a New Year's resolution for how they can get better.
Minnesota (12-2-2)
Resolution: Improve its special teams
It's hard to get nitpicky about a team with a 12-2-2 record, but anyone who has attended a Gophers game this season or last knows that their power play has been pretty hard to watch at times.
This year, Minnesota is 12-for-77 with the extra man. That 15.58 percent clip is 40th out of the 59 teams in the country. St. Lawrence leads the country in power-play percentage with 29.03 percent.
Minnesota is second in the nation in team scoring, averaging almost four goals per game, so having a struggling power play hasn't doomed it this season. However, come tournament time the Gophers will need goals with the extra man if they want to get back to the Frozen Four.
Minnesota could also shore up its penalty kill in the season's second half. Though the Gophers don't go to the box a whole lot, they average 11 penalty minutes per game (No. 43 in the nation) and their penalty kill ranks near the middle of the pack. Minnesota has killed 53 of its opponent's 66 power plays this season. That 80.3 percent mark is good for No. 33 in the NCAA.
The Gophers special teams may work themselves out in the second half when their freshmen scorers, who have already had a great start to their college careers, gain more confidence working on special teams. Last year, Minnesota's power play revolved around getting Nick Bjugstad a one-time shot from the left side of the net. This year, that is obviously not an option.
Wisconsin (10-5-1)
Resolution: Win on the road
The Badgers are winning at home, and that's great, but there will be no postseason trophies awarded at the Kohl Center this year so winning away from Madison is a must.
Wisconsin is 9-0-1 at home this season, its best start at home since starting 12-0-1 in 1981-82. The school record for longest home unbeaten streak to start a season came in 1972-73, when the Badgers started 16-0 en route to a national championship. Wisconsin is 1-5 this season on the road.
Though their road mark looks bad, to fully understand it you have to look at the circumstances. Wisconsin got trounced by Boston College and Boston University on the road the first weekend that goaltender Joel Rumpel was hurt. They split on the road with Miami and were close to picking up a win in both games against Minnesota at Mariucci Arena but fell short.
Since getting swept at Mariucci, the team has rattled off six home wins against Penn State, Colorado College and Alabama-Huntsville. The Badgers' next three series against Alaska-Anchorage, Michigan and Ohio State will be played at the Kohl Center.
The good thing about the Badgers' second-half schedule is that they should be able to ride the momentum of their recent home wins to some road success. It also helps that they will face some of the conference's lower teams on the road.
Michigan (10-4-2)
Resolution: Get out of its December funk
For the first couple months of the season, Michigan looked like the clear-cut team to rival Minnesota in the Big Ten, but December wasn't kind to the Wolverines.
Michigan started off December by beating the Buckeyes and losing an exhibition game to the U.S. Under-18 Team. The Wolverines then tied a great Ferris State team 2-2. At the Great Lakes Invitational they lost 3-2 in overtime to Western Michigan and were shut out 3-0 by Michigan State.
The 1-2-1 mark isn't bad, as long as Michigan doesn't let it snowball into something more in January. Outdoor games are kind of a toss-up and we all know that coaches play exhibition games to not get injuries and not to win.
Michigan State (6-9-2)
Resolution: Give up fewer shots
Michigan State's offense and defense are pretty even — the Spartans average 2.35 goals per game and give up 2.41. Jake Hildebrand and Will Yanakeff have faced a combined 525 shots this season and have given up 41 goals.
Though Hildebrand has been solid this season, if the Spartans want to start winning more games, they need to score more goals and give up fewer. The easiest way to accomplish the latter is to give up fewer shots.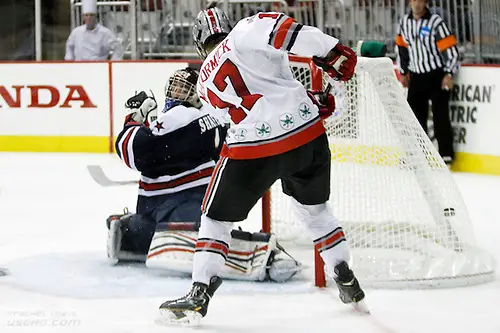 Ohio State (10-6)
Resolution: Win more close games
Half of the Buckeyes' six losses have been by one goal. All but one of Ohio State's 10 wins has been by more than one goal. I translate that into a team that isn't super confident in close games.
Ohio State's overall record may look pretty good, but it is still relatively unproven in the Big Ten. The Buckeyes dropped their only two conference games of the season's first half to Michigan, 4-3 and 5-4.
They open up the second half against Michigan State, Minnesota and Wisconsin. That three-series stretch in January is bound to have a couple close games, and if the Buckeyes want to be a top-three seed in the Big Ten tournament they will have to win those close ones.
Penn State (4-10-1)
Resolution: Play better defense
I could have copied Michigan State's resolution, but Penn State's problem goes beyond giving up too many shots.
The Nittany Lions have the nation's 53rd-ranked defense, giving up 3.93 goals per game. They also have the 40th-ranked penalty kill and are the 11th most-penalized team.
Even when Penn State wins, you can sometimes scrutinize its defense. The Nittany Lions gave up 41 shots to Robert Morris in the first game the two teams played. But in the other three wins Penn State gave up 26 shots to Army, 21 to Sacred Heart and 28 to Robert Morris at the Three Rivers Classic. This Penn State team can score, but it's tough to need to put up so many goals every night.
Three stars of the week
First star — Michigan State sophomore goaltender Jake Hildebrand: The sophomore backstop saved 70 of the 72 shots he saw at the Great Lakes Invitational. Michigan State tied Michigan Tech in its first game but lost the shootout. The Spartans shut out Michigan 3-0 in the tournament's third-place game. This is the second Big Ten weekly honor of the season for Hildebrand.
Second star — Ohio State junior forward Ryan Dzingel: Dzingel had one goal and four assists in Ohio State's sweep of Mercyhurst. He leads the Big Ten with 23 points this season and is on a nine-game scoring streak. This is Dzingel's first Big Ten weekly award of the season.
Third star — Ohio State junior forward Nick Oddo: Oddo also had one goal and four assists in the Buckeyes' sweep of Mercyhurst. He has already set a career high with 14 points and 10 assists this season. This is his second Big Ten weekly award of the season.
Big Ten in the poll
Here's how the Big Ten teams stand in this week's USCHO.com Division I Men's Poll.
No. 1 Minnesota (Last week — No. 1)
No. 7 Michigan (LW — No. 3)
No. 13 Wisconsin (LW — No. 14)
Ohio State received 12 votes, which was fifth highest out of the unranked teams.
This week's matchups
Minnesota vs. Colgate and Ferris State/Rensselaer (Mariucci Classic, Friday and Saturday, Mariucci Arena)
Alaska-Anchorage at Wisconsin (Friday and Saturday, Kohl Center)
Happy New Year!
I hope everyone had a safe and happy holiday season. If you're one that makes New Year's resolutions, I hope that it works out. As a college senior halfway through his last semester, my 2013 resolution was to take more naps. In 2014 it will be to finally land a full-time job. Those two may, or may not, be directly correlated.