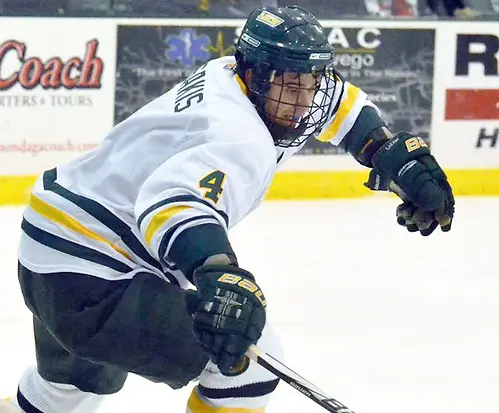 Like that of Mark Twain, the demise of SUNYAC power Oswego may have been greatly exaggerated.
Such a prediction may have been understandable, of course.
The Lakers came into this season having lost 14 members to graduation, stalwarts that had carried the club to four consecutive league titles, as well as the past two national championship games.
That's a whole lot of holes to fill.
It appears that Oswego coach Ed Gosek has managed to do that, though, thanks to a bang-up freshman class and at least one transfer – junior Mike Montagna – who has stepped in to the No. 12-ranked Laker lineup nicely.
Up front, the newbie donation to the offense has been invaluable.
Oswego's top three scorers – Kenny Neil (4-9-13), Matt Galati (8-4-12), and Alex Botten (3-8-11) – are all freshmen, with Montagna, a transfer from Vermont, matching Botten's numbers.
In fact, of the team's top six point-getters, only junior defenseman Bobby Gertsakis (1-7-8) is a truly familiar face.
Montagna, who hails from nearby Fulton, N.Y., helped his new club win the PathFinder Bank Hockey Classic by leading them to wins over Curry and Utica (in a shootout) and in the process, he was named the SUNYAC's player of the week.
The "kiddie kontribution" isn't limited to the attack, however.
Freshman goalie Matt Zawadzki has muscled his way into the Oswego crease and put up stellar numbers (1.34 GAA, .994 save percentage). He's also undefeated (4-0-2) to date in his young collegiate career.
Suffice to say, times are not tough at all in Oswego.
In fact, they may be better than ever before long.
Commitments rolling in
With SUNYAC coaches having wound up their mid-winter recruiting trips, expect a steady stream of commitment announcements over the next few weeks.
The most recent inking is that of blue liner Brendan Pascarella, who will head to Cortland next year.
Pascarella, who hails from Sloatsburg, N.Y., toils with the Hartford WolfPack of the Eastern Hockey League.
Another "Pack-man," lanky 6-foot-1, 175-pound forward Dylan Vander Esch out of San Jose, Calif., had previously committed to Potsdam.
Meanwhile, the trail from Wilkes-Barre to Fredonia just got a little busier.
The Blue Devils have landed Swedish center Oskar Gerhardsson, who is currently toiling for Wilkes-Barre in the EHL.
Gerhardsson, who is in his first season of North American hockey, will join three other WB Knights (freshmen Marcus Ortiz, Hunter Long and Erik Moburg) in Fredonia.
Blizzard causes game reschedule
Winter in the Northeast being what it is, it still comes as a surprise when games are whited off of the college hockey schedule.
One casualty of the "Blizzard of '14" that slammed into Western New York was Tuesday's interconference tilt pitting Elmira at Fredonia.
It has been rescheduled to Jan. 21 at Steele Hall.