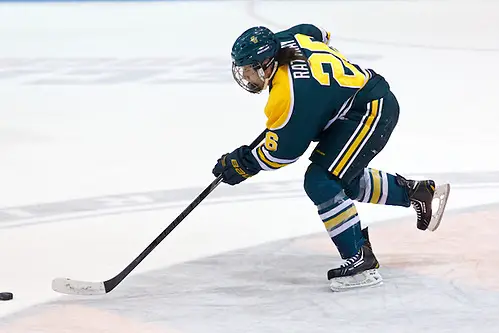 Grace Potter says, "Life is a record, playing on repeat."
Followers of women's NCAA hockey would have little reason to dispute that. The same teams keep winning conference titles. It is a small pool of teams that go to the national tournament, advance to the Frozen Four, or emerge as champion year after year.
In the case of the Patty Kazmaier Award, the names of the recipients change, but the schools they represent are quite familiar. Of the 16 Kazmaiers awarded, 10 have gone to two schools, Harvard and Wisconsin. The winners share other traits, such as playing in close proximity to population centers or at least good-sized cities, and playing for traditional powers that are often ranked No. 1.
Clarkson doesn't really fit any of those descriptions. Potsdam, N.Y., is a small city, and isn't close enough to any large ones. In their 11th season, outside of a couple of trips to the NCAAs, most of the Golden Knights' history is yet to be written.
One player doing her share of authoring that history is forward Jamie Lee Rattray. A past nominee for the Kazmaier, the Kanata, Ont., native has the type of resume that will garner notice by those involved in the selection process. A senior and an assistant captain, her 30 points rank her sixth in points and seventh in points per game nationally. She's tied for second with 15 goals and is third in goals per game.
For her career, Rattray has 145 points, only three shy of the program high that Britney Selina established in 2010, and her 63 goals for the Golden Knights leave her four behind Melissa Waldie's Clarkson record.
"To even get to those kind of numbers that the girls have done before is pretty crazy," Rattray said. "I owe a lot to my teammates for that, because without them I wouldn't be even close. I think that's the type of thing you definitely think about after [your career is over]."
In addition to obvious talent, Rattray also has had opportunity at Clarkson. After the Golden Knights graduated a large senior class that led them to their first NCAA appearance in 2010, she and her classmates were asked to fill big shoes when they arrived in the fall.
"Starting off with that big class and the role we had to play at first, we had to mature a little faster than a lot of classes," Rattray said. "It definitely helps now that we're in our senior year; we kind of have to carry that weight again. I think it's helped us a lot to kind of stay together as a group, too, through our four years. Now we can set an example for the next class coming in."
When it's time for others to replace Rattray, it will take more than raw numbers.
"She's kind of the heartbeat," co-head coach Shannon Desrosiers said. "She definitely brings energy every day — practice, weight room, game. Our team goes kind of as she goes."
The results bear that out. Clarkson (14-4-2, 5-2-1 ECAC) has eight wins and two losses over its last 10 games. Rattray accumulated nine goals and nine assists in those wins; she was held off the score sheet in the losses.
"The games we lost, we lost to all top-10 teams," Desrosiers said.
For the most part, those losses were caused by the team's offense going into hibernation, scoring one goal combined in losses to Mercyhurst, Harvard, and North Dakota.
"Even in the games we lost in the first half, we put up quite a few shots, had a bunch of chances," Desrosier said.
The outlier in the first-half results was a 6-3 defeat at Cornell, the only time all season that the Golden Knights have surrendered more than a pair of goals in a game.
"Even in the Cornell game, we played really well, we just didn't play as well defensively as we're known for," Desrosiers said.
That defensive game, a staple at Clarkson, is one area where Rattray has made strides throughout her college years.
"Our coaches have done a good job of preaching that, and I think as a player they've helped me develop that side of my game, and it's made me a more rounded player," she said.
Both Rattray and her coach say consistency will be key for their team going forward.
"I think lately we've been getting to the net harder, less perimeter, less trying to be fancy," Desrosiers said. "I think now we're just getting more and more confident. Other kids are chipping in. As a team, we're getting to the dirty areas and getting some of those ugly goals as well."
And nobody chips in more often than Rattray.
"She's a threat every time she's on the ice," Desrosier said. "I don't even think she's peaked yet. I think she's just getting better, so I even expect a better second half from her."
That second half begins with a home-and-home series with neighboring St. Lawrence.
"It's probably one of the best rivalries in college hockey," Rattray said. "You don't really realize it as a freshman when you come in, but then when you start playing those games, it's unbelievable the atmosphere, here and at their rink. Some of the most fun games I've ever played in my career have definitely been against them. We got the opportunity to play them four times this year, which is nice, two in conference and two out of conference. It's always a battle. I love it. It doesn't get any better than that in college hockey, I don't think."
Clarkson has some ground to make up, sitting in a tie for third in ECAC winning percentage and a precarious eighth in the PairWise Rankings.
Rattray's class won 14 games as rookies, jumped to 22 wins in their sophomore season, and set a new program high with 28 victories in reaching the NCAA tournament last March.
"I can't wait to see what our team has in store for the second half," Rattray said. "We kind of hit a peak there at the end of the semester, so I think we're looking to kind of build off that."
Those positive feelings are felt throughout the roster, despite the earlier losses to top teams.
"For us this year, I don't think it's a belief thing; I think our kids definitely believe," Desrosiers said. "It comes down to execution, and we've got to bury our chances when we're given them, too."
Later in the month, the Golden Knights get a key rematch with league-leading Cornell.
"It's execution and it's not taking any shifts off, because a team like a Cornell can hurt you if you take a shift off, so it's just like a total focus for 60 minutes," Desrosiers said.
This second meeting comes on home ice.
"The last three or four years, we've played really well against Cornell at home," Desrosiers said. "I don't know what's the reason, but we've had a tough time in their barn, and they've had a tough time in our barn, so that's a good matchup for us. There's a few key games this semester that we'll be able to build into and focus on, but with the parity this year, every game matters. There probably are some bigger games in our kids' eyes, but we prepare for the games exactly the same."
And who knows, if Clarkson executes and can turn the tables on Cornell and Harvard in the second half, while Rattray shows the continued development that her coach expects, her name may emerge from the Kazmaier voting. Not that she is concerned with that possibility any more than setting records.
"I think that's something that you just don't really worry about," Rattray said. "I would much rather win a championship with my team. I think as long as we're successful as a team, those things will come. I'll be more than happy with my career if we're successful and win a championship."