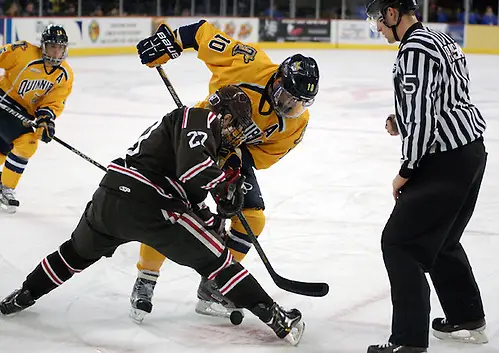 If you've read my blather for more than a season or two, you have probably noticed my maddening obsession with affinity for trends and statistics. I love the humanity and romance of sport as well — don't get me wrong — but nothing fascinates me quite the same way as a pattern in bloom. I know, I know, I'm the sentimental type.
With numbers fresh in my mind and a new wonder to investigate, I turned my eye toward the subtle game-within-a-game that takes place 50, 60, 70 times during every hockey game yet never draws a reaction from the fans.
Think about it: When was the last time you cheered for a faceoff?
The dot's the spot
What is a faceoff really worth? On the face of it, not much: The only times anyone sincerely seems to care about the outcome is, A, when a team is on a power play or killing a penalty, or, B, at the very end of a period or game. While those are admittedly high-leverage scenarios, they make up a small portion of the total number of draws taken in the average contest.
Top draws in ECAC Hockey
The top 10 faceoff-winners in the league (minimum 150 opportunities):
• Mike Zalewski, Rensselaer, .620 (101-62)
• Ben Sexton, Clarkson, .590 (273-190)
• Connor Jones, Quinnipiac, .589 (339-237)
• Matthew Peca, Quinnipiac, .585 (230-163)
• Jesse Root, Yale, .581 (137-99)
• Jordan Samuels-Thomas, Quinnipiac, .578 (141-103)
• Luke Esposito, Harvard, .576 (140-103)
• Matt Carey, St. Lawrence, .570 (237-179)
• Mike Borkowski, Colgate, .565 (203-156)
• Brian Ward, St. Lawrence, .565 (143-110)
Furthermore, the best centers in the sport top out at only about a 60 percent success rate at the dot, or more pessimistically, they lose two out of every five faceoffs they take. The worst full-time centers win around 45 percent of their draws, with the remaining sliver usually lost to wingers who are called on during special-teams situations or following a center being kicked out of the circle.
So if the frequency of high-pressure, high-opportunity faceoffs is low, and the odds of winning a draw are practically a toss-up, why do we even keep track of faceoff win/loss statistics? Why not just call it the 50-50 coin flip that it is and worry about other things?
Because, dear reader, while the outcome of a single faceoff may not signify much, it is the volume of faceoffs in any given game that validates their importance as an item of strategic interest.
The power of small amounts
Last Friday night, Quinnipiac and Union grappled and clawed for 60 brutal minutes. The teams finished with 28 shots apiece. Each side went 0-for-4 on the power play. Neither team's top lines registered a point with first place and a postseason tiebreaker on the line, and in the end the biggest difference between the teams wasn't even evident in the box score.
When the Bobcats evened the season series, leapfrogged the Dutchmen for first place and ended Union's 10-game unbeaten run with a 2-1 victory, the 48 moves that made the difference never drew so much as a raised eyebrow from the standing-room-only 3,550 in the stands.
Out of 68 faceoffs taken in the game, Quinnipiac won an outlandish 48 … and that made all the difference.
"Two faceoff goals says it all," Union coach Rick Bennett lamented following the game. "Faceoffs are huge. It's a one-on-one battle, a commitment. It's not only our centermen, but also our wingers who are trying to win those little pocket battles, and I just don't think that compete level was there tonight.
"It's a huge part of the game — two goals — and I credit their team for buckling down on those; they won the game because of it."
Bennett pointed to the two goals — both resulting from faceoffs in the Union zone — as the decisive moments in the game, and he has a point. But should the Dutchmen have gone 66-for-68 on the dot with those two exceptions, it's unlikely the coach would have singled out faceoffs as his side's Achilles' heel.
"I think we're gonna call [current Chicago Blackhawks and former North Dakota center] Jonathan Toews and bring him in," Bennett said. "I know he can't go on the ice — that would be against NCAA rules — so we'll just try to bring him in and see what advice he can possibly give us."
The fact of the matter is that when it comes to faceoffs, sometimes a big play will happen right off the drop, and that will draw attention. But more often, the biggest benefit of a 55 percent or 60 percent success rate comes down to two words: puck possession.
"We were really good on faceoffs," Quinnipiac coach Rand Pecknold said. "I know last week we were No. 1 in the country on faceoffs [and they still are, winning 56 percent]. It's something that we focus on, that we want to be good at, and we even talked about it before the game tonight: We actually changed some of the faceoff plays to try to generate some more offense. I don't know if those plays in particular worked, but it was a big part of the game.
"We have guys who can win draws, and wings that can win draws, and it's an important part of puck possession."
Do the math: If there are 60 faceoffs in a game — the average is between 60 and 70 — a team as good as Quinnipiac is winning 33 draws, losing 27. If we conservatively estimate that the Bobcats hold onto the puck for 10 seconds each time they get the puck, that's a full minute of possession that the opponent doesn't have.
As teams improve their faceoff numbers — and thus their puck-possession time — they demonstrate a loosely correlated increase in shots per game. More importantly, they allow far fewer shots against and exhibit a wider shot differential than teams with more mediocre success on the draw.
"It's not everything, but it's a small part of the game and you want to be good in as many facets of the game as you can," Pecknold said. "I'd rather be 48-20 than 20-48, for sure. It's a good part of the game, it's important."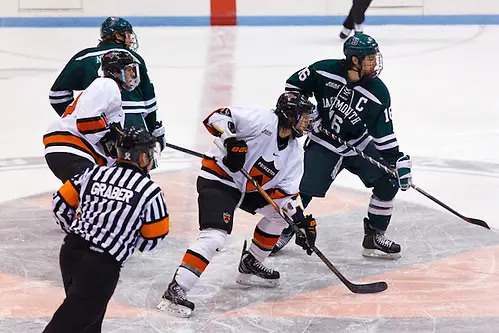 Being able to burn one or two of the opponent's shifts is an opportunity any coach would love to have, and these are just the conservative results. That is why teams everywhere practice faceoffs, discuss strategy, even look at video of the upcoming opponent's centers to find any edge possible.
"We just drop pucks. We have guys in the middle and say, 'Let's do pucks,'" said Pecknold. "We make our wings take 'em, we make our centers take 'em, and we just work on things. I give Connor Jones a lot of credit — I think last year he was No. 2 in faceoffs. He's really good, and he teaches the younger kids some things to try.
"I think the things we do best is we get our wings and our D involved in a lot of the draws. It's not just centers taking faceoffs; you've got to have other guys involved."
Senior center Connor Jones leads the nation in faceoff wins with 339, and is sixth in faceoff success (.589) among players who have taken at least 200 draws. (Clarkson senior Ben Sexton is the only player in ECAC Hockey with a better rate — .590, one thousandth of a point higher. Jones has taken over 100 draws more than Sexton.) Jones finished last season with an astounding .610 faceoff percentage; he finished second nationally to Dane Walters of Western Michigan. Walters took 440 fewer faceoffs, but won a solid two-thirds of those he took.
Suffice to say, Connor Jones is a quick-draw expert.
"You can win it straight up; I can tie them up; depending on who I'm going against I can go forehand or backhand," Jones said. On tie-ups, "you can swing your foot, or tie up their stick and let the wingers go get it."
Faceoffs require a triggerman to field the drop, and that is the beginning and end of how many people see the art of the draw. It's a lot more complicated than that, though, as a faceoff is truly won only when a player gains possession of the puck. That player is hardly ever the man straddling the dot.
"A lot of times I have to credit my two linemates with wins," Jones said. "You get [freshman Sam] Anas and [Connor's twin brother] Kellen, if they have great faceoff intensity, sometimes a loss turns into a win. If the puck goes off to a side or behind [their center] and Sam or Kellen picks it up, that counts as a win."
Jones emphasized that faceoffs are not an irrelevant toss-up but rather a delicate cat-and-mouse game that requires skill, focus, research and strategy.
"As a team, we work real hard in practice with faceoffs, whether it's live draws or practicing what you're going to do or watching video on guys. It's not a thing you just go out and do; it's something you've gotta work on. Our coaches stress it, and as players we've come to realize how important it is to the game."
Jones, his teammates and just about every other high-level center in the world prepares for faceoffs in advance, scouting opposing centers and lines for tells and tendencies.
"I'm not going to give away any secrets, but I do video," he said. "I look at what I do against [a specific opponent]. I'll look three years past — I'll see what worked and what didn't work. It's about having a plan about what you're going to do; you can't just guess. It takes a lot of practice."
Sure, players have natural preferences, but it's the rare mismatch in which a center can win a draw on ability alone.
"Certain players have certain tendencies," Jones said. "We all have them, but you've got to just bear down and focus on every faceoff."
Sometimes both players will try the same move — it's the hockey equivalent of both players throwing the same sign in rock-paper-scissors — and that is where intuitive linemates can become a big help.
"If it's a bigger guy, sometimes I'll end up on my butt, and hopefully Kellen or Anas will get the puck," Jones said. "If you're a bigger guy, usually you're going to rely on your strength. I'm a smaller guy, I rely on my quickness, but I switch it up. It's a game of strategy."
And yes, Jones even watches the pros to learn every edge, trick and maneuver. It's not just standing there and swatting, after all. Faceoffs are part chess game, part wrestling match and part ping-pong.
"I watch [Boston Bruins' Patrice] Bergeron: He's amazing. You see that he knows what he's doing every time," Jones said. "Toews is another guy, he's awesome. I like to watch [Washington Capitals' Niklas] Backstrom and guys like [Detroit Red Wings' Pavel] Datsyuk, because they're so creative that you'll see new things."
Ultimately, what appears to be a random, roughly 50-50 method of puck distribution is anything but. The best players are always trying to stay above the 50 percent mark, because for every second that your team has the puck, the other one doesn't. You can pass, shoot, score … and they can't.
"It's so important, because you don't want to be chasing the puck at the end of the day," Jones said. "You want to get possession so that you have the puck and your teammates have the puck, so that you can score, you can generate chances, you can get momentum.
"It's such an important thing that — I don't know if I'm teaching the guys; I'm just trying to stress how important it is."