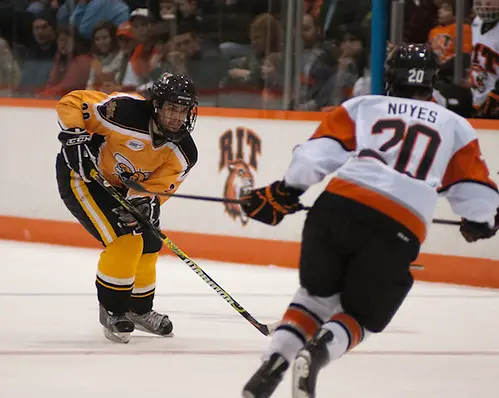 Last week, Atlantic Hockey demonstrated just how much parity exists in the conference, especially once you get past the top three teams.
It was no coincidence that of the six conference series played last weekend, the three sweeps went to the teams already at the top of the standings: Mercyhurst, Bentley and Air Force. But Mercyhurst needed some incredible goaltending against Holy Cross on Friday and Air Force had to come from behind on Saturday to defeat Army. Only Bentley cruised to four points.
The other three series weren't just splits. There were dramatic swings between the two games:
• Connecticut defeated Robert Morris 5-1 on Thursday but fell to the Colonials 6-1 on Friday.
• American International won big at Niagara (the first win by AIC over the Purple Eagles in school history) 6-2 on Friday but fell 5-0 the next night.
• Canisius erased a two-goal deficit to Sacred Heart on Saturday, winning 5-4. On Sunday, it was the Pioneers' turn to come back from two goals down, prevailing 3-2.
"It was a pretty even game where Sacred Heart was able to find a way to win, similar to what we were able to do yesterday," Canisius coach Dave Smith said after Sunday's game.
"It was a great team effort from start to finish that resulted in a huge bounce-back win for us," Niagara coach Dave Burkholder said after Saturday's victory. "I'm very proud of the team. This was a big test for us and the win puts us right back in the hunt in Atlantic Hockey."
The only lopsided series was Bentley's rout of Rochester Institute of Technology, which started with an 8-2 win on Friday, the first home victory for the Falcons against the Tigers since 2007. Saturday's contest was closer with Bentley putting RIT away with two third-period goals in a 4-1 win.
"[Bentley] is the best team we've seen so far this season," RIT coach Wayne Wilson said in a postgame radio interview on Saturday. "Speed, skill and goaltending. Our hat's off to them.
"But you never know what's going to happen in this league. Last season we had the eighth-place team win the championship. You never know."
Tricky
Can anyone spare a hat? There were a whopping four hat tricks scored last weekend in the AHA. There were no surprises on the list — all four players are have demonstrated a scoring touch in the past — but I can't remember a weekend when four guys were able to earn the chapeau fantastique:
• Chris Bodo (Mercyhurst): The junior had three two-goal games in the past but on Saturday got his first career hat trick, scoring three of the Lakers' four goals in a 4-2 win over Holy Cross.
• Alex Grieve (Bentley): Grieve scored three of the Falcons' first four goals in an 8-2 win against RIT on Friday. It was his second hat trick of the season (Dec. 6 against Robert Morris was the other). His 16 goals are third-most in the nation.
• Billy Latta (Connecticut): The senior's hat trick in a 5-1 win over Robert Morris was the first in his collegiate career. He's had three two-goal efforts in the past.
• Jon Puskar (AIC): Three goals in a game wasn't enough for Puskar, who scored four times on Friday against Niagara. The senior has six career two-goal games but this was his first hat trick.
Amazingly, none of the above players was named player of the week in Atlantic Hockey. There was an effort deemed even better by the league — more on that later.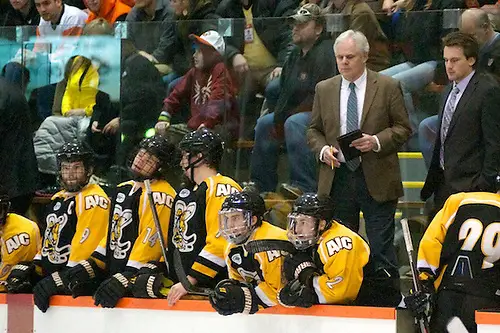 Breakthrough for the Yellow Jackets
Thanks to American International's 3-2 win over Massachusetts on Tuesday — the Yellow Jackets' first-ever win over a Hockey East opponent — the league improved to 9-17-1 in out-of-conference games since Thanksgiving.
Not great, but the AHA was just 6-47-4 before that. With one nonleague game left in the regular season (Connecticut at Providence on Feb. 11), Atlantic Hockey can do no better than 16-64-5 (.217) in nonconference play, which is considerably off the high-water mark of .365 (25-48-12) set last season.
The third team
I had a chance recently to sit down with Gene Binda, supervisor of officials in Atlantic Hockey.
Binda, who has held the position since 2004, is in charge of scheduling, recruiting and mentoring of officials for the league, as well as for College Hockey America and three Division II/III leagues: the MASCAC, ECAC Northeast and Northeast-10.
Getting his start as a referee in 1974, Binda is also active in several junior hockey leagues, holding the title of Referee-in Chief for the Eastern Junior Hockey League (EJHL), Empire Junior Hockey, Eastern Hockey Federation and Mass Selects Hockey Leagues, which supply not only players to college hockey, but also referees.
Finding new talent to wear the stripes is often difficult, according to Binda, who is evaluating as many as 800 officials in the pipeline.
"Of those 800, there's probably 100 to 150 that will hopefully supplement our leagues," said Binda. "We're trying harder to nurture young guys, former players that maybe want to stay with the game and give back to the game."
Skating and communication are the most important factors in moving up, according to Binda.
"Skating obviously because you have to keep up and have to be in position to make the call, especially at the goal line, which we call the 'money line.' Skating is so important to overall game management."
Officials in every league are looking to improve communication between officials, players and coaches, Binda said.
"Hockey used to be a sport where it was frowned on [for the referee] to talk to anybody," Binda said. "It stemmed from having one referee but now we've transitioned to a four-man crew and it's important they talk to each other as well as coaches and players.
"We approach it now like there are three teams on the ice, the two teams playing each other and the officials. It's very important that we're communicating with each other."
Binda said that a point of emphasis in training referees is to keep cool and take a step back when dealing with potentially explosive situations.
"There's always been this notion that it's alright to scream at each other to get our point across," he said. "We want better communication and officials that can tell the difference between an emotional situation and an abusive situation. Hockey is an emotional game and things can be said in the heat of the moment that a good official can recognize. But they've also got to know where the line is between an emotional conversation and an abusive one."
Another game management strategy that Binda is employing with his officials is to try to identify the instigator in situations and avoiding matching penalties when possible.
"A washing of penalties, taking guys off each team and making it still five-on-five or even four-on-four doesn't penalize the aggressor enough," said Binda. "If a player is clearly the aggressor, he should pay the penalty. It's the difference between intentional and reactionary. If somebody gives you a two-hander across the hands, there's going to be a reaction on your part. We don't expect that there won't be."
Binda is also preparing current and future officials for the management of video replay, which is currently being used at Air Force, Army, Bentley and RIT. Next year it will be mandatory across the league.
"Why not get it right if you have the tools?" he said. "Look at the Air Force game against Vermont in the NCAA tournament. That was a heartbreaking situation for Air Force, but in the end it was important to get it right.
"That's what we want. When you have to send somebody home [with a loss], at the end of the day, you want to get it right."
Hobey hopefuls
The countdown to the Hobey Baker Award started this week with the opening of fan balloting. Fans can vote once per day and the results will be good for 1 percent of the total vote in each phase of the selection process.
The following Atlantic Hockey players are on the ballot:
• Brett Gensler (Bentley)
• Kyle Gibbons (Canisius)
• Matt Ginn (Holy Cross)
• Alex Grieve (Bentley)
• Isaac Kohls (Niagara)
• Dan O'Donoghue (Mercyhurst)
• Jimmy Sarjeant (Mercyhurst)
• Steve Weinstein (Bentley)
• Cody Wydo (Robert Morris)
• Matt Zay (Mercyhurst)
USCHO weekly awards
Player of the week — Bentley's Brett Gensler: You have to have a pretty good weekend to beat out four guys with hat tricks, and Gensler did just that, scoring four goals and adding four assists in a sweep of RIT.
Goalie of the week — Mercyhurst's Jimmy Sarjeant: Sarjeant stopped 87 of 89 shots last weekend, including a 51-save shutout against Holy Cross. His save percentage in 12 conference games is .950.
Rookie of the week — Sacred Heart's Justin Danforth: The league selected Air Force goalie Chris Truehl, who has been impressive standing in for the injured Jason Torf, but I'm going with Danforth, who had four assists, two in each game, in a split at Canisius. Danforth has 17 points so far, most among AHA rookies.