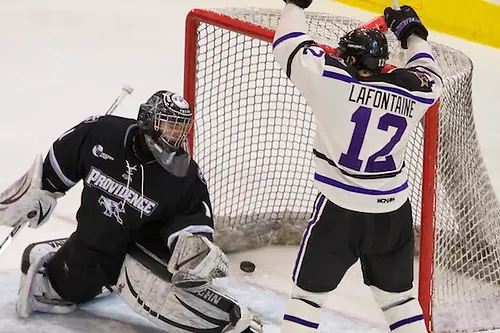 Here's our weekly look at big events and big issues around Division I men's college hockey.
Jim: Todd, we're coming off an interesting weekend as a few top teams made a statement, a few struggled mightily and a couple of teams made us stand up and take notice.
Minnesota and Boston College both had solid weekends, with the Gophers sweeping Ohio State and BC picking up wins over Boston University and Maine. At the same time, No. 3 St. Cloud State tied and lost to Western Michigan. And probably the biggest shocker was upstart Minnesota State sweeping No. 2 Ferris State.
I hadn't given a lot of notice to the Mavericks this season, but after that sweep I looked to see they have a decent 14-10 record and sit in second place, two points behind Ferris State in the WCHA standings.
Todd: After last season's success, Minnesota State was expected to be the team to beat in the new-look WCHA, but Ferris State stole that thunder in the first half of this season. The Mavericks started to wrestle a little of that back last weekend — and I use wrestle intentionally there, because the teams combined for 216 penalty minutes in Saturday's 4-3 Minnesota State win.
That includes three fighting majors and 11 game misconducts, one of them to Bulldogs goalie CJ Motte. We knew new rivalries would form with the changed conference landscape, and I think Minnesota State and Ferris State started forming a good one last weekend.
[youtube_sc url=http://www.youtube.com/watch?v=BFl3FRf6yEE&hd=1]
Another team making a big statement last weekend in my eyes was Union. The Dutchmen swept New Hampshire on the road, improving to 15-4-3 on the season and joining Quinnipiac in the top four of the PairWise Rankings. Minnesota and Boston College may be establishing themselves as the top two teams in the country, but it wouldn't be wise to keep Union too far out of that picture.
Jim: Union certainly was another team that made me take notice, but the Dutchmen have been doing so all season. With just one loss in its last 14 games, Union is in great position to take control of the ECAC Hockey regular season race. The Dutchmen are 9-2 in league play and a point behind Quinnipiac with two games in hand. Aside from a nonleague game against Rensselaer at the Times Union Center in Albany, N.Y., on Saturday, it's all ECAC hockey for Union from here on out.
Two other aforementioned teams took major steps toward their conference regular season titles last weekend in Minnesota and Boston College. The Gophers have a 10-point lead over second-place Wisconsin in the Big Ten, though the Badgers do have two games in hand. Boston College has a six-point lead over second-place Northeastern with just eight games remaining for both.
For the Eagles, the offense is clicking at unprecedented rates, averaging nearly five-and-a-half goals per game since returning from break. It's still early to say, but Minnesota and BC seem to be two early front runners to be in Philly come the Frozen Four.
Todd: I was thinking about the potential of those teams being at the Frozen Four this year and wondering how much Minnesota wants to make amends for the poor showing it had in the national semifinal against BC two years ago in Tampa. Now, the Eagles were a tremendous team that year and a deserving champion, but I know the Gophers and their fans would like a do-over for that semifinal game that ended up 6-1 for the Eagles. Maybe it'll happen.
You mentioned the 10-point lead Minnesota holds over Wisconsin, but that of course is on a three-point system and with the Badgers hosting two games against the Gophers on Feb. 6 and 7. Wisconsin could cut that lead to four points with a regulation sweep of Ohio State this weekend while Minnesota is playing in the inaugural North Star College Cup against St. Cloud State and either Minnesota State or Minnesota-Duluth. As we saw in the CCHA in past years, the standings seem to get shaken up quickly when games are worth three points.
Jim: I'm intrigued by the North Star College Cup tournament. It feels very similar to what we have in Boston with the Beanpot. If there is strong support for this event, I would hope that it would take off similar to the Beanpot. I always thought the Midwest needed such a tournament. The Great Lakes Invitational comes close, but without the same four teams, I think it's difficult to develop the passion for the event among the fan base.
Todd: The GLI also has what some would say is a disadvantage in that it's right after Christmas, when college hockey is just getting back into the swing of things. A Minnesota tournament at this point in the season has greater potential but we'll have to see what kind of traction it gets.
There's also the quirk of rotating Minnesota's five Division I men's teams through the four spots over the years, which could add some confusion that you don't get with the Beanpot. (Minnesota is the permanent host so will be part of it every year.) I don't think anyone's going to touch the Beanpot in terms of its place in the college hockey community, but having a western equivalent is overdue.
Jim: I agree that it is difficult to replicate the Beanpot, particularly in this day and age where coaches are less likely to lock themselves into two automatics in their nonleague schedule.
And speaking of schedules, let's look ahead to this week. Out east there are a couple of big series as No. 8 Massachusetts-Lowell will play a home-and-home against No. 7 Providence, a series that a year ago determined first place in Hockey East on the final weekend of the season.
You also have second-place and 11th-ranked Northeastern traveling to No. 15 Notre Dame for two as the Irish look to climb up the Hockey East standings. In the ECAC, No. 13 Clarkson will have a big road test as it heads to Colgate and No. 12 Cornell. How about out west?
Todd: The North Star College Cup gives us a top-five matchup in No. 1 Minnesota vs. No. 5 St. Cloud State on Friday. In the NCHC, there's a meeting of teams looking to work their way into NCAA tournament contention when No. 16 Denver hosts No. 18 North Dakota.
And in the WCHA, No. 6 Ferris State will have to go back on the road to shake off its sweep at Minnesota State, traveling to Michigan Tech.