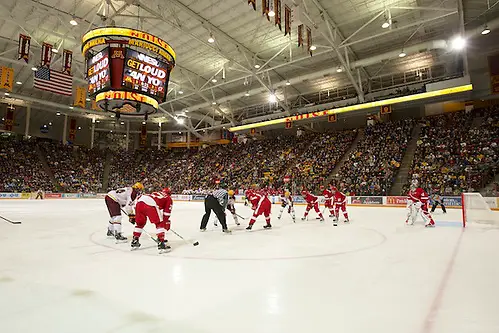 After road tripping last season to 13 venues in the Northeast in my quest to catch a game at every NCAA Division I men's hockey school by the time I'm 50, I recently returned from another fun, multi-state journey through the heartland of America.
Earlier this season I visited nine different schools, including eight for the first time. And like a year ago, I wasn't great karma for the home teams. Last season, only seven of the 13 hosts won their games I witnessed. This time the hosts went 5-3-1. And like a year ago, the U.S. Junior National Team was unwelcome guests during my visit. A year ago, Merrimack was the victim. This year it was Minnesota State that lost.
In addition to the college pucks, I also soaked in a few high school games in Minnesota and caught a game up in Winnipeg, the only NHL arena I'd yet to see. Furthermore, I had a great time checking out the U.S. Hockey Hall of Fame in Eveleth, Minn., plus historic, old throwback rinks in the Iron Range and awesome "Little Ralph" Engelstad Arena in Thief River Falls. And my excuse meter remained in perfect form on the highways and byways — three warning tickets for speeding in three different states! Thank you officers in Ohio, Indiana and Minnesota for your kindness!
Like my trip a year ago to the Northeast, here's a recap, with a handful of "awards," followed by my top three from this most recent delirious journey:
Best Student Section Award
And it's by a landslide: To the deranged students at Ferris State's Ewigleben Ice Arena in Big Rapids, Mich., who made life miserable for Bemidji State netminder Andrew Walsh during my visit. We can blame a tradition in the 600-strong, sold-out-for-the second-year-in-a-row "Dawg Pound" for some of the antics that include in-game signs that are constantly changed along with ridiculous chanting. Students pay some $85 for season tickets.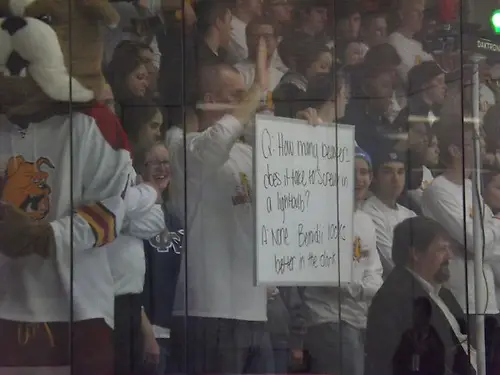 Thomas Szidik will hand down this tradition after this season to junior Joel Root but not before testing the boundaries of decency and annoying the Dean Wormers in the Ferris administration. Szidik out-freak-showed 20 other students to earn this leadership role.
"Helen Keller has better vision than you" is a PG version example, for this is a wholesome family column.
"I used to be a resident assistant," Szidik explains to me. I didn't follow up to ask if this was a career move up or if he'd been fired as an RA, seeing that "How many Beavers does it take to screw in a light bulb? None. Bemidji looks better in the dark" probably wasn't in the RA handbook.
"I'm always pushing it. I've had this list [of signs and chants] in my phone since high school," Szidik explains. "Actually, I have two cell phones. See here, this is a different list."
The other lunatic in the Pound isn't a dog, it's a monkey. "The Monkey Man," Matt Leindecker, comes to each game in a horrifyingly ugly and disgustingly smelly monkey outfit and mask wearing hockey gloves and a double zero on his back (and on this night, "I Love Beavers," on his big bleeping fanny). He also bounced around like a monkey and nearly clobbered me twice. When the Bulldogs scored, he literally slid down the steps of the student section.
Not only was the Bulldogs student section a top-notch freak show, it also was the background for what happened to be the best game on my trip. Ferris State beat Bemidji State 5-4 on a blast by Jason Binkley 1:28 into overtime.
The Colorful, Cracker Box Award: Midwest Edition
To the BGSU Ice Arena, Bowling Green, Ohio. It isn't Cornell Cracker Box, but for these parts, it's pretty darn close.
I saw the Falcons lose a 3-2 overtime thriller to Minnesota State, which was the second-best game on the journey.
The feel of this place really hasn't changed much since Ken Morrow played here before helping lead the 1980 U.S. Olympic team to the gold medal. It wasn't a sellout during my BGSU visit, with noticeable pockets of empty seats in one corner of the arena, but the rest of the place was crammed with 2,300 of your closest friends in orange and brown. The student section, perched along the glass and upward, wasn't nearly as loud as at Ferris State, but rather a few old timers kept the place lively, particularly near center ice as they barked at the zebras on more than one occasion!
Best Band Award (but Neil Young, where are the fans?)
To Alabama-Huntsville. I saw the Chargers twice on my trip, once at home and once on the road, and of course, they lost both times. I'm not certain this is going to work long-term for UAH, but they do have one hell of a band — at least for home games!
The phrase, "Hockey Capital of the South" — consistently illuminated on the scoreboard at each end of the Von Braun Center — is a bit of a stretch, wouldn't you say, when you play on a Saturday night at a less-than-half-full arena? Well, wouldn't you know it, the Alabama football team was also playing a televised regular season game at the very same time on the road — 187 miles away! You know, priorities! Roll Tide.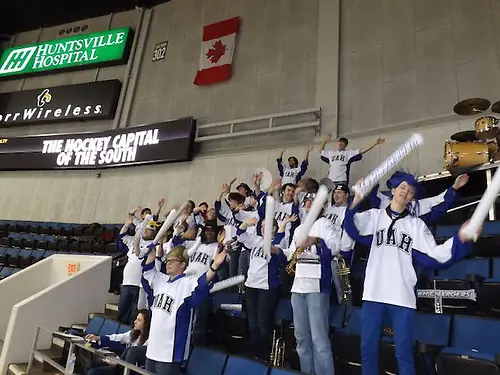 The Chargers somehow managed to stay with then-No. 3 St. Cloud State before falling 4-3. But the band remained chipper as ever, especially when playing "Sweet Home Alabama" with its alternate lyrics like my favorite:
"Well, I heard ole Neil put her down … because she was heavy!"
The Comatose Award
To Ohio State, which plays its games in the antiseptic and charmless Value City Arena. It's a concrete jungle. I've caught a Buckeyes men's basketball game here when this place is nearly full and it still doesn't impress, so imagine what it's like for hockey. Not good, especially when the place is less than 50 percent full — in the lower bowl. The Buckeyes draw so poorly for hockey they just close the upper bowl right off.
Granted, I caught a Tuesday night nonconference game in late October against Bowling Green, but the Buckeyes certainly reap no home-ice advantage playing here.
The I'm Freezing My Fanny Off Award (And Perhaps That's Why I Forgot My Hat)
To Bemidji State. When I arrived in Bemidji, Minn., on Dec. 13 before the Beavers' game against Alaska, it was overcast — and the temperature was a balmy minus 9. That's not including the wind chill, folks.
The cold apparently got to my brain and not in a good way, because, after parking at the shiny Sanford Center on the shores of the frozen lakefront, I forgot my hat in the car — big, big mistake. By the time I got inside, I couldn't feel my extremities, let alone my ears.
"Do you know it's colder here today than it is Fairbanks?" quipped a smiling fan, apparently relishing enjoyment in my misery in a failed attempt to offer comfort.
Before my brain had to time to respond, he had chuckled and wandered away. Strangely, when I came to, all I could think about (except whether my ears would ever move again), was the pack of gum I received earlier in the day from the local chamber with the chewy marketing slogan of "experience the refreshment of Bemidji."
There really isn't a bad seat in the house at Sanford Center, yet I don't know if it was the cold, the holidays or because the Beavers trailed three separate times in the game, but the fan atmosphere was quite, well, lame. Maybe it was because they skated to a tie, the dumbest invention in the sports world — "Hey fans, it's a tie! Well, thanks for coming! See you next time!" You say tie. I say boo.
The Pilgrimage to The Iron Range Was Well Worth It Award
If you're a puck head fan like me, it's worth your while to make a visit one of these days to Minnesota's Iron Range region if you haven't already.
The area in Northeast Minnesota gets its name as a result of the iron ore in the area. From Grand Rapids and Coleraine in the south to Hibbing, Eveleth and Virginia in the north, this place has old-school arenas used by high schools today that haven't changed much in decades, with my favorite being Hibbing Memorial Arena. It opened in the 1930s and once hosted the Chicago Blackhawks for training camp. It still has a classic, old-school feel.
The U.S. Hockey Hall of Fame in Eveleth is a shrine to the 1980 "Miracle on Ice" U.S. Olympic hockey team, with unique memorabilia from elsewhere, too, like when the University of Illinois had a Division I men's hockey program. Thanks to former NHLer and ex-Colorado College star Doug Palazzari for the tour and the insider scoop on the Iron Range happenings. Palazzari, an Eveleth native, is the hall's Executive Director, and his dad, Aldo, also a NHL alum, played hockey for Illinois. But I got a kick out of learning that former New England Whalers forward Mike Antonovich is the mayor of Coleraine. What in the Brass Bonanza is this world coming to?
At "Sue's Penalty Box" in downtown Eveleth, the Minnesota-Duluth jersey from native Mark Pavelich hangs above the bar and a mural to the '80 team adorns one of its walls. Pavelich played on the "Iron Range Line" on the '80 club that also included two others from this region, Babbitt's Buzz Schneider and Virginia's John Harrington. Bill Baker, assistant captain on the '80 team, hails from Grand Rapids. Over at the Eveleth Hippodrome, there are more artifacts and memorabilia, including from late native son John Mariucci.
Kerry Bidle, athletic director at Virginia High School, played a key role in creating large video screens down both sides at the Miners Memorial Building that include photos and biography information of players when they score or assist on a goal. How many high schools do you know that do this? And remember the Hanson brothers from the movie, "Slap Shot"? They're based on the Carlson brothers from Virginia, as Jeff, Steve and Jack played minor league hockey together in the 1970s. A tribute to the trio hangs in the arena lobby.
At last, my top three favorites from the trip: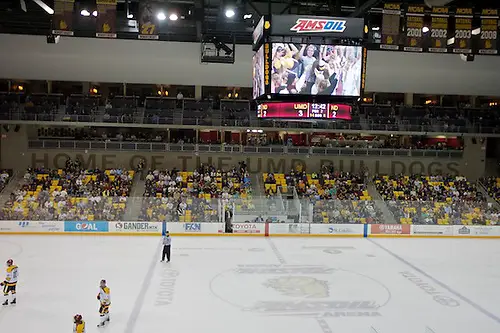 This is a real gem in downtown Duluth along the waterfront. Designed much like Notre Dame's current digs, it has a second deck that hovers over the ice. The Bulldogs came out flying on a Saturday night as they netted three goals in less than four minutes of the first period to topple the then-No. 2 ranked Irish 4-1. And I got a personal tour of the digs most fans don't see. Outside of North Dakota, no players may have it as good as far as amenities in the locker room and whirlpool as the Bulldogs.
There's more hockey history in town at the Duluth Heritage Sports Center, including a wall highlighting all the great players that were nurtured in the area's youth programs and went on to collegiate careers. But the biggest highlight of the facility is the large, historic murals and displays along the concourse of the main arena, which tell the story of Duluth's rich hockey history. The center, which opened in 2008, has an old-time feel and today is home to high school games. It's open year-round for a visit.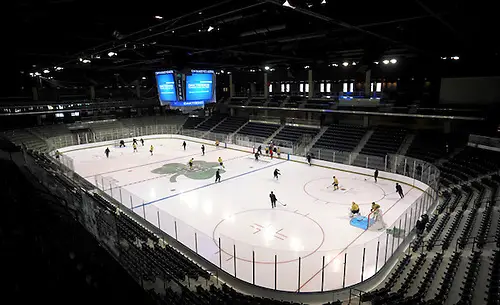 In the interests of full disclosure, I was raised Irish Catholic and am a Notre Dame fan. So there you go — the bias meter has been revealed! Unfortunately, I wasn't even remotely smart enough to even dream of actually attending Notre Dame, but, hey, look at me now, mom!
All journalistic objectivity returning now, the Irish did a heck of a job building this new arena. Facts to support the claim? Well, there are no lousy seats, with the second deck hovering over the ice below. What's more, all home rinks should have their own unique character and color. At Notre Dame, it's "God, Country, Notre Dame" painted high above the west end of the arena, and "Onward to Victory" emblazoned on its south side.
Onward to Victory, indeed, as I saw the Irish pummel Alabama-Huntsville 5-2 before about 4,700 fans. It was Thanksgiving weekend and most of the students were visiting their families, but I was still impressed with the fans and especially the arena, and you'd be hard pressed to find a more beautiful campus than Notre Dame.
This was my second visit to the home of the Golden Gophers, and it won't be my last because this is a special place. College hockey history reeks here, even before you get in the building. The arena's brick facade, with "M" flags flying atop, heightens your excitement as you enter the lobby and climb up the steps to the rink. Above, gigantic banners of great players past create an imposing presence.
I caught an early season Sunday afternoon tilt here between two college hockey powers, as Boston College was in town. No. 1 Minnesota wasted little time in showing no mercy to the then-No. 5 Eagles. The Golden Gophers scored four times in about an eight minute time frame of the first period en route to a 6-1 thrashing of BC.
Please, no boring conclusion
Having now caught a game at more than 40 of the 59 NCAA Division I men's hockey venues over a seven-year period, I think I have a pretty good base of comparison and knowledge level to say the state of the game has never looked better.
Next season, Rochester Institute of Technology opens a new arena. By 2016, Nebraska-Omaha is scheduled to christen an on-campus venue. And schools such as Colgate, Connecticut and Western Michigan may have new facilities in the future too, a testament to the game's popularity and importance.
What this trip also revealed, however, was the widening gap across Division I men's hockey and the multiple, genuine challenges that programs like Alabama-Huntsville and others face in the future just trying to keep up and recruit the best players to their schools.