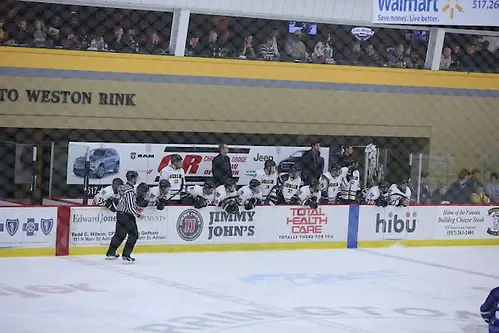 As we enter the final month of the regular season, every coach will say that two points on a nightly basis is necessary.
Our slew of Division III men's columnists take to this weekly blog to tell you, our loyal readers, just what will indeed happen this weekend at rinks across the country.
Or so they think.
ECAC East – Tim Costello
Wow! Just when I thought it couldn't get worse, it did!
A 2-4-0 (.333) pick week has dropped the overall season down to 31-15-4 (.653). I have a lot of improving to do and not a lot of time to do it in. Let's see if the end of January and beginning of February can jump start a new trend upwards.
Here are this week's picks:
Friday, Jan. 31
Skidmore @ Massachusetts-Boston
The Beacons lost two tough ones to travel partner Babson last weekend and three in a row which must have coach Peter Belisle and the troops looking for payback against this weekend's opponents. Too bad for Skidmore that they are in the cross hairs first on Friday night. Massachusetts-Boston 4-2.
Norwich @ New England College
The Pilgrims have been ensconced in the top four all season and need points to stay there. Unfortunately, Norwich is only one point ahead of Babson, so they need the win as much or more to stay in first. Too much depth for the Pilgrims to handle from the Cadets. Norwich 3-1.
St. Michael's @ St. Anselm
The Friday night game is two games in one in counting for both the ECAC East and NE-10 standings. Both teams will bring their best, but the Hawks have been more consistent and have the better goaltending to hold up in this one. St. Anselm 4-3.
Saturday, Feb. 1
St. Michael's @ New England College
It's a bounce-back game for the Pilgrims, who take the needed two points, but not without a battle from the Purple Knights, who continue to play well in spurts, but not the full 60 minutes. New England College 4-2.
Skidmore @ Babson
The Beavers have been rock-solid at home and goaltender Jamie Murray has been among the best in the country in shutting down opposing offenses. The Thoroughbreds have some skill, but so does the Babson back line, which also contributes offensively. Babson 2-1.
Norwich @ St. Anselm
The Hawks played a very good game the first time around at Northfield, so their confidence should be high entering the Saturday matinee. Only problem is Norwich remembers the first game, too, and looks to get the offense on track against the Hawks early. Norwich 4-2.
The calendar changing to February should create a sense of urgency for every team – drop the puck!
ECAC Northeast – Nathan Fournier
Saturday, Feb. 1
Nichols at Becker
This is going to be an intriguing game as Becker earned a 3-3 tie on Nov. 13. Nichols has more depth then Becker. Gregg Hussey had to make 40 saves in Becker's net on that night. Becker will need to limit Nichols shots this time around. Still, if they limit Nichols' shots to 30, I don't think it will be enough. Nichols wins 5-1.
Wentworth at Salve Regina
Both teams aren't having the season they had wanted. Salve Regina got off to a hot start in the first half of the season in conference. When they got out of conference, the wheels fell off. Wentworth has struggled all season. They are both still in the thick of things in terms of the conference tournament. I think Salve Regina gets back on track in a 6-3 game.
Johnson and Wales at Suffolk
Johnson and Wales are firing on all cylinders right now and I don't think that will stop against Suffolk, a team that did play them tough the first time around as they fell 3-1. The Rams haven't been playing well lately and that's not a good trait in playing one of the hottest teams in the nation. I have Johnson and Wales winning 5-3.
Curry at Western New England
The Colonels have been playing well in 2014 and they face a Western New England team that brings a lot of offense. In the first game between the two clubs, the Golden Bears shut out Curry 4-0. Do I think Western New England will be that dominant this time around? No. I believe Curry will be more competitive, but Western New England gets back on track with a 4-3 win.
Tuesday, Feb. 4
Nichols at Curry
The Bison of Nichols shut out Curry the first time around with a 37-save effort from Alex Larson. They picked up goals from Frank Butler and Brett Jackson. Nichols also took eight penalties in the contest, which Curry couldn't convert on. I expect this contest to be high-scoring with the same team coming out on top. Nichols win 4-1.
Salve Regina at Suffolk
Salve Regina doubled up Suffolk 6-3 the first time the two teams met in November. I think the Seahawks look back at this game to regain some of the confidence they had in the first half of this season. Salve Regina scored six in a row before Suffolk scored three times in the third period. I have the Seahawks winning 5-2.
Johnson and Wales at Wentworth
In the first contest in Providence, this was a pretty competitive contest with the Leopards winning 5-3. Wentworth had two power-play goals in the losing effort. Until someone stops Johnson and Wales, I have no reason to pick against them. They have one of the best freshmen goalkeepers in the nation in Joey Ballmer. Johnson and Wales win it 6-1.
Wednesday, Feb. 5
Western New England at Becker
The Golden Bears needed overtime to defeat Becker 5-4, so this isn't a game Western New England can look past. Becker came back from a 4-2 deficit to force the overtime and get one of its two points in ECAC Northeast play. To keep up with Nichols and Johnson and Wales, Western New England will need both points in this one. I have them winning 7-4.
ECAC West – Dan Hickling
Friday, Jan. 31
Nazareth (5-12-1, 1-6-1) @ Hobart (10-4-4, 4-1-3) – Nazareth 3 Hobart 2
Those giant killers from Nazareth, fresh from two huge upsets a week ago, have one more shocker in them.
Saturday, Feb. 1
No. 12 Utica (10-4-4, 5-2-1) @ Elmira (11-7-0, 6-2-0) – Utica 3 Hobart 2
The two-game weekend set could have national implications and will certainly have strong pull within the league. Expect a split, with the Pioneers winning the back half.
MASCAC – Nathan Fournier
Saturday, Feb. 1
Massachusetts-Dartmouth at Fitchburg State
The last time these two teams played, it was the final game for both teams for the first half as the Falcons defeated the Corsairs 3-0 on Dec. 7 as Ryan Wysocki pitched a 3-0 shutout. Timmy Genova had two goals and Thomas Carlow also had a goal. I expect Fitchburg to win again this time around in a 4-2 contest.
Plymouth State at Westfield State
This should be an offensive showdown with both teams averaging over three-and-a-half goals per game. In the first game, Plymouth State came away with a 6-4 victory. I think this time around, it won't be as much of a high-scoring game with Plymouth State adding goalie Gordon Ceasar from Utica, but Westfield State has offensive firepower. I will take Plymouth State in a 5-3 game.
Salem State at Worcester State
It wasn't a pretty contest the last time these two teams met on Dec. 7 where Salem State came away with the 6-1 victory. This time, the game is in Worcester and the Vikings haven't had the best of luck on the road. Worcester State has been playing better the last two weeks. At the end of the day, I believe Salem State has an advantage in talent. The Vikings win 3-1.
Thursday, Feb. 6
Westfield State at Framingham State
This will be a very intriguing game as the first time these two teams met, Framingham State had a better first half compared to Westfield State. In the second half, Westfield has been playing better and Framingham State has cooled off. I think Westfield State redeems its 2-1 loss from the second game of the season. Westfield State in a 6-4 final.
Salem State at Plymouth State
This will be the game of the night in the MASCAC. This will be a very good competitive game. The first game of the season went into overtime with Salem State coming up with the 4-3 victory. Salem State had four different scorers, while Zack Sarig scored twice. It will be another close game and I think Plymouth State gets it done on home ice 3-2.
UMass-Dartmouth at Worcester State
Both teams need the two points for conference tournament positioning. They are the bottom two teams in the MASCAC standings. UMass-Dartmouth beat Worcester the first time the two teams met in the first half of the season. I think the Corsairs get it done once again, but I believe it will a closer contest. UMass-Dartmouth wins a 4-3 game.
MIAC & WIAC – Brian Lester
It's the final weekend of the month and the battle for league titles continues to take shape.
St. Thomas enters the weekend four points behind first-place Gustavus Adolphus in the MIAC, while St. Olaf and St. John's have opportunities to move up in the standings with big weekends.
In the WIAC, no one is running away with the title just yet. Wisconsin-River Falls is on top, but Wisconsin-Stevens Point is right on its tail. Only one team has more than two losses in league play and that is Superior, which has three.
To say the least, everything gets interesting at this point in the season.
So without further delay, here are my picks for the weekend.
MIAC
St. Thomas vs. Augsburg
The Tommies have been tough on defense lately and their last three wins have come via shutout behind the solid play of Drew Fielding.
Fielding has been remarkable in goal. He has a goals-against average of 1.36 and has allowed only 22 goals on the season. He has racked up 403 saves as well. If he continues that trend, it's going to be tough for Augsburg to get a win in the series.
The Auggies haven't been bad and really need to get a split out of this weekend. They have tied in their last two games. Their capable of big games on offense and have racked up 45 goals on the season, including 11 by Ben McClellan.
Still, I just think if Fielding is on his game, the Tommies win both. St. Thomas, 4-1, 3-0.
St. John's vs. Gustavus Adolphus
This is an opportunity for Gustavus to strengthen its hold on first place, but it won't be easy against a Johnnies team still determined to make a push for another title.
The Gusties have won four consecutive games and have scored three or more goals in each of those wins. Also during that stretch, they haven't allowed more than two goals in a game.
Corey Lievermann, who has 11 goals and eight assists, continues to shine and will need to be an impact player again this weekend. The Gusties have a lot of talent around him, though, and have racked up 58 goals in all. If John McLean does his job in goal – he has a 2.14 goals-against average – the Gusties win at least one in the series, and maybe both.
The Johnnies could take a huge step forward in the standings with a big weekend. They are two points out of third and seven out of second. St. John's has been on a roll. It has won six consecutive games and seems to have found its stride.
The Johnnies have scored 49 goals and will need to be clicking on offense to get the job done, but the real key is the play of Saxton Soley, who has a goals-against average of 2.08. This series will be decided by defense. Gustavus 4-2, St. John's 3-1.
St. Mary's vs. St. Olaf
St. Olaf is in third and gain even more ground with a strong performance this weekend. The Oles have won four consecutive games and have scored 49 goals on the year. They have scored four or more goals three times during the streak and have earned a pair of shutouts in the stretch as well.
St. Olaf needs to attack early and often, and Dan Cecka could be key to that. He has scored 11 goals and dished out five assists. If the Oles are clicking offensively early, they will be in great shape.
St. Mary's needs a sweep if it's going to have any hope of getting back into the playoff picture. The Cardinals have dropped three consecutive games and have allowed 55 goals on the season.
The Cardinals need to find a way to strike first and their defensive performance will have to be their best of the season if they are going to do something against the Oles. St. Olaf, 4-1 and 5-3.
WIAC
Wisconsin-River Falls vs. Wisconsin-Superior
River Falls has been a little up and down lately, but owns a 4-2 record in conference play. The Falcons have proven they are legit, though, and are coming off a 3-1 win over Wisconsin-Eau Claire.
Willie Hess continues to power the offense with 10 goals. River Falls has scored 55 goals in all, while the goalie rotation of Scott Lewan and Tanner Milliron has proven to be effective.
The big thing for River Falls is that it has played well on the road, fashioning a 6-3 record, and that should be beneficial to it this weekend against Superior.
Superior is looking to turn things around and comes in on a three-game winless streak.
Pat Dalbec and Michael Rey need to play well for the Yellow Jackets to have a shot at winning at least one game in the series. Dalbeck and Rey have tallied eight goals apiece and have come through with eight assists apiece as well. Scoring early will be big for Superior. River Falls 4-2, Superior 3-2.
Wisconsin-Eau Claire vs. Wisconsin-Stout
The Blugolds have been tough defensively and recently came off a stretch where they blanked five consecutive opponents.
Eau Claire continues to be tough offensively as well and has racked up 65 goals on the year.
Goaltending will be vital to success for the Blugolds, especially on the road. Tyler Green and Jay Deo have combined to allow only 28 goals. Green has racked up 292 saves and Deo has come through with 128 saves.
Regardless of who gets the nod as the starter, both are certainly capable of getting the job done. And if the Blugolds get great goaltending, they will be tough to beat this weekend. It's also worth noting that Eau Claire is 5-1-1 on the road.
Stout has a chance to make a move in the standings, but it won't be easy against the defending champions. The Blue Devils have been up and down lately as well, winning two of their last four, and they are going to need a great performance out of Corey Koop to be successful against Eau Claire.
Koop has made 547 saves on the season and he will need to rise up as he has done in the past for the Blue Devils to be in this game. Stout has scored 47 goals on the year and will need to make the most of its opportunities. Eau Claire, 5-1, 4-0.
NCHA – Katie Carito
Adrian at St. Norbert
This is without a doubt the series to watch this weekend. Top-ranked Adrian has yet to have a loss on the season, toting a 16-0-3 record. The second-ranked St. Norbert has a 16-2-1 record. Both teams are tied for first in the conference with 22 points. The Green Knights have a stellar home record, while the Bulldogs are very impressive on the road. I'm torn on who to choose, so I'll pick a split. St. Norbert 2-1, Adrian 4-1
Milwaukee School of Engineering at Finlandia
Finlandia (1-11-0) was swept by Adrian last weekend, while MSOE was shut out by St. Norbert. Both teams had a win before going into the weekend facing the conference powerhouses. I think they will split the weekend. MSOE 2-1, Finlandia 2-1
Lake Forest vs. Lawrence
Lake Forest (10-8-1) is sitting in the fourth spot in the conference with 12 points, while Lawrence (5-13-1) is at the cusp of losing a playoff spot at seventh. Lake Forest is riding a six-game unbeaten streak. Lawrence snapped a seven-game losing streak last weekend with an impressive 3-2 win over St. Scholastica. I think Lake Forest will extend its streak to eight. Lake Forest 2-1, 3-1
Marian vs. Concordia (Wis.)
Marian (6-11-2) sits at sixth place with 11 points, while Concordia (8-7-4) is right above the Sabres in fifth place with 12 points. This will definitely be an exciting series to watch. The Sabres swept Northland last weekend. The Falcons are looking to snap a four-game winless streak. I'm going split. Marian 3-2, Concordia 2-1
Northland vs. St. Scholastica
St. Scholastica (10-5-4) has gone 2-2-2 in the second half the season and has yet to find a real rhythm. Northland's (3-16-0) three wins have come to conference opponents. I think this weekend will be a good time for the Saints to get back in their winning ways. St. Scholastica 3-2, 2-1
NESCAC – Tim Costello
A 3-2-1 (.583) week of picks is the best of January, but like teams that want to advance in playoff hockey, I better start making better picks at the most important time of the season.
Overall record now stands at 31-13-5 (.684), so I clearly have my work cut out in the final month of the regular season if I want to reach the 70 percent threshold.
Here are the picks:
Friday, Jan. 31
Tufts @ Middlebury
The big question in this one is who is in goal for either team and will they come up with enough stops to get the win. The Panthers have home ice and the better offense so expect they get enough from whomever is in the crease on Friday night. Middlebury 5-2.
Connecticut College @ Williams
The battle for first overall is fully engaged, so don't expect the Ephs to be leaving any points on the table while they scoreboard watch the action at Trinity. The Camels are a game opponent, but the Ephs have too much game and actually don't play a one-goal contest. Williams 3-1.
Saturday, Feb. 1
Amherst @ Trinity
The first matchup went the way of the Lord Jeffs on their home ice, so look for the high-flying offense of the Bantams to look to return the favor this weekend. Amherst hasn't seen a home-ice game all month and need to find points on the road, but won't find them in Hartford. Trinity 3-1.
Hamilton @ Wesleyan
The Cardinals dug themselves an early hole and now are looking to finish strong in the final month and make sure they qualify for the postseason. Home games should mean points and Keith Buehler and company find two against their rivals from upstate New York. Wesleyan 4-2.
Tufts @ Williams
The Jumbos have struggled stopping shots and goals from opponents all season and Williams is a team you don't want to have that issue with. Home sweep on tap for the boys in purple assuming they don't take Tufts lightly. Williams 5-2.
Sunday, Feb. 2
Hamilton @ Trinity
The battle for first and potential tiebreakers should be in full swing next week when the Bantams see Williams, but coach Matt Greason isn't going to let the boys forget about these points and playing tough against a team that has always caused Trinity trouble. Trinity 4-2.
The battle is to qualify for the playoffs and hopefully with the best seeding possible – drop the puck!
SUNYAC – Dan Hickling
Friday, Jan. 31
Potsdam (6-11-0, 1-7-0) @ Brockport (5-9-3, 2-5-1) – Potsdam 4 Brockport 2
Both teams are desperate for points, but the Bears are truly backed into a corner. For them, it's snarl time.
Saturday, Feb. 1
Cortland (4-12-3, 3-6-2) @ Oswego (12-4-2, 5-3-1) – Oswego 5 Cortland 2
The Lakers will want to prove they are better than their last outing, a 4-0 blanking at Buffalo State last Saturday.