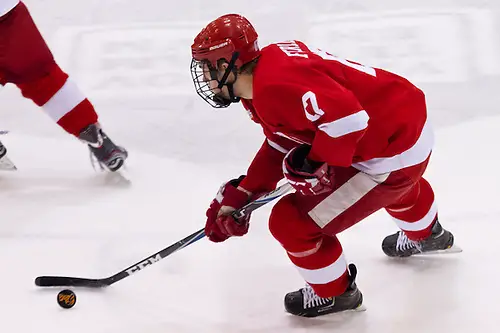 After staggering through an uncharacteristic lull during the second half of last season, Cornell enters the stretch run this year poised to put itself in a good position for the conference tournament and beyond.
The Big Red pushed their unbeaten streak to nine games with a road sweep at Yale and Brown last weekend. Friday's game against the Bulldogs showcased a key element for the Big Red throughout the third-best active unbeaten streak in the nation: scoring depth.
Fourth-liners John Knisley and Jeff Kubiak each had a goal in Cornell's 3-2 overtime win, continuing a recent trend of the Big Red getting production from a number of different players.
"It's a good balance right now because everybody in the lineup is on one special team and we never had that last year," Big Red coach Mike Schafer said. "Those guys allow us to keep guys like [Brian] Ferlin and [Christian] Hilbrich fresh on the bench when you can roll out your third and fourth line to kill penalties."
Schafer said the second half has seen better play from some of Cornell's freshmen, such as Kubiak, who has four points over the last three games, and Matt Buckles, who has two goals in that span.
Even if they're not scoring, Knisley knows his line can help create chances for the next shift.
"Especially when we get it down low working in their zone and create pressure on their defense," he said. "Getting pressure in there and hitting their 'D' takes a toll on them by the end of the game."
Goalie Andy Iles allowed only three goals in just under 125 minutes of action last weekend, and has given up more than two goals only once since the end of November. His steady play, coupled with the Big Red's production through the lineup, has Cornell in the running for the Cleary Cup.
"Going down the stretch here we're going to need four lines going," said Ferlin, who scored the overtime winner Friday. "When those guys are scoring it's an extra boost. It takes a little bit of the load off of us, even if it's just scoring every now and then."
Lyon carrying the load for Yale
Sitting at sixth in the ECAC Hockey standings and tied for 20th in the PairWise Rankings, defending national champion Yale will need to finish strong if the Bulldogs are going to make the NCAA tournament. But if Yale misses a chance to defend its title, it won't be because of goalie Alex Lyon.
The freshman has started 12 consecutive games dating to Dec. 6. He's been a more-than-adequate replacement for Jeff Malcolm, who seized the starting job with a breakout senior year that ended with a shutout in last April's national championship game.
"He's kind of like a sixth skater back there the way he handles the puck and relieves pressure from that standpoint," Bulldogs coach Keith Allain told The New Haven Register. "He's calm under pressure. … For any team, it's nice when your goalie is calm under pressure."
Lyon, whose .923 save percentage in league play is tied for second with Union's Colin Stevens, said playing the puck is something he's worked on throughout the season.
"I felt coming in I was pretty sound playing the puck but then the speed adds a whole new element coming from juniors," Lyon said. "Guys are a little shifty and come in with a lot more speed. They anticipate much better. It's just a matter of patience. Like my goalie coach always tells me, you have more time than you think. It's been an adjustment period for sure, but it's getting better."
Beanpot meltdown
For the sixth straight year, Harvard will be playing in the early game at the TD Garden on the second Monday of February.
The Crimson were dominated in a 6-0 loss to Northeastern in the opening game of the Beanpot tournament on Monday, denying Harvard a chance at the program's first title since 1993.
Northeastern led 2-0 after one, and then scored twice in the opening minutes of the second period. At that point, it appeared that Harvard went through the motions, as it was unable to create many scoring chances in a game that featured a combined 31 penalties for 76 minutes.
"We were never really able to get anything going," Crimson coach Ted Donato said. "I thought the game was choppy with all the penalties. They outplayed us all over the ice, and outcoached us, for that matter."
Much of what Harvard tries to do offensively is based on its speed. But the Crimson could never take advantage against goalie Clay Witt and a physical Northeastern defense.
"[We] tried to get to a game to go up and down the ice and put pucks behind them, and use our speed to get in their zone," Donato said. "We really weren't able to establish that."
Harvard will face Boston University in the consolation game at 4:30 p.m. EST Monday. The Crimson beat the Terriers 7-4 on Jan. 4.
"It hurts," Harvard senior captain Dan Ford said. "It's going to be tough to watch the late game next week. I really would have liked to be a part of the championship game, but we've got a lot to play for still."
Around the league
• A pair of long streaks came to an end last weekend. Colgate was swept on the road against Brown and Yale, snapping the Raiders' six-game winning streak, and handing them their first losses of 2014. Meanwhile, St. Lawrence beat short-handed Union last Friday for its first win since Nov. 29, a span of nine games.
• There were several individual milestones last weekend as well. Union's Daniel Carr recorded his 132nd career point, the most in the program's Division I era. Quinnipiac's Connor Jones scored eight seconds into the Bobcats' 8-1 win over Dartmouth, the fastest goal in program history, while Jordan Samuels-Thomas eclipsed the 100-point mark for his collegiate career with a goal and an assist against the Big Green.
• Despite the Beanpot loss, it must have been an interesting week at Harvard coach Ted Donato's house. His son, Ryan, committed to Harvard last week. Ryan Donato plays at Dexter Academy, where he's coached by his uncle, Dan Donato.
Extremely excited to officially announce my commitment to play college hockey at Harvard University #GoCrimson

— Ryan Donato (@DonatoRyan) January 30, 2014
• There are four weekends left in the regular season, and the standings should begin to take better shape next week, as every team will have played an even amount of conference games by that point.
• Brown's Mark Naclerio (player of the week) and Cornell's Andy Iles (goalie) and Jeff Kubiak (rookie) won the league's weekly honors. Naclerio had three goals and an assist, while Iles posted a .959 save percentage in a 2-0 weekend for the Big Red. Kubiak scored his first collegiate goal against Yale on Friday, and factored in three of Cornell's five goals against Brown and Yale.