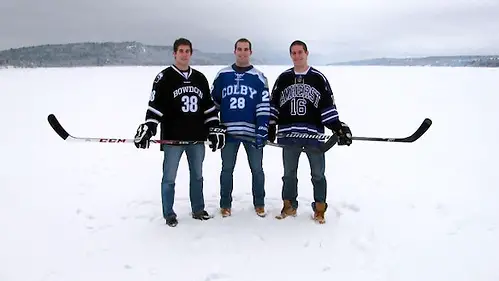 Many consider the NESCAC among the most competitive athletic conferences at the Division III level and certainly, no one can question the academic quality and integrity the 11-school conference represents to it thousands of students.
So it should come as no surprise that many legacies and sibling combinations have appeared over the years competing both as teammates and as foes at different institutions across the league.
Many of the long-time coaches in the league have no problems recollecting the Smigelskis, the Menards and the Tatums to name but a few of the brother combinations that have appeared in men's hockey. Those were pairs of brothers that played at the same time, but no one can recollect three brothers all playing for different teams at the same time.
Say hello to the Fenwicks.
Andrew (Amherst), Chris (Bowdoin) and Scott (Colby) have redefined the definition of brotherly rivals and respect the special thing they have in the ultra-competitive NESCAC conference.
But until a few years ago, it would have been difficult for any one of the brothers to find a NESCAC school on the map from their home near St. John, New Brunswick.
Andrew changed all that and started a pathway his brothers were only too happy to personalize in their own way.
Growing up in Quispamsis, N.B., the boys, of course, started playing hockey at a young age and developed their hockey skills on the frozen river not far from their home. They developed in the traditional Canadian youth hockey model until Andrew was cut in his attempt to make a Midget AAA team in Canada. That change in pathway opened his eyes to other hockey-playing opportunities and a focus on the all important academics that the eldest brother knew would be an important piece in defining his future professional, not hockey, career.
Andrew matriculated to the Northwood School in upstate New York and became exposed to the quality of academics and hockey in the NESCAC – something he felt he could explore playing at the next level while giving his pre-med academics the best chance for development and success.
"I really didn't know about the NESCAC schools, but knew my game wasn't suited to D-I," said Andrew. "At the bigger program, I don't know that I would have had the time or been able to commit to the challenging major of biology with a pre-med focus. The NESCAC schools give me the balance to focus on my academics and gain the satisfaction of playing hockey at a very high level. It's the best of both worlds for me and Amherst was the perfect school for me to land at."
Brother Chris, who overlapped with Andrew at Northwood for a single year, also took a similar pathway and through faculty ties that included Mike Corbelle and Ed Good at Northwood, found himself at Bowdoin a year later.
"It was interesting to see the process that Andrew went through," noted Chris. "We all have similar ambitions to get into medicine as a career, so the academics were always an important piece of the equation in making our decision about school and a place to continue our hockey careers. We all work at a hospital back in St. John during the summer, so being able to continue to play hockey at a high level and work on our future at a great school has been a really good thing for all of us."
The third and final Fenwick, Scott, is a freshman at Colby this season. Like his two older siblings, Scott leveraged his time at Northwood to land admission at Colby where he and Chris are travel partners and their respective schools are long-time rivals that enhance the overall brother vs. brother atmosphere.
"I definitely felt like I wanted to make my own path after Northwood," said Scott. "Colby was someplace that I really liked a lot when I visited and was recruited and it is great that I get to see Chris with a little more frequency based on being in the same hotels on weekend road trips. It is a really special thing to be able to play at this level and of course, the games against each other mean a little more now that we are at three different schools. I honestly don't notice my brothers when I am out on the ice, but apparently, everyone else does."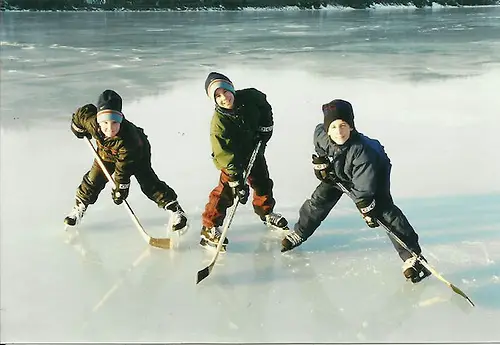 During the annual Bowdoin vs. Colby series back in December, Chris' line was matched up on the ice with his brother Scott's line. During the course of play in the offensive zone, Scott lined up his opponent and delivered a big hit that had everyone on both benches buzzing.
The "hittee" was, of course, his brother, Chris, and the good-natured ribbing ensued.
"I think that the guys on the team notice what goes on during shifts more than we do if we are matched up on the ice at the same time," noted Chris. "Of course, I got some grief when I came back to the bench, but I honestly didn't know it was Scott that hit me. I think we got even when my line scored on his line, but the rest of the guys on the team also pointed that out. We just stay focused on what we are supposed to be doing on the ice and really don't notice each other when the game is going on."
The past two seasons have brought conference championships to two of the three brothers. Andrew and Amherst took the league title along with a trip to the Frozen Four in 2011 and Chris realized a NESCAC championship last season with Bowdoin. Of course, the brotherly ribbing would point out that Scott has no title to claim as a freshman at Colby, but no question the aspirations are there.
"What we have is a really special thing," stated Andrew. "We go to great schools and compete against each other on the ice in a way that not many people can appreciate the way we do. There are definitely some bragging rights involved, but mostly it is just a lot of fun that we are still playing the game and that our parents still get to see all of us play against each other. They try to be neutral with each wearing a hat or scarf from different teams when we play each other, but I think they love that we have this in common and will be able to share these moments and connections for the rest of our lives."
None of this is lost on the Fenwicks' mom, Beth, or dad, Mark, who may have one of the busiest travel schedules of any parents committed to watching their sons play no matter where the schedule takes them.
"We are so proud that they have all found their own individual way," noted Beth Fenwick. "Some people ask if it would be easier if they all went to the same school or if at least two of them did to cut down the travel. Mark and I are thrilled with the choices the boys have made and they all are doing so well and enjoy their chosen school so much. We wouldn't want it any other way."
So how do the parents cheer on the three boys? The logistics rival most that full hockey teams make in preparation for going on the road.
"Well, we really don't root for ties when they play each other," Mark Fenwick explained. "We always hope they have good shifts and play well. When we are just seeing one boy play we, of course, wear the appropriate school colors, but when they play against each other, I will wear one hat and scarf and Beth will where the other son's colors."
"I think we confuse the fans because we cheer for both teams," added Beth.
"Someone suggested I get hats with all of the primary school colors and have all three crests on the toque to make it easier with the apparel," joked Mark. "I should get on that. Even their numbers in school colors that we could just rotate the hat to the number on the front for who was playing might be good fun."
As for the travel, both parents see any road trip as being less than the road traveled to see the boys play at Northwood in Lake Placid, N.Y. That said, there is still a lot of planning to be fair to all three sons.
"When the schedule first comes out, I start the planning," said Beth. "There is an Excel spreadsheet involved in planning out the entire winter and we try to make the trips even in terms of equal opportunities to see them all play. Of course, weekends like this one coming up are wonderful because we can just go to Amherst and see all three boys on the Friday and Saturday night schedule since Colby and Bowdoin will be on the road.
"It really is quite an adventure and we love it."
The boys clearly love the opportunity to continue to play hockey and really enjoy when they do play against each other in this most unique of circumstances.
So just what does make it special for the parents?
"I think my favorite part of watching them play against each other is when they go through the line at the end of the game for the handshake," said Beth. "The sportsmanship is real and when one brother gets to the other in the line, it's not a handshake, it's a hug they share. That is just so special to me because no matter where they go in life, they are always going to be brothers and there for each other."
This weekend Bowdoin and Colby travel to face Amherst and Hamilton where the brothers will face each other for the final time in the regular season. More drive time for Mom and Dad from New Brunswick and more importantly, more memories to share amongst the "Kings of the 'CAC."
Special thanks and recognition to John Spear from the Northwood School who suggested writing this column and without whose support it would not have been possible.