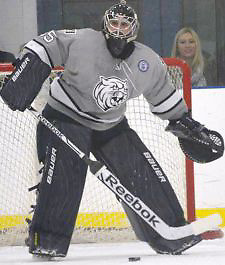 In the final few weeks of regular season, goaltending will be key to determining the ECAC Northeast regular-season champions.
Let's look at the goaltenders who have been difference-makers this season.
5 – Jake Williams, Salve Regina
He had a hot start to the season, going 5-1 in his first six starts, but then the Seahawks hit that rough stretch and Williams is 0-6-0 in his last seven games. Overall on the season, he's 5-7-0 with a 3.94 GAA and a .877 save percentage. He has dominated in conference games this season and that's what coach Andrew Boschetto is hoping Williams can find, his form down the stretch.
4 – Derek Moheney, Curry
Moheney leads the ECAC Northeast in goals-against average (1.80) and save percentage (.928) in games inside the conference. He's also 5-0 in the last five games and has certainly helped Curry's resurgence in the second half. On the year, Moheney has a 6-5-1 record with a .930 save percentage and a 2.04 GAA.
3 – Alex Peck, Wentworth
Just like what Moheney has done with Curry, Peck is the reason why Wentworth has climbed up the ECAC Northeast standings in the second half of the season. He has been in net for the last four wins for the Leopards and they sit in first place in the conference right now. What puts him slightly ahead of Moheney, in my opinion, is he has a better record at 7-4-2. His GAA is slightly higher at 2.39 and his save percentage is .902.
2 – Alex Larson, Nichols
If you have been following the ECAC Northeast all season long, there's no surprise who the two top goalies are. It's just a matter of where you rank them. Larson isn't having a sophomore slump with a 9-4-3 record with a .913 save percentage and 2.93 GAA. Those aren't the same numbers he put up last season, but he has been a workhorse this season. That's what you need in a goaltender if you want to make a deep run in the conference tournament and the NCAA tournament.
1 – Joey Ballmer, Johnson and Wales
The freshman has made his mark this season with a 15-5-0 record with a 1.71 GAA and a .945 save percentage. He may be a freshman, but he has a good amount of experience in the North American Hockey League and the United States Hockey League before joining Johnson and Wales. The most goals he has allowed this season was four. He gives his team a shot to win on any given night. I don't think he will slow down in the final stretch of the season.
Honorable Mentions
Eric Sorenson and Tim Carr, Western New England
The Golden Bears have a good goalie tandem, but the team hasn't had the success this season that it was looking for. Sorenson has seen the bulk of the action this season and has a 6-8-0 record with a 3.19 GAA and a .915 save percentage. Carr has a 3-3-0 record with a 4.11 GAA and. 887 save percentage. If one of these two goalies gets hot, Western New England will be dangerous.