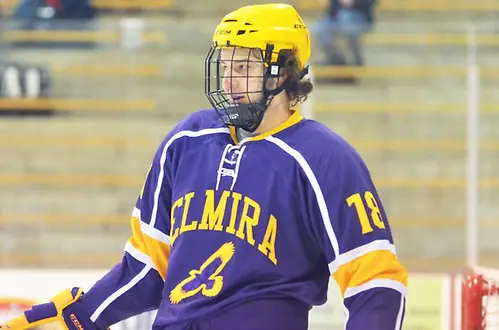 Hmmmm.
What exactly was decided by last week's ECAC West action?
Well, we began with just one point separating the top half of the six-team loop, (Elmira, Hobart and Utica) just as it is at this very moment.
We had cellar-dwelling Nazareth acting like giant-killers and they kept the slingshots humming for one more night, anyway.
And the two-team middle of the pack – Manhattanville and Neumann – played to a 2-2 tie in either team's only action, so the status quo reigned there, too.
If anything, one is left with the feeling that with three more weekends of regular-season action to go, fingernails will be chewed to the tips before the ECAC West picture clarifies itself.
One would have thought last weekend that either Elmira or Utica might sweep their two-game set in New York's Southern Tier and get a hefty leg up on the rest of the pack.
Didn't happen.
Instead, they split a pair of one-goal affairs and left the door open for Hobart to make some hay in the conference with a pair of wins over Nazareth.
That didn't happen either.
Why? Because Nazareth, which had never beaten a conference for or a nationally-ranked team in its first season-and-a-half of life, has now accomplished both, and twice over at that, all in one dizzying fortnight's work.
Thus the importance of the Golden Flyers' two-game split at Hobart as Nazareth struck first with a 4-3 win.
The Statesmen did bring Naz back to Earth the next night, 5-1.
Nonetheless, don't be surprised if we see more of the same push-me-pull-you (with apologies to Dr. Doolittle) the rest of the way.
ECAC West Notebook
The league's player of the week honors went to Utica senior Trever Hertz, who scored two goals and chipped in an assist during the weekend set with Elmira. His second goal proved to be the game-winner in Saturday's 3-2 win. In the process, Hertz moved into third place on the Pioneers' all time scoring list.
Hobart freshman Tim Keegan earned his first career win with a 35-save effort against Nazareth and in the process, also earned the ECAC West's goalie of the week award.
Meanwhile, Elmira freshman Alexander Taulien fueled his team's 7-6 overtime win over Utica with his three-goal, four point performance. It was his first career hat trick and he now has his first rookie of the week nod to go with it.
Other notable performances from last week included Ben Gamache's three-point showing (goal, two assists) in Hobart's 5-1 win over Nazareth, three more points (goal, two assists) from his teammate Mitch Beyer and a pair of power-play markers by Nazareth senior Mark Zavorin.