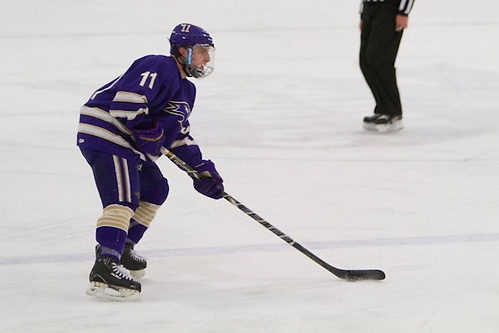 Following a 1-13-1 start to the season, some teams might have considered mailing it in for the remainder of the schedule believing there was nothing left to play for.
Not so for the Purple Knights of St. Michael's, who have won five of their last eight games and qualified to play in the Division II Northeast-10 conference championship tournament following this week's conclusion to the regular season in the ECAC East.
The performance level has certainly picked up for second year coach Damian DiGiulian's team and mostly by design, despite the rough start to the season.
"I knew we would take our lumps early in the season," noted DiGiulian. "I really didn't expect that the lumps would be as big as they were, but the coaching staff was highly aware of the fact that we graduated a lot of players and now were faced with 13 freshmen on the roster, freshmen that were not only acclimating themselves to what the college hockey game was all about, but also to the learning related to living on campus, student life and academics. That is a lot to throw at anyone, even for the kids who came here from a prep school environment. We are no different than other young teams. We have typical freshmen who have found their way over the course of the season and now are reaping the benefits of their learning and improving our team game on the ice."
It would be a challenge for any coach in his first two seasons to migrate from a senior-rich environment and lots of experience on the ice to the very opposite the following season.
DiGiulian understood the different level of coaching his team was going to need and really reached out to some other sport experiences to keep the team positive, despite the difficult start to the season in terms of wins and losses.
"The entire staff was very understanding that we were going to need a different kind of coaching for this team versus the prior season," stated DiGiulian. "Despite the results and mistakes, we knew we really couldn't hammer the new kids too much as they came up to speed in the college game. We have tried to keep things very positive in practice all season with some different techniques. We took a page out of [Seattle Seahawks coach] Pete Carroll's book and had players pick their favorite songs that would blare over the PA system to start practice and drills. We would pick different players' music each day. We focused on positive things in film review, and not just the negative, and then added some fun events like reverse-stick scrimmages to keep things upbeat. There were even a few added days off in the schedule to accommodate academic needs but also rest the guys a bit and give them a needed mental break so it wasn't hockey 24/7."
In the past month, the maturation process and level of play has improved and the head coach likes where his team is going at this critical time of the year.
"Our overall game has improved and certainly, the freshman players have now found their way," said DiGiulian. "We are getting great goaltending from Dave [Donzanti], our power play has been around the 25 percent success rate and our players are now committed to the penalty kill. Those are important pieces to any team being successful and it is a big part of our recent improvement. We have outshot almost all of our opponents in the past few weeks and are playing the full 60 minutes, which gives us a better chance to win.
"Earlier in the season, I am sure we don't win a game like the one against Skidmore last weekend [3-2 in overtime]. We were good at playing a solid 55 minutes out of 60 and in those five minutes, a lot of bad things usually happened. That overtime win against a really tough team showed how far we have come as a group and the atmosphere in the locker room was just terrific after the win. I give our upperclassmen a lot of credit in that they never wavered and supplied great leadership to the young guys and the continued belief we would and could be better."
One freshman in particular has stood out amongst the 13 and really has become a cornerstone of the Purple Knights' success.
Defenseman Danny Divis is third on the team in scoring with six goals and 14 assists for an impressive 20 points and still counting. He has really adapted quickly to the college game and has quickly earned the trust of his teammates and coaches alike.
"He is a special player for us," DiGiulian beamed. "He sat a couple of games after the opening loss to Norwich, so his numbers could be even better than what they are right now. He really did adjust quickly to the pace and style of the game and found his way quite nicely whether it is a five-on-five or power-play situation. We have given him the latitude to free-wheel based on his solid decision making and it is great to see his development so quickly to being a key contributor for us on both ends of the ice. He is a wonderful kid and great student, so we couldn't be more pleased with his fitting in here at St. Mike's."
Divis and company close out the ECAC East regular season against two of the country's best in Massachusetts-Boston and Babson this weekend before going on the road as the fourth seed in the NE-10 conference tournament.
What does the coaching staff expect from the invigorated roster in the final weekend of the regular season?
"We are treating these two games the same as any other," noted DiGiulian. "We are going to play our best players and give it our best and be true to the conference we play in. Some people question whether we should rest some people before the NE-10, which is the only tournament we can play for, but I think it is important for us to play everyone in our conference with our best game. Who knows, maybe we can be spoilers for someone's position in the standings this last weekend. I will have to check out the standings, but we will bring our best and look forward to playing two great teams at home."
"It's not how you start, but how you finish" – that old adage certainly seems applicable to the Purple Knights, who may find their emergence from a very slow start just might include a chance to hoist some hardware at the end of the season.