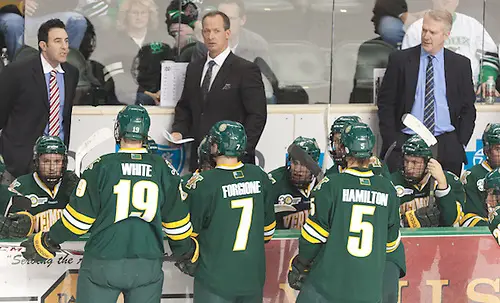 Sometimes you have to hit the bottom before you climb to the top.
Such has been a fact of life for two Hockey East teams in recent years: Massachusetts-Lowell and Providence.
There is a chance you might add a third team to that list this year: Vermont.
The Catamounts, who reached the Frozen Four in 2009 and qualified for the NCAA tournament again in 2010, went from the top to bottom pretty quick. Just three years after the school's second Frozen Four bid, Vermont finished dead last in Hockey East.
Injuries, locker room problems and early departures made things challenging for coach Kevin Sneddon. Add that a major part of his staff — associate head coach John Micheletto, assistant head coach Joey Gasparini and director of hockey operations John Gobeil — all headed to Massachusetts last season after longtime head coach Don "Toot" Cahoon stepped down.
And if you want to kick a guy when he's down, so was the case when blue chip recruit Zemgus Girgensons never arrived on campus last season, heading instead to Buffalo after the Sabres drafted him in the first round. (If you don't know who he is, just watch Latvia in the Olympics, where he was his team's best player in a 1-0 loss on Wednesday.)
It's hard to imagine that anything more could have gone wrong for the Catamounts and Sneddon.
"We had some tough things happen within the program, not necessarily within our control," said Sneddon. "Every program goes through [early departures]. It just seemed like a tough time for us [to lose Girgensons and Sebastian Stalberg].
"Then we had a staff turnover. I wanted to see when my new staff came in — and they're tremendous coaches and recruiters [in Kevin Patrick and Kyle Wallack] — where we are as a team."
The end result for the Catamounts was what Sneddon calls a "culture change." Off the ice, that translates to leadership provided by redshirt senior Chris McCarthy and classmate H.T. Lenz.
But on the ice is where you'll see the most improvement. Vermont has continuously played the top teams in Hockey East and across Division I hockey tough this season. Posting an 8-3-2 record outside of the conference, Vermont's 7-7 mark in league play has positioned the team well not just within Hockey East but also in the PairWise Rankings as the Cats look to return to the NCAA tournament.
Last weekend certainly didn't hurt as Vermont went to New Hampshire for two games and came away with four points. Though the Catamounts still sit in seventh place, they are just three points behind third-place Northeastern and hold at least one game in hand on the majority of the teams in front of them.
The good news for the Catamounts is that four of their final six games are at home, where Vermont has posted a 7-4-2 mark. The only bad news is that this weekend the Catamounts will have to welcome the nation's top (and hottest) team, Boston College. That, though, is a challenge that Sneddon welcomes.
"Our team has approached [recent games] that every one of our league games is a playoff game," said Sneddon. "We've got a huge challenge in front of us with the red-hot Boston College Eagles coming to town. But it's a great opportunity for us.
"I don't think people would have thought our team was capable of going down to New Hampshire and winning two games. This team continues to impress me. I love the team. It's a great group that is just having fun playing the game right now."
Sneddon certainly isn't the one who is impressed by this Catamounts team. And as legendary radio host Paul Harvey might have said, "And now you know the rest of the story."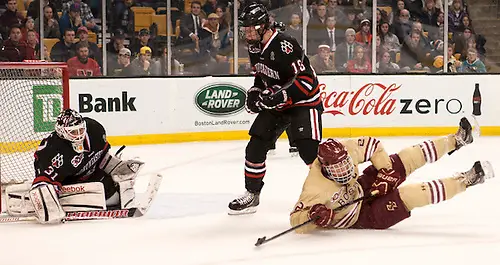 What can Brown do for you?
If you're Boston College, Brown can deliver a Beanpot. And do so in dramatic fashion.
BC's Patrick Brown, the team's captain, was a standout in Monday's Beanpot final, scoring the game-winning goal late in the third before netting a second goal late on a breakaway.
It wasn't that Brown delivered in the clutch, something that one might not have expected when he saw limited action his freshman year. It was that he scored the Beanpot-winning goal while being hauled to the ground, keeping his focus on the puck just enough to deflect it past Northeastern goaltender Clay Witt.
For BC coach Jerry York, the goal and the pomp and circumstance for Brown that comes with it are a much-deserved reward.
"Here's a player who was kind of lightly recruited by us," said York. "He played maybe 10 games his freshman year, but he just had something about him. He kept working and was getting stronger."
While Brown doesn't have the numbers of some of BC's high-profile players, he does have the respect of his teammates and, as their captain, is leading them on a pretty impressive campaign this season.
"Most teams, their captain is their best player," said York. "Patrick has such leadership skills that he didn't have to be our best player or an All-American or Hobey Baker candidate for the team to recognize him. It was unanimous that he would be our captain.
"It shows how well respected he is because of his work ethic and being a terrific young guy."
Quick hits
• After Maine's 2-1 victory at Notre Dame last Friday, Boston University remains the only Hockey East team without a road win. While that may not be surprising for the struggling Terriers, the fact that the Black Bears remained a nationally ranked team this long in the season despite having not won a game in an opponent's barn is befuddling. I guess that's what a 10-1 home record can do for you.
• Wonder which teams have the toughest road to the finish? Massachusetts-Lowell takes that cake, facing opponents with an average winning percentage of .629. Vermont is second with an average percentage of .594. Not surprisingly, both of these teams will face Boston College twice in the next two weeks (beginning with Vermont this weekend). Needless to say, the Eagles' mark of 22-4-3 and 13-1-1 in Hockey East skews this statistic significantly.
• I've mentioned the PairWise in recent columns and pointed out Hockey East's success to date. Want to know how volatile the PairWise can be? Providence's 3-2 loss to Connecticut on Tuesday dropped the Friars from 11th to the top of the bubble, 15th. In fact, the PairWise has become downright scary for the Friars, who have dropped from fifth with losses in their last three games.
An update on a friend and colleague
Anyone who reads this column regularly knows that my counterpart, Dave Hendrickson, underwent open-heart surgery this week to repair a birth defect in his heart.
I am very happy to report that the surgery, performed at Massachusetts General Hospital on Tuesday, was extremely successful. Dave was through surgery in about five hours and, as I write this on Tuesday evening, has already been moved out of intensive care.
It will be a long recovery for Dave — the minimum estimate he gave me was about six weeks (and for anyone who knows Dave, keeping him relaxed for six weeks is a gargantuan challenge). But he expects to be back by the Frozen Four and having him back next to me in the press box will be a welcome sight.
With the risk of sounding sappy, I want to express how incredibly great the news of his successful surgery was to me. We've now worked together at USCHO.com for about 16 seasons and have worked together on this column for the last few years. But to know Dave is to know a very genuine individual. He's hardly just a colleague. He's a great friend.
When Dave called me with the news he would have to undergo such a serious surgery, I sensed some uneasiness in his voice for really the first time since I've known him. If you read his column before Christmas, you know that while ready for surgery, he had some concern.
Making it through as positively as I have been told by his family, you have to believe that Dave will be with us to share his wisdom and prose for a very long time. And for that, all of us who know him, are around him and have the pleasure to read him are impacted for the better.