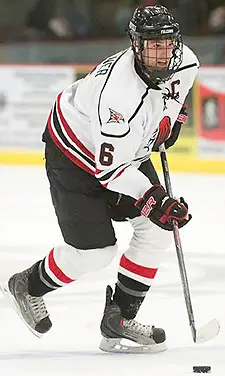 Life in the WIAC is tough and yet, Wisconsin-River Falls has managed to navigate its way to the top of the standings and put destiny in its grasp.
The No. 10 Falcons are 7-3 in the conference after a weekend sweep of Wisconsin-Stout and now, only games against Wisconsin-Stevens Point and Wisconsin-Eau Claire remain on the schedule.
Both opponents are nationally-ranked — the Pointers are third and the Blugolds are sixth — but the Falcons split against both teams earlier in the season.
Nothing will come easy against either team this weekend, but the Falcons are right where they want to be at this point in the season.
"We are very pleased with the way things have played out," River Falls coach Steve Freeman said. "We've kept ourselves in the hunt for the top spot, but we have two tough games left and we have to play our best in them."
The Falcons were at their best over the weekend as a pair of players came through with hat tricks. In Friday's 9-3 win over the Blue Devils, Alec Hagaman scored three goals and dished out two assists. He entered the game with only eight points.
Christian George delivered his hat trick in Saturday's 3-2 overtime win against Stout. George scored the OT game-winner and pushed his goal total to six on the season.
"You don't see a lot of hat tricks in college hockey, but those guys were at the right place at the right time," Freeman said. "The interesting thing is they both play on the same line."
For the Falcons, consistency has been a huge part of their success, especially late as they have won four times in their last six games.
"The important thing for us is that we have been consistent at what we do," Freeman said. "We play a lot of freshmen, but those guys are playing like veterans now. We have had a lot of guys step up and we play very well as a team."
The Falcons, who are 14-6-3 on the season, have also been battle-tested in tight games and while they are just 2-4-3 in nine OT games this year, the experience could pay off in the long run.
"We've only lost two games in regulation this year," Freeman said. "Our team plays hard and we battle the entire game."
Willie Hess leads the Falcons in goals with 10 and has also dished out seven assists. Blake Huppert has come through with nine goals and 11 assists and Ryan Doner has tallied six goals and 10 assists. George has racked up six goals and 13 assists, Mitch Kortny has tallied eight goals and five assists, Hagaman has rung up six goals and eight assists and Jeff Burke has racked up three goals and nine assists.
Scott Lewan has played in 14 games in goal and has a 2.24 goals-against average. He has made 385 saves. Tanner Milliron has played in nine games and has a 2.16 goals-against average. He has racked up 232 saves.
The Falcons certainly have the talent to win the conference title this week, but they know it will take a great effort to get the job done.
"We are playing two of the best teams in the country and we know we have to play at a high level to be successful," Freeman said. "But we aren't going to change anything. We'll stick to our approach to each game and just play our style of hockey. Weŕe looking forward to the challenge this week."
Statement Series: Stevens Point swept both games of a weekend series against the Blugolds, winning 6-1 and 2-1 to remain in second place in the standings with a 6-3-1 record. The Pointers are 18-3-2 overall and ranked third in the nation.
The Pointers have won five of six games and completed the sweep of the defending national champs in thrilling fashion as Garrett Ladd scored in OT to give the Pointers a 2-1 win on Saturday night.
The goal was the 18th of the year for Ladd as helped the Pointers win 18 games for the first time since the 2001-02 campaign.
Kyle Sharkey also scored for Stevens Point and Brandon Jaeger racked up 30 saves.