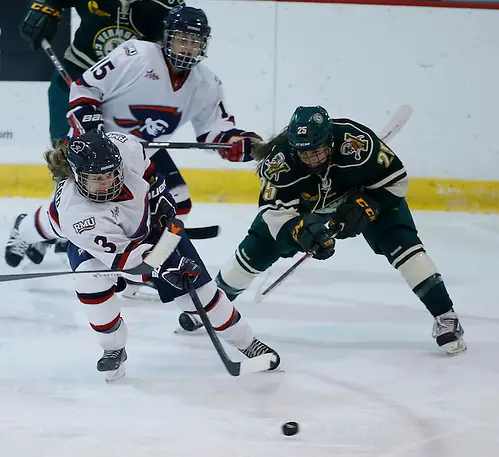 Arlan: The biggest surprise from the quarterfinals in the conference tournaments was that there weren't any surprises in terms of the teams that advanced. Yale extended Harvard to three games, Minnesota State did the same to Wisconsin, and Ohio State at Minnesota-Duluth always looked to be destined to go the distance. Of those, only Yale held a lead in a game where it could have won the series, and that game two eventually went to double overtime. By and large, the home team controlled the third games throughout, so there weren't a ton of suspense once the series reached that point. There were five games over the weekend that went to OT, and three of those required multiple overtimes. But from a season where the results have often seemed random, there was a remarkable adherence to the script in the quarterfinals.
Hockey East did have a couple of games where the home team flirted with disaster, made all the more precarious in that league because if things go wrong there won't be a second date. Northeastern was 2:24 away from elimination when Sonia St. Martin scored on a power play to tie Connecticut. Vermont never trailed versus Maine, but its game reached 17:12 of the third overtime before Brittany Zuback scored to win it. Do you think the Catamounts will be able to find their legs sufficiently to challenge Boston College in the semifinal, or is it all academic given how easily the Eagles blew away New Hampshire in a 8-1 victory?
Candace: No slight to Vermont, but I don't think so. First, I watched the BC-UNH game, and the Eagles look to be clicking on a lot of different levels. I was particularly impressed by their speed through the neutral zone, and how their forwards just come in waves. A couple of the goals were scored on second or third chances by players who just buzzed the net and dug deep to get the puck.
BC also swept the three games between the two clubs this year, winning two of the games pretty convincingly, and I don't think much has changed. Frankly, I think BC is playing better than it was even at the beginning of February. As long as the Eagles play their game and use their speed, I think BC will advance to the finals.
Who they will play is up in the air, of course. Both Boston University and Northeastern looked vulnerable last weekend against teams that they should have been able to handle. The Terriers needed a third-period power-play goal from Louise Warren to defeat Providence, and Northeastern needed heroics from St. Martin and Brittany Esposito to escape defeat at the hands of Connecticut. The Huskies beat the Terriers once this season, but all the games were close. Do you see them able to reverse that trend?
Arlan: The Huskies took the most recent meeting at BU on Jan. 19, 4-2. Their two defeats occurred in the first half when Northeastern was playing with far less consistency and the Terriers were rolling pretty well. Northeastern has won 12 of its last 13, the Beanpot loss to BC being the only blemish, but the last few games may be a bit of a concern for supporters of the Huskies. Before the last-minute win over Connecticut, Northeastern closed the season with a sweep of UNH, but the Huskies had a far tougher time with the beleaguered Wildcats than the Eagles did. Northeastern has been playing with just 14 skaters available for quite a while now, so people may be getting worn down. Should the Huskies get by BU, they would be looking at coming back the next day and having to play the game of their season to win the championship and reach their first NCAA tournament. That seems like a big ask if BC is the team blocking their path.
A couple of weeks ago, I'd have favored Northeastern in the second semifinal, but now I'd say that BU has to be at least even money against the Huskies. The Terriers are far too dependent on Sarah Lefort and Louise Warren to carry them offensively, but that has added up to a better offense than anyone other than BC possesses in Hockey East. BU has a few more bodies available and is more battle tested when it comes to playoff hockey, but that's about where its advantages end. Northeastern and BU wound up with the same number of points in Hockey East, and I'd say that is a fair indication that there is little separation between the two squads.
Given the way that tournaments go and the fact that there weren't any meaningful upsets in the opening round, one gets the sense that there is a shocker looming in the semifinals. It just doesn't look like it will happen in Hockey East. BC is too strong compared to its opposition. The Eagles have proved that they match up well with BU, and frankly, the league as a whole, so I don't see who would pose a threat as long as they hold it together. No matter who emerges from the other semifinal, I think that BC is the biggest favorite from the four tournaments to be decided this weekend.
Meanwhile, the four survivors in ECAC Hockey gather in Potsdam, and I see that tournament as the most wide open. Do you?
Candace: Yes I do, in that I could see any of the four teams coming out on top. I was impressed that Quinnipiac, which hadn't beaten St. Lawrence this year and had the history of losing to the Saints in the playoffs last year, came out and swept that series, winning convincingly in game one and taking a defensive battle in game two. Harvard showed resilience in overcoming Yale, though you could argue there is some vulnerability there as well. The same could be said of Cornell, which had to come from behind in both its games against Princeton. Clarkson swept Dartmouth, but given the offensive weapons the Golden Knights have, the 2-0 scorelines in both are a little surprising.
I'm not really sure who I favor in the tournament. On recent form, I'd go with Clarkson or Quinnipiac, but those two faceoff in the semis and could tire each other out. Cornell's goaltending has been shaky of late, and Harvard benched Emerance Maschmeyer last weekend against Yale, so who knows what to anticipate from the Crimson. I think the game between Cornell and Harvard could come down to which team best holds its nerve.
Who would you give the inside track to in the ECAC?
Arlan: You mentioned Clarkson's offense, and it is funny because it ranks second nationally, but it seems to come and go. The Golden Knights have scored exactly two goals in their last three games and five of the last seven. They can still have success in games where the offense is more famine than feast — they're unbeaten since falling to North Dakota to open December, a string of 18 games. In spite of its offensive potential, Clarkson still comes across as a club built on defensive fundamentals. If Erica Howe only allows a goal per game, then two goals are enough. That makes the game with Quinnipiac intriguing. The Bobcats are from a similar mold with less depth as far as scoring goes. If a team can stop the line of Kelly Babstock between Shiann Darkangelo and Emma Woods, the other options aren't as threatening. Clarkson was able to shut them down at Quinnipiac back in November, but the Bobcats salvaged a 3-3 tie in Potsdam when they got third-line goals from Meghan Turner and Amanda Colin. Games are often a race to three, but this could well be a race to two. In some ways, the semifinal may be harder for Clarkson than the final, because neither Harvard nor Cornell appears to be at the top of its game. If Clarkson can get past Quinnipiac, then I like the Golden Knights on Sunday, but I wouldn't make them better than a 60-40 favorite over the Bobcats.
As for Cornell, I don't think its goaltending is strong enough to win back-to-back games over ranked opponents unless it suddenly improves. There may be some weaknesses a team can hide in the postseason, such as an anemic power play. If the goaltending is not solid, that will be costly sooner rather than later. Cornell's game with Harvard could wind up as a battle of rookie goalies, and I don't think we'd have foreseen that a few weeks back. If that comes to pass, then I like Brianna Laing, although I guess I prefer Harvard in any permutation of goaltenders. The Crimson have to win the matchup in net, because they are at a disadvantage to the Big Red everywhere else. Cornell has the better top line, a far better power play, more offensive options overall, and a deeper blue line. Harvard needs its netminder to take back a couple of goals in order to win over a tough opponent. I make Harvard a very slight favorite, but if Cornell gets a strong performance in goal, then the pendulum swings the other way a bit. In terms of winning the championship, I'd say that Clarkson is about an even-money choice against the rest of the field, partly because of home ice, partly because it's playing so well, and maybe most importantly, its closest pursuers are struggling a bit.
In the CHA, we have two teams coming off of a bye-week facing teams that swept series, although RIT needed OT in the first game. Syracuse is still looking for that first win over the Lakers. Will it come in the semifinal?
Candace: It's a better chance than zero, but I don't think it's a big one. The Orange got a tie against Mercyhurst back in November, but the Lakers swept the series last month in Syracuse, winning each game by a goal. The Lakers are just deeper, with more offensive threats, and I think they do everything just a little better than the Orange. It might come down to a one-goal differential, but I think the Lakers advance to yet another CHA championship.
Who they will play is questionable. A month ago, I'd have booked Robert Morris without a moment's hesitation, but the Colonials looked very vulnerable down the stretch, and RIT is a young team that can win on emotion and heart. The two played a couple of weeks ago, and RIT split, getting a 1-0 win. If goalie Ali Binnington and the Tigers defense can bottle up Rebecca Vint, Thea Imbrogno, and Brittany Howard, I think RIT could pull the upset, especially since RMU has a rookie netminder in the pipes. Admittedly Jessica Dodds has played well, but this will be her first postseason experience.
Looking west, the WCHA suddenly seems more interesting to me, since Wisconsin lost an inexplicable 3-0 decision to Minnesota State in their best of three. The Badgers did rally to win Sunday, but I'm now wondering if Wisconsin will be able to hold off North Dakota. I fully expect the winner of that game to face Minnesota, because I don't think Minnesota-Duluth has the depth to defeat the Gophers. How do you see the WCHA playing out?
Arlan: Minnesota State taking a game from Wisconsin isn't a huge shock. Danielle Butters is a very good goaltender and one of eight seniors who was playing to extend her career. The Mavericks get a couple of pucks to go, Butters makes 50-odd saves, and there's your upset. This isn't the Wisconsin team of two or three years ago that could come from a couple of goals down like nothing. But once they reached the deciding game of the series, they put the clamps on defensively, scratched out a little offense, and the Badgers are moving on. North Dakota didn't look that invincible on Saturday either, needing overtime to put away Bemidji State, and Brian Idalski's team had problems of its own a couple of weeks back with Butters and company.
I asked St. Cloud State coach Jeff Giesen on Saturday what he expected to see in the tournaments in March, and his take was that it will be Wisconsin versus Minnesota for the WCHA Championship and then repeated a couple of weeks later for the NCAA crown. Now this was before Wisconsin lost to MSU, and the loss put the Badgers at risk of dropping below third in the PairWise Rankings and winding up on Minnesota's side of an NCAA bracket. Obviously, if they win the WCHA tourney then they'll be assured of no worse than a No. 3 seed. Should the Badgers lose to UND in the semifinal, then they'll have to pay close attention to events in the ECAC and Hockey East.
North Dakota has its full crew back together again, and while I'm sure that's a big help, when people are gone for a month, there is a bit of a residual effect when they return. UMD has gone through the Olympic impact more times than anyone, and in seasons where they had several players take an Olympic vacation, the Bulldogs typically weren't back in form for the WCHA tournament. Maybe UND can integrate the pieces more seamlessly, but the people that stayed behind weren't playing their best in February, so we'll see. I think Wisconsin is the favorite in that semifinal with Alex Rigsby back in net after missing the teams' series in Madison when UND claimed a rare win over the Badgers.
In the other game, UMD has a chance, but it will need to play a more complete game against Minnesota than it has managed over the last couple of years. Kayla Black hasn't had a lot of success in limiting the Gophers' offense, and Hannah Brandt's line with Maryanne Menefee and Meghan Lorence has warmed up in recent weeks.
So where's our upset? Two years ago, none of the teams that won the regular season titles repeated that success in the conference tournaments. Last year, all four tops seeds came through in the league tourneys. Will we see one end of the spectrum or something in the middle?
Candace: I think you might see an upset or two in the games between the two and three seeds in the semis, but I think the top seeds come through. The one place I might hedge that is the ECAC. Cornell has the offensive stars to blow teams out of the water, even ones as defensively sound as Clarkson, and with the Big Red having goaltending issues of late, getting into a shooting match might be Cornell's best chance of success.
A secondary hedge would be the CHA, because if Robert Morris gets past RIT, they have an even-money chance of beating Mercyhurst, something Colonials coach Paul Colontino seems to have made his mission since leaving his post as Mike Sisti's assistant at Mercyhurst. Since Colontino took over, RMU has a winning record against Mercyhurst, going 7-5-1 against the Lakers, including defeating Mercyhurst in the CHA tournament finals in 2012.
In Hockey East and the WCHA, I do lean toward Boston College and Minnesota winning. BC has looked awfully good of late, and Minnesota brings three lines that are really like lines 1a, 1b, and 1c in terms of scoring potential.
I actually like the odds of the Gophers taking a third consecutive NCAA crown, which is really scary considering Minnesota gets Amanda Kessel back next year, so they could be going for four in a row next season.
Speaking of Kessel, last week, the top 10 finalists for the Patty Kazmaier Award were announced. Did any of the names surprise you?
Arlan: A couple did to some extent, although I can also follow the voters' thinking. The least expected name on the list was Brittany Ammerman because Rigsby looked to be the frontrunner from the Badgers' roster. Perhaps her inclusion incorporates a nod to her being the "comeback player of the year," if college hockey had such an award. She's definitely elevated her game for a team that needed it, but so have people like Louise Warren and Sarah Davis with bigger numbers. I imagine that voters wanted to include someone from the No. 2 team in the country and were unsure of how to handle the games that Rigsby missed due to injury. Goaltenders are a nightmare to sort out for awards just because every situation is so unique. People will ask why someone like Nicole Hensley isn't included on a list. She certainly could be, but has she had a better season than another goalie like Butters who also plays for a losing team and faces a ton of shots but was able to post more wins, including several against ranked opponents? Then there are goalies on mid-tier teams such as Quinnipiac's Chelsea Laden or Dodds who have been instrumental in their teams staying in the mix, or Minnesota's Amanda Leveille or Clarkson's Erica Howe who have kept their teams at or near the top.
The only goaltender ultimately named as a finalist was Maschmeyer. Earlier in the season, I could see her as potentially a top-three finalist, but I felt that her level has dropped a bit as the second half has unfolded. I guess I don't have a problem with her being on the list, but it did seem a bit odd that she was the only goaltender named, because I didn't think she'd been the top performer in net over the entire year.
The others were rather obvious. Erin Ambrose definitely belonged with the numbers she has put up from the blue line and what she's meant to Clarkson, and ditto with her teammate Jamie Lee Rattray. Everyone expected Kelly Babstock for her all-around game and value to her team. Brandt is now the country's leading scorer, and that along with Minnesota's success has answered the questions concerning how she would fare in Kessel's absence, and Rachel Bona has produced in a similar fashion. Lefort has been such a force that there is no way to leave her off the list. We expected somebody from Cornell, and it wound up being Jillian Saulnier that separated from her linemates. Mercyhurst's Christine Bestland is again the best player in the CHA.
The other unfortunate omission is BC's Haley Skarupa, who like Rigsby had to deal with an injury that kept her off the ice at the wrong time. It's always the same problem when recognizing players, that there are many worthy recipients and only a few spots. Is there anyone that you wish had been acknowledged?
Candace: Skarupa and Rigsby are the two big ones I thought might make the top 10. The outliers would have been Rebecca Vint of Robert Morris and Sarah Davis of Minnesota. Davis has had a great senior season, and I think is a big part of the Gophers' success, but after Minnesota had four players in the top 10 last year, I think the voters may not have wanted the finalists to be too Minnesota-heavy. Vint is a great player, and I think her leadership has helped the Colonials this year, but I think she was hurt by the play of teammate Brittany Howard, who has outplayed her this season, and also Robert Morris' fade when they seemingly had the CHA crown locked up about a month ago.
Just as Skarupa and Rigsby had their chances impacted by injuries, I think two outstanding players who were off playing with their national teams had their Kazmaier chances hurt. Michelle Karvinen has had a solid season, and averages a point game. She was higher about a month ago, and I think her play is a big key to the success of North Dakota. Even more than Karvinen is Yale's Phoebe Staenz, who averages 1.29 points a game. However, Staenz's commitments to Switzerland had her only playing in 21 games this year, including the three-game playoff season against Harvard last weekend in which she almost willed Yale to a win in the second game, scoring two goals. If Staenz keeps up her play next season, I think she will be on the top 10 list. The competition might be even stiffer though next season, as there will be a few returning players in BC's Alex Carpenter, BU's Marie-Philip Poulin, and Kessel who will be in the mix.
Regardless of who didn't get recognized, the 10 finalists are all outstanding players and have been crucial to their team's success. The three finalists will be announced Thursday by USA Hockey. Who do you expect to be on that list?
Arlan: Once it reaches this point, it could unfold in a variety of ways. From my view, Rattray, Brandt, and Babstock have stood out all season and done everything asked to get their teams to this point. Clarkson had a bit of a wobble back in the fall, but Rattray was the steady source of offense during that time, plus she does so much more. Through 2014, she and her team have just been rolling along. Brandt has continued to be an assist machine. Lorence said over the weekend that Brandt puts the puck on her stick even in situations where Lorence didn't know if Brandt knew she was there. Babstock and Victoria Vigilanti combined to place Quinnipiac on the map, and now with Vigilanti gone, Babstock still has the Bobcats in contention. I wonder what kind of career numbers she'd have posted on a roster with a few more highly skilled skaters.
Congratulations to the top 10, as well as the three to be named this week.