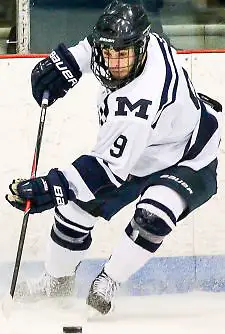 With a dominant 56 points so far this season, Trinity junior forward Jackson Brewer was named NESCAC player of the year Thursday.
Brewer has recorded 15 multi-point games this season, including a six-assist outing in a tournament quarterfinal against Wesleyan.
Trinity freshman Ryan Cole was tabbed rookie of the year after an 18-goal, 29-assist campaign and Connecticut College's Jim Ward took home coach of the year laurels after guiding the Camels to their first NESCAC quarterfinal appearance in five years.
In addition, the NESCAC also announced its All-Conference First and Second Teams.
2013-14 First Team All-NESCAC
| Player's Name | Position | Class | School |
| --- | --- | --- | --- |
| Jackson Brewer | F | Jr. | Trinity |
| Ryan Cole | F | Fr. | Trinity |
| Michael Hawkrigg | F | So. | Trinity |
| Louis Belisle | D | Sr. | Middlebury |
| Michael Flynn | D | Jr. | Trinity |
| Sean Dougherty | G | Jr. | Williams |
2013-14 Second Team All-NESCAC
| Player's Name | Position | Class | School |
| --- | --- | --- | --- |
| Mike DiMare | F | Sr. | Hamilton |
| Nick Lanza | F | Sr. | Colby |
| Derek Pimentel | F | Jr. | Middlebury |
| Connor Quinn | F | Jr. | Bowdoin |
| Colin Downey | D | Sr. | Bowdoin |
| Blake Edwards | D | Jr. | Tufts |
| Frankie Mork | D | Fr. | Williams |
| Dave Cunningham | G | So. | Amherst |