Tuesday Morning Quarterback looks at the big issues and big events in Division I men's college hockey.
Jim: With all six championship weekend fields set, we've already lost two regular season champions to upsets in Boston College and St. Cloud State.
Part of me, and I wonder if you agree, feels neither was that big of an upset. Their opponents, Notre Dame and Miami, respectfully, are perennial powers whose No. 8 seeds resembled their regular season but not the overall ability of these teams. That set the stage for what appear to be the ultimate in tournament quarterfinal upsets. Thoughts?
Todd: I was a little more surprised by the Miami upset of St. Cloud State than Notre Dame's win over Boston College, but you're right in that neither was earth-shattering.
I think Miami is still the same team that so many expected to compete for a national title this season, but it just never got the pieces put together during the regular season. Still, the RedHawks won both series-opening games against the Huskies in the regular season so I thought they had a chance last weekend.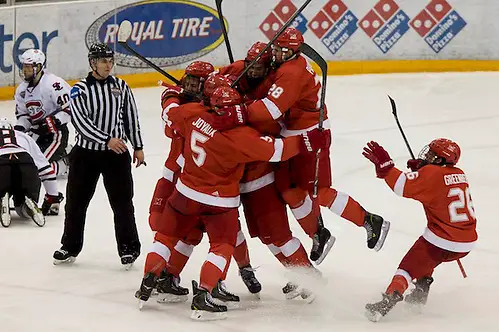 The way both of those games in that series ended, though, was legendary. The Huskies tied Friday's game with 0.1 seconds left but lost in overtime. And on Saturday, Miami won the series by scoring with less than 3 seconds left in regulation. That's the kind of excitement you hope for in the playoffs.
Jim: There was a lot of playoff drama last weekend. Plenty of overtime games, a number of late game-tying goals — it was what I look forward to every year in the postseason. Let's hope the conference championship weekends can deliver such incredible hockey.
Turning to the national picture, a few things became pretty clear in the PairWise Rankings last weekend. We know that there will be a new national champion as Yale has been eliminated from the ECAC Hockey postseason and is too far from the bubble in the PairWise to make the tournament.
A couple of resurgent Hockey East teams — Maine and Northeastern — had higher hopes much of the year but likely will fall short of the national tournament as well. (Northeastern still has a pulse, but it needs a lot of things to go its way.)
And then there are teams still playing that need to continue to win to punch their ticket. Colgate and Cornell in the ECAC are 15th and 16th right now. New Hampshire and Western Michigan are knocking on the door but both have to win their conference tournaments to reach the NCAA tourney.
What teams, at this point, have caught your eye in the PairWise?
Todd: I've been thinking about North Dakota and how a third-place game could factor into the NCAA scenarios again.
Quite a few years ago, before we spent this whole week on the predictors, I remember a team being in a WCHA third-place game that carried a lot of weight in whether it would get an at-large bid. When that game was close down the stretch, we were getting questions in the press box on whether the team should pull its goalie if it went into overtime and needed a win as opposed to a tie. The rest of the particulars escape me, but it was a pretty strange feeling.
Everyone else has eliminated the third-place game but the NCHC has it as a part of its inaugural tournament, so those kinds of issues are a possibility again if UND loses to Miami in the semifinals. No. 12 in the PairWise isn't a comfortable position entering the final weekend, but that area of the rankings is worse if you're left watching like Vermont is.
Jim: Ah, the third-place game. I've never liked them and hoped they would be eliminated. But for some reason the NCHC sees merit in playing one. Let's hope it doesn't cost that league an NCAA bid.
Another thing I'm keeping my eye on in the PairWise is the No. 1 seeds. With Boston College losing, I'm not sure if mathematically they can drop from being a No. 1 seed when the tournament field is announced.
Minnesota seems to have locked up a No. 1, possibly the overall No. 1 seed. Union's RPI continues to improve each weekend. Ferris State is the final No. 1 as the PairWise stands right now.
The question is could a team between five and eight in the PairWise improve its RPI enough this weekend to jump into a top regional seed? And if so, could we have three Eastern teams in the top four of the PairWise, shipping one of those teams to Cincinnati?
Todd: This seems like as good a point as any to give a plug for the PairWise Predictor, where you can try to find answers to those questions and more by playing out the 21 games that'll take place this weekend and seeing how the PairWise responds.
In short, I don't think it's possible to move Minnesota out of the No. 1 overall seed, and it seems Boston College is a pretty good lock to be right behind. Ferris State can fall out of a No. 1 seed, but I don't think that Union can.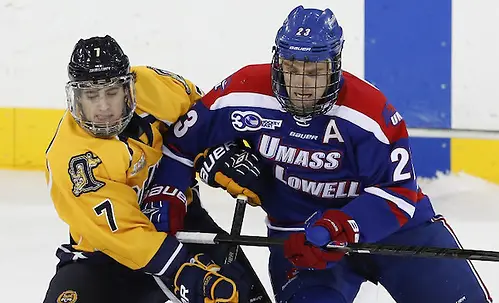 So, yes, there's a way that Boston College, Union and Massachusetts-Lowell, for example, could all be No. 1 seeds, in which case Lowell would be headed to Cincinnati.
Along the same lines as how the NCHC caught a break attendance-wise with North Dakota advancing to the Frozen Faceoff in Minneapolis as the only relatively local team, the best-case scenario for the NCAA in Cincinnati (short of Miami earning the NCHC's automatic bid) might be having Ferris State bringing its loud crowd there, so keep an eye on how that plays out.
Jim: So let's look ahead to this weekend's conference championships. Where do you think the biggest chance for an upset exists?
Going back to how we opened, I feel that Notre Dame has just as strong a chance of winning Hockey East as any other of the remaining teams. The league has never had any team lower than a fourth seed win its tournament. Thus, an eighth seed would crush that mark.
Todd: It might be the first game of the weekend. It would be a pretty big surprise if Penn State gets out of the quarterfinal round at the Big Ten tournament, but the Nittany Lions just beat Michigan, their Thursday opponent, four weeks ago. It would be unwise to rule anything out at this stage of the season.
I'll be interested to see whether Canisius can repeat as Atlantic Hockey tournament champions, again as the seventh seed. Mercyhurst stands in the way in the semifinals but the Golden Griffins won two of three meetings with the Lakers this season.
Last weekend was fun to follow; let's hope this weekend brings more of the same.