College hockey underwent plenty of changes last offseason, but as noted at the start of the year, ECAC Hockey remained untouched by all the conference realignments.
There's a lot of familiarity in the upcoming conference championship as well. For the second time in three years, the league's top four teams made it to the final weekend. Each of the remaining teams has been to the final weekend at least once over the last two seasons, while several are regular participants.
ECAC Hockey playoffs
See the tournament bracket and get links to schedules and stories at ECAC Hockey Playoff Central.
After getting eliminated in the second round of the playoffs last season, Cornell returns to the semifinals for the eighth time in the last 10 years. The fourth-seeded Big Red play Friday at 4:07 p.m. EDT against No. 1 Union. The Dutchmen are looking for the program's third straight Whitelaw Cup, and have appeared in four of the last five league championships.
The second semifinal game is a matchup of No. 2 Colgate and No. 3 Quinnipiac. This is the sixth time in the last 10 seasons the Raiders have made it to the final weekend, while the Bobcats are returning for the second year in a row. Quinnipiac is looking for a better outcome then last year, when it lost 4-0 to No. 8 Brown in the opening game.
Still, there are some changes for this year. After three years in Atlantic City, N.J., the league is returning to Herb Brooks Arena in Lake Placid, N.Y., where the championship was held from 1993 to 2002. The consolation game also has been eliminated.
The biggest difference with the change in venues is ice size. Lake Placid features an Olympic ice sheet, meaning the rink is 200 feet by 100 feet, as opposed to the 200-by-85 dimensions found at most college arenas.
Each coach had his own view on how the rink size might impact the weekend.
"It's going to be a challenge," Quinnipiac coach Rand Pecknold said. "There's going to be a goal or two scored this weekend when someone makes a mistake [because of the big ice]."
Colgate coach Don Vaughn anticipated more exciting games for the fans, while Cornell coach Mike Schafer said playing smart hockey will take on added importance.
"People are going to have time and space," said Schafer, who has gone 12-6-1 on Olympic-sized rinks since he took over at Cornell. "You have to know when to pressure and be physical and when to back off and contain. I think that's going to be one of the keys to the weekend."
Union has played four games on larger rinks this year, going 3-0-1 at New Hampshire and St. Cloud State, something coach Rick Bennett said may help the Dutchmen this weekend. Still, he's not looking too much into it.
"Once the puck drops, hockey is hockey," Bennett said. "Whoever is on that night is going to win."
Here's a look at the opening-round matchups. Union and Quinnipiac have clinched NCAA tournament berths, while Cornell and Colgate likely need a good weekend to get in. Go to ECAC Hockey's website for ticket and viewing information, and be sure to check the ECAC blog for this weekend's predictions.
No. 1 Union vs. No. 4 Cornell
Season series: Union won both games.
Bennett is trying to win his third Whitelaw Cup in as many years as Dutchmen coach, something Schafer knows plenty about.
Schafer won the league championship in each of his first two seasons as the coach of the Big Red before finishing below .500 the next two years — something that didn't happen again until last season, when Cornell lost in the second round of the playoffs.
"We're looking forward to being back to a final-four team," Schafer said. "Not getting there last year was a wake-up call."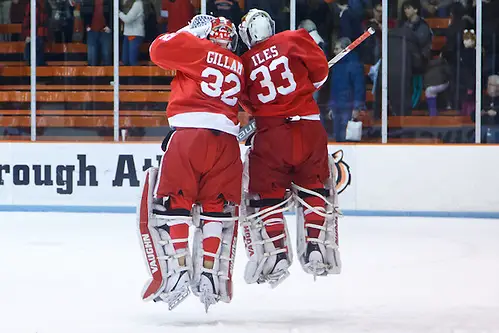 Never a high-scoring team this season, the Big Red's offense took a hit with the loss of forward Dustin Mowrey, who Schafer said is out for the year.
"We're not going to walk into Lake Placid and start pumping in four or five goals," Schafer said. "In the playoffs, some nights it's about being comfortable playing in a low-scoring, defensive game."
Cornell has the size and talent on defense to play that kind of game. But the Big Red have several playmakers as well, including defenseman Joakim Ryan and forwards Brian Ferlin and Cole Bardreau.
In goal, senior Andy Iles has the best save percentage and GAA of his career, and he has been a steadying influence for the Big Red.
"I think Andy has seen it all," Schafer said. "He's been in a championship game. Last year, he played in the playoffs when he was nursing a pretty significant injury. As a coach, I don't know how many coaches get that opportunity to know exactly what they are going to get from their goaltender to start the game."
While Cornell has relied on a veteran Iles to get it to the semifinals, Dutchmen junior Colin Stevens has been strong in his first season as a starter following the early departure of Troy Grosenick last spring.
Bennett said that Stevens has put in plenty of extra work with assistant coach Jason Tapp to help develop his game.
"I really feel there's something to that, versus a guy that thinks he has it all figured out," Bennett said.
Like most other teams, Union has dealt with injuries, but that hasn't slowed it down much — the Dutchmen's 11-game unbeaten streak is tied with Minnesota for the best active stretch in the country.
"We've never made excuses with injuries," Bennett said. "We don't bring it up to the papers unless we're asked about it. The guys appreciate that. When guys go in the lineup, they know they've earned it."
One of those players is senior Dan Carr, a natural winger who switched to center earlier in the year due to injuries. Carr recorded his third 20-goal season of his career this season, but Bennett praised him for his leadership skills as well.
"He was a difference-maker against Dartmouth [in the second round]," Bennett said. "He's embraced a leadership role."
Virtually a lock for a No. 1 seed in the NCAA tournament, the Dutchmen are one of the most balanced teams in the country, ranking in the top five in both offense and defense. Quinnipiac is the only other team to rank that high in both categories.
Defenseman Shayne Gostisbehere is one of the most dynamic players in the country, while Mat Bodie leads the team in assists. Up front, junior Daniel Ciampini has a career-high 18 goals, and freshmen Mike Vecchione, Michael Pontarelli and Eli Lichtenwald have contributed as well.
Despite the offensive talent throughout their lineup, Schafer says the Dutchmen are underestimated offensively.
"One thing that overshadows when people look at Union is that they're very good offensively," he said. "They've got good habits."
No. 2 Colgate vs. No. 3 Quinnipiac
Season series: The teams each won once.
Outside of Cornell, Colgate has been one of the league's more consistent teams in making it to the league championship. The Raiders have advanced that far in three of the last four seasons, although they've gotten there in a variety of ways.
Colgate was seeded 12th in 2011-12 but upset Rensselaer and Union in the playoffs before losing in the semifinals to Yale. The Raiders got off to a good start the next year and held on for a first-round bye despite a rough final month. But once again Colgate was swept in the final weekend.
A torrid second half to this season helped the Raiders finish the year in second place after being picked ninth in the preseason poll. The Raiders concluded 2013 by getting swept at home by Massachusetts but have lost only three times in the second half.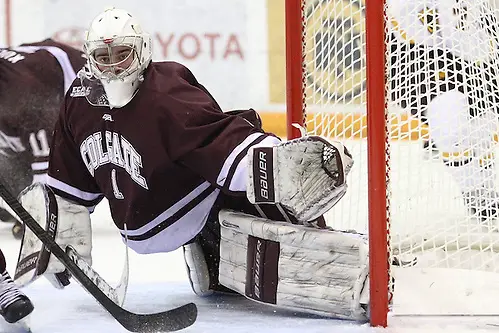 An improved defense and an outstanding performance by freshman goalie Charlie Finn have been the catalysts for the last two-and-a-half months. That stretch began with Colgate winning the Mariucci Classic after downing Minnesota in a shootout and then beating Ferris State in regulation for the championship.
"We knew what we had," Vaughan said of Finn. "But as with any player, there's an adjustment period, especially for a goalie."
Vaughan said it took Finn some time to get used to the pace of the college game, as well as the amount of players in front of the net.
But while Finn has taken over the majority of playing time from senior Eric Mihalik in the second half, he's done so with the help of an improved defense.
Sophomores Ryan Johnston and Kevin Lough might get overlooked in favor of their high-scoring classmates, but they've been an important part of the Colgate back end.
"They skate very well and close quickly," Vaughan said of the pair. "They limit the other teams' time with the puck."
Junior defender and captain Spiro Goulakos had a strong second half after regaining his strength following a diagnosis of Hodgkin's lymphoma last season.
Colgate's defensive unit has been remarkably healthy this season –none of the six skaters has played in fewer than 32 games.
Up front, much of the attention is focused on the Raiders' top line of sophomores Tylor and Tyson Spink, and Kyle Baun. But classmate Darcy Murphy led Colgate with 18 goals after a productive freshman year and isn't afraid to get physical in the corners, according to Vaughan.
As the higher seed, the Raiders will have the benefit of the last line change, something that Vaughan said could come into play against the Bobcats' depth.
That depth is something that Quinnipiac's Pecknold will lean on this weekend. With forward Jordan Samuels-Thomas back in the lineup after missing several games last month with an injury, the Bobcats can present matchup problems with their top three lines.
"That one extra kid makes up deeper," Pecknold said of Samuels-Thomas, who missed six games, a stretch during which the Bobcats went 1-4-1. "We lost Peter Quenneville to juniors [in November]. We're not deep enough to lose another legit forward."
Samuels-Thomas typically has skated on the third line, with Matthew Peca and Travis St. Denis on the second line. Sam Anas, who this season became the second Quinnipiac freshman in the program's Division I era to reach 20 goals and 20 assists, plays on the top line with twins Connor and Kellen Jones.
The Bobcats have seven players with double-digit goals.
"The [other team's] fifth and sixth defensive pair has to either go out against Samuels-Thomas, Peca or the twins," Pecknold said of the matchup problems his team can pose.
On defense, the Bobcats have gotten outstanding seasons from senior Zack Tolkinen and junior Dan Federico, although Federico has been injured since Feb. 22.
Freshmen Devon Toews and Connor Clifton have been steady contributors on the blue line, while classmates Derek Smith and Brayden Sherbinin have gotten plenty of playing time as well.
"It's difficult for a defenseman to step in and be an impact player," Pecknold said. "But those four freshman defenseman have been a big part of our success."
While the Bobcats' speed should translate well on the bigger ice, Vaughan said he believes the Raiders are capable of keeping pace with them, as they did in a 3-1 win in Hamden on Feb. 22.
And if Quinnipiac wants to advance to the school's second ECAC title game, it'll need to make Finn's night harder by creating commotion in front of the net.
"We need to do a better job at getting bodies in front of the net," Pecknold said. "I think he saw every puck last game."
Moving on
The offseason has begun for the other eight teams in the league, and with that comes the beginning of players signing professional contracts.
· Rensselaer has been hit hard by a combination of early departures and outgoing seniors. Junior forward Ryan Haggerty (New York Rangers) and sophomore forward Mike Zalewski (Vancouver) both left early, while seniors Brock Higgs (Worcester/San Jose) and Guy Leboeuf (Bridgeport/ New York Islanders) each signed deals as well. Higgs had three goals and two assists in his first two games with the AHL Sharks, including two against LeBoeuf and the Sound Tigers on Saturday.
· Yale seniors Kenny Agostino (Calgary) and Jesse Root (Bridgeport) have each begun their pro careers as well. There's a chance Agostino could make his NHL debut Friday.
· With Haggerty and Zalewski leaving early, the league looks likely to surpass the three early departures from last year when Union's Troy Grosenick and Josh Jooris and Dartmouth's Matt Lindblad gave up their remaining eligibility to sign a pro contract. Lindblad made his NHL debut for Boston last Saturday against Carolina.