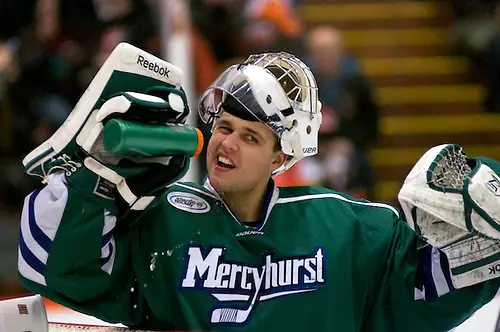 Atlantic Hockey handed out its individual year-end awards Thursday night at the league's annual championship reception at the Blue Cross Arena in Rochester, N.Y.
Mercyhurst goaltender Jimmy Sarjeant took home top honors as he was tabbed the AHA player of the year after going 14-0-5 with a 2.00 GAA, a .943 save percentage and one shutout in league play.
Sacred Heart freshman Justin Danforth is the league's rookie of the year, scoring five goals among 28 points this season to lead the Pioneers.
Rick Gotkin from Mercyhurst was tabbed coach of the year after guiding the Lakers to a 17-4-6 record in conference games, winning the regular-season championship. Gotkin is in his 26th season behind the Lakers' bench.
Mercyhurst's Dan O'Donoghue was named top defensive forward, while teammate Nick Jones was selected defenseman of the year.
Jones and Jason Fabian from Air Force shared the individual sportsmanship award and American International took home the team sportsmanship award.
The final two honors were based on statistics as Bentley's Brett Gensler earned the scoring trophy with a 40-point season and Sarjeant won the goaltending trophy.