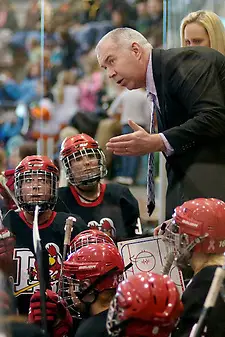 Plattsburgh's Kevin Houle has been named STX/AHCA national Division III women's coach of the year for the fifth time.
The announcement was made Thursday night at the student-athlete banquet for the 2014 NCAA Division III women's championship in Plattsburgh, N.Y.
In the 2013-14 season, Houle has led the Cardinals to their second-straight ECAC West championship and fourth overall with a 25-1-1 record.
Houle received his sixth conference coach of the year honor in a year that saw Plattsburgh sit atop the USCHO.com Division III Women's Poll for 17 straight weeks.
The Cardinals are making their 10th NCAA tournament appearance this weekend and Houle enters the semifinals with a 259-40-20 career record and his .843 winning percentage ranks first among all active women's hockey coaches.
His previous AHCA coach of the year awards came in 2006, 2007, 2008 and 2013.
The runner-up for this year's award was Tom Palkowski of St. Thomas.