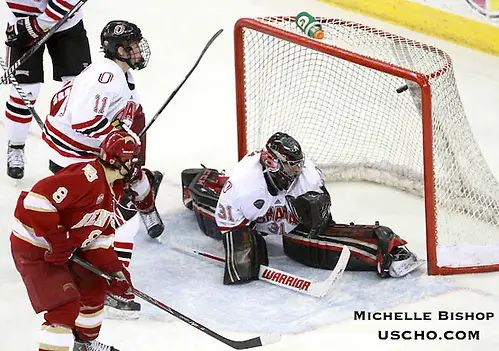 Miami, Denver and Western Michigan combined to go 12-19-5 on the road in conference play in the NCHC's inaugural season.
And then they went 6-1 on the road last weekend to earn spots in the league's Frozen Faceoff.
NCHC playoffs
See the tournament bracket and get links to schedules and stories at NCHC Playoff Central.
The RedHawks, Pioneers and Broncos join North Dakota at the Target Center in Minneapolis this weekend.
Denver and Western Michigan will take part in Friday's first semifinal before North Dakota faces Miami that evening, and below you'll find capsules on each of the four teams heading to Minneapolis.
Denver
Record: 18-15-6 overall, 10-11-3-2 NCHC
Overview: First-year coach Jim Montgomery has said that his Pioneers have relied on senior goaltender Sam Brittain too much at times this season, and as the future NHLer — currently a prospect within the Florida Panthers' system — can't do everything, leaning too heavily upon him has showed.
However, Brittain was phenomenal in giving only up one goal in the final 120 minutes of DU's three-game playoff series last week at Nebraska-Omaha after the hosts came away 4-3 winners in Game 1.
Why Denver will win the Frozen Faceoff: Brittain has unquestionably been the best goalie in the league this season, and there's a very real possibility he could put the Pioneers on his back in Minneapolis in a similar fashion to what Colorado College then-senior netminder Joe Howe did last season. Howe orchestrated wins at Denver in the first round before carrying the Tigers to an appearance in the WCHA Final Five championship game in St. Paul.
Why it won't: The Pioneers scored 10 goals in their last three games, which is handy, but the depth up front just isn't quite there. North Dakota and Western Michigan are scoring more goals per game, and having zero players among the NCHC's top 20 scorers might not cut it at this point.
Miami
Record: 14-19-3, 8-17-1-1
Overview: It still feels bizarre to say Miami is the biggest surprise inclusion in this season's playoff finals weekend, but here we are and so, too, is a RedHawks team that ended the regular season in last place.
Coach Enrico Blasi's bunch uncharacteristically struggled through much of this season — one win sandwiched by four losses on either side between Feb. 7 and March 7 particularly sticks out — but Miami then parlayed a 2-1 win March 8 at Denver into a sweep of Penrose Cup champion St. Cloud State in the first round of the playoffs.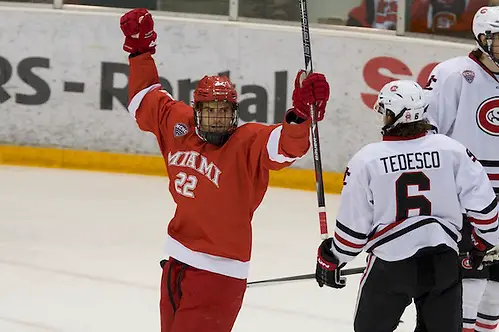 Why Miami will win the Frozen Faceoff: First things first: Miami might have a bear of a time dealing with North Dakota on Friday night, but momentum's on the RedHawks' side more than it is for any other team in the last four of this competition.
Why it won't: It's a similar situation to Denver's in terms of depth, plus Miami's league-worst team defense (3.35 goals per game) is just about the only issue Blasi's group didn't sort out last weekend in St. Cloud. Miami scored nine goals in those two games but conceded seven.
North Dakota
Record: 22-12-3, 15-9-0-0
Overview: North Dakota pulled a North Dakota in the regular season in terms of starting slow and then turning it on as things progressed, and UND's been very good really ever since the start of December.
Colorado College went on the road last weekend and took UND to three games in those teams' first-round series, but although losing a share of the Penrose Cup on the final day of the regular season must've been disappointing, UND regrouped well enough to move on to Minneapolis.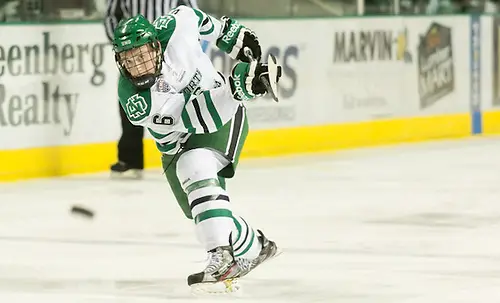 Why UND will win the Frozen Faceoff: This is the most-balanced team remaining in the NCHC playoffs, and it is my preliminary favorite to win out and lock up the league's NCAA tournament automatic bid. Plus, the crowds at Target Center surely will lean in UND's favor, especially with Minnesota-Duluth and St. Cloud State out and none of the other three schools remaining being known particularly well for fans traveling in droves.
Why it won't: I know I said I'm leaning toward calling UND the favorite to win, but I do have a weird feeling about what happened last year — Michigan Tech took UND to three games in Grand Forks in the first round before UND lost its next time out in overtime to CC in St. Paul — and that maybe, although it's a small maybe, I've seen this proverbial movie before.
Western Michigan
Record: 19-14-5, 11-11-2-2
Overview: Is there a more perfect word to describe Western Michigan's regular season than "middling?" Perhaps not, as the Broncos ran hot and cold all through the campaign and eventually finished up at .500 in the league.
Like Miami, however, the Broncos are on a three-game winning streak, and each of those victories came on the road.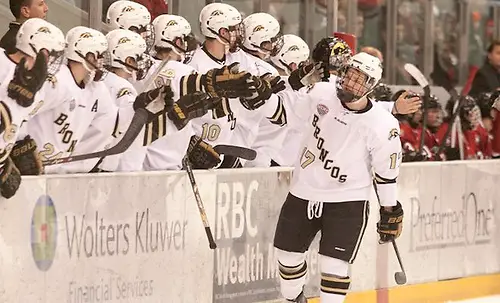 Why WMU will win the Frozen Faceoff: Most of Western's pieces that we thought would perform well this season for the Broncos have, and although they need to win the NCHC playoffs to get into the NCAA tournament, Andy Murray's men are, all things considered, in a reasonably good place right now. Also, the Broncos are 4-0-1 in neutral-site games so far this season, so going into potentially hostile atmospheres inside Target Center won't worry Western.
Why it won't: Western's goaltending this season hasn't been incredible, and the Broncos have the worst power play units in the league and the sixth-worst in Division I. Those issues added together could spell trouble for the Broncos in Minneapolis.
The crew in Minneapolis
This week's edition comes to you from my hotel room in Hamden, Conn. That's admittedly an odd thing for someone covering the NCHC to say, but there's a reason: I'm covering the Women's Frozen Four for Turner Sports and NCAA.com.
This means I won't be in Minneapolis this weekend for the NCHC Frozen Faceoff, but USCHO will have you very well covered for all the goings-on at Target Center. My fellow league co-columnist Candace Horgan (@CandaceHorgan) will be there as well as outstanding arena reporters Timothy Boger (@timothyboger) and Elizabeth Erickson (@e_lizabeth11).
I can't recommend highly enough that you give each of them a follow on Twitter if you haven't already. Also, you can find my semi-mindless ramblings about hockey and other various and sundry subjects there at @matthewsemisch.