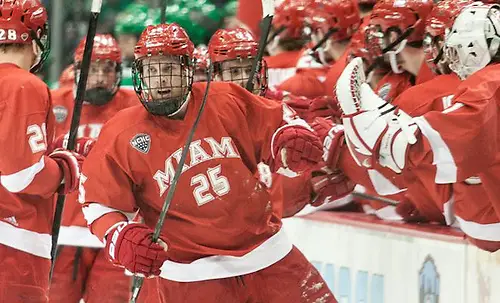 MINNEAPOLIS — Two weeks ago, Miami was 12-19-3, in last place in the NCHC, in the bottom half of the PairWise Rankings and without much hope of avoiding a disastrous season.
But somewhere between the regular season finale in Denver and the playoff opener in St. Cloud, something clicked in a big way for the RedHawks.
NCHC playoffs
See the tournament bracket and get links to schedules and stories at NCHC Playoff Central.
Now, after dispatching Penrose Cup champion St. Cloud State in two games and runner-up North Dakota in Friday night's NCHC Frozen Faceoff semifinal, Enrico Blasi's RedHawks are somehow one win away from the NCAA tournament as the NCHC's automatic qualifier.
"I was thinking on the bench, sometimes you have to have a little faith in your team," Blasi said. "And a month ago, I don't think any of you guys would have picked us to be here in this position."
Inexplicably, the team that went 3-12-1 in the second half of the regular season found its stride at the most opportune moment. Friday night, the RedHawks got themselves one step closer by beating North Dakota in dominating fashion 3-0.
One could chalk this sudden success to the return of Blake Coleman, who returned to the lineup from injury Feb. 21 and has nine goals and two assists since. His goal at 11:24 of the first period set the tone for the RedHawks Friday night.
One could chalk it up to Ryan McKay, who shut out North Dakota's offense just five weeks after getting chased from a 9-2 train wreck against the same squad.
Or it could all boil down to a team — which, by the way, was picked before the season to be conference champions — that put together all the pieces and grew up.
"I'm really excited and proud of our team," Blasi said, "not because they won tonight, but because of they way they've gone through this little journey. It's not easy. We're a better team for it and now tomorrow night we're going to play for a championship."
"I think we've believed in one another and that's one of the key points right there," captain Austin Czarnik said. "We knew what kind of team we had and we've been showing it lately."
Miami had no shortage of rough times this season. Four separate times, the RedHawks found themselves in a four-plus-game winless streak. They were swept five times.
"It's been tough, but I think we've got a really mentally strong team," said Coleman. "Something we've focused on all year is having each others' backs. When everybody doubts us, we don't doubt ourselves and we've pushed through together. That's the only way to get out of a slump like that is to band together and use each other to get out of it."
And so the RedHawks banded together, and after three impressive — if not absurdly improbable — victories, here they are.
"I don't think any of us in this room are privileged to what's going to happen in the future," Blasi said. "You just got to go through the journey. Sometimes you go through good times and sometimes you go through some tough times. What you learn in those tough times is probably the most important thing in life."