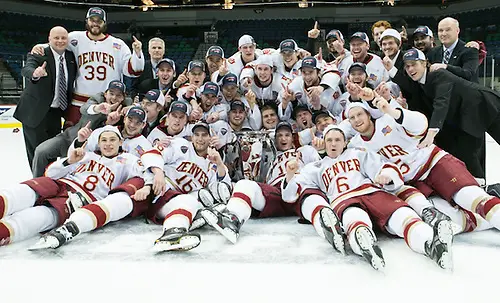 MINNEAPOLIS — The college hockey universe — at least the western half of it — was abuzz with amazement at Miami's unlikely run to the NCHC tournament final Saturday night.
The eighth seed in the NCHC playoffs made it all the way to the finals, much to the surprise of everyone, but the RedHawks fell short.
NCHC playoffs
See the tournament bracket and get links to schedules and stories at NCHC Playoff Central.
They fell short because Denver — the sixth seed — took the championship instead. The Pioneers were a Cinderella team in their own right, dispatching Nebraska-Omaha in three games last weekend and then taking down fifth-seed Western Michigan Friday afternoon.
But then again, maybe this is the new normal for the new conference.
"For us, we knew that going to Nebraska, it was anyone's game," Pioneers goaltender Sam Brittain said. "And with hard work and determination, any team can beat any team on any night. It doesn't matter what place you finish. Six versus eight in the final, who would have thought that, right?"
Denver, a long-time powerhouse in the old WCHA, stayed below the radar for most of the season. The Pioneers were within striking distance of first place for most of the season but fizzled late.
Their chances of stringing together a seventh consecutive playoff appearance certainly looked bleak, as they were buried in the PairWise Rankings. Only an uphill battle on the road in Omaha and two wins in Minneapolis could get them an automatic berth.
But all in all, given how the inaugural NCHC season played out, Denver emerging as champions certainly wasn't a surprising result.
"I think we only swept once ourselves this year, and we were only swept once," Denver coach Jim Montgomery said. "We have beaten every team and lost to every team and almost everyone was like that."
Denver completed the job Saturday night, scoring four goals and then clinging to the lead as Miami kept pecking away.
The determination never faded, even as Miami tied the game toward the end of the second period.
"We weren't letting that victory slip out of our hands," Zac Larraza said. "We knew what we had to do. We just put our minds to it and went out and worked."
At the end of the day, it was just one team with a losing conference record (10-11-3-2) beating another (6-17-1-1).
"The ups and downs of our season with all the injuries — I'm just amazed at what they've been able to overcome," Montgomery said. "The resiliency and responses we've had all year — I'm not surprised by what I thought was our best team effort of the year tonight against a great team that probably showed why it was preseason No. 1.
"To be honest, with the group of guys we had, it wasn't far at all. You saw how hard we worked this weekend and last weekend. We didn't think it was out of reach at all."
And now, the Pioneers will get a chance to see just how far they can reach in the NCAA tournament.