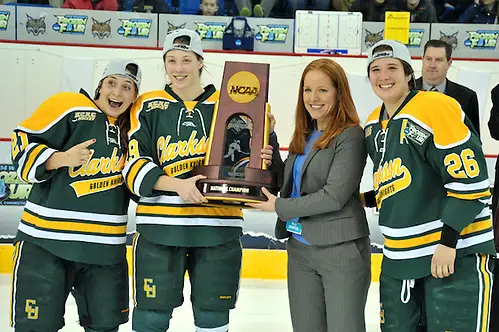 HAMDEN, Conn. — On paper, it might have been considered a David versus Goliath battle going into the 2014 NCAA women's Frozen Four championship game.
A private school with 3,000 students versus a public institution with 52,500 students. A small country town of 16,000 versus a twin city metropolis of over 3.4 million.
The East Region that has never won an NCAA women's hockey championship versus the West that won all 13. A program in its first Frozen Four versus a program making its 10th appearance.
A Division III school with one Division I sport versus a mega-sport, mega-budget Big Ten school. No national championship in any sport versus a school with numerous national championships in many sports.
However, don't dare use the "U" word around this Clarkson team.
"Absolutely not," Golden Knights forward Shannon MacAulay said when asked if this is considered an upset. "We deserve it. We worked hard all year for it. Yeah, Minnesota won it two years in a row, but that doesn't mean anything to us."
"I agree," captain Carly Mercer said. "2014 is a completely different year. We didn't care how many national championships they've won. This was our year."
"I don't consider this an upset," Clarkson co-coach Matt Desrosiers said. "Obviously, you have the rankings and everything else. They're a great team. Second loss they had all season. That's incredible. But it's tough to gauge. We don't get to see these teams all the time. I think our girls have done a great job throughout the season proving they belong on this stage."
Minnesota captain Bethany Brausen was willing to give her opponents due credit: "Congratulations to Clarkson," she said. "They deserved it."
Patty Kazmaier Award winner Jamie Lee Rattray squelched the upset talk even before the game started.
"You can not be intimidated. You have to go hard," she said. "I think the goal is to just play our game. That's what's been successful for us all year. As a team we can't go in with a mind-set like that."
Not only did Clarkson play its game, but even when the tide was clearly in Minnesota's favor, the Clarkson bench was clearly the more vocal, enthusiastic, and supportive of the two. One could hear the Golden Knights players from the opposite side of the rink constantly talking to their teammates on the ice.
"Even when we were down a goal, up by a couple and they started coming a little bit, they were on the bench yelling and screaming that they were going to get this done, they were going to get this done for each other," Desrosiers said.
A key factor in the game was Clarkson's goaltender, Erica Howe, who made some big saves in key situations.
"She gives our team a lot of confidence," Desrosiers said. "You know if you make mistakes you have one of the best goalies in the country back there to cover for us."
"I can't say enough about Erica Howe," Mercer said. "She's an incredible goaltender. She's an incredible competitor. I think often times she is overlooked, unfortunately. At the end of the day, our entire team knows she is going to bring her best, play her best."
"She makes things so much easier," MacAulay said. "We had four D this weekend, and I didn't have one bit of doubt in my mind we weren't going to do it with Erica Howe back there."
Strong goaltending, confidence and sticking to the game plan all allowed a team, whether considered a David or not, to take home the national championship.
"It would mean nothing more to me to bring it back to Potsdam," Rattray said the day before the game.
Bring it back they did. There will be a lot of celebrating in Potsdam, N.Y. A lot of words will be used to describe what happened in Hamden. Conn., and throughout the year. However, the "U" word will never be one of them.