The way that the East Regional bracket shook out shows the sometimes tangled web that college hockey coaches have in their careers.
Providence and Vermont, two of the teams in the regional in Bridgeport, Conn., are both coached by men who left Union to take their current job — Vermont's Kevin Sneddon in 2003 and Providence's Nate Leaman in 2011.
Union's Rick Bennett, who took over for Leaman, was a player and assistant coach at Providence before going to Schenectady, N.Y., as an assistant.
That leaves out Quinnipiac's Rand Pecknold, who is one of the longest-tenured coaches in Division I hockey with 20 years leading the Bobcats.
Here's a look at the teams in the 2014 NCAA tournament East Regional: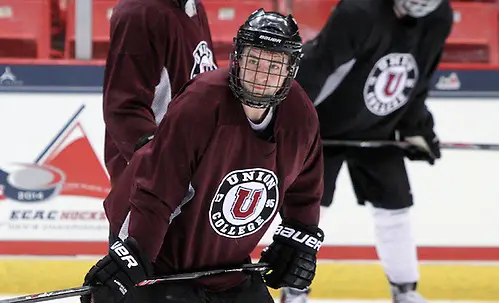 Union Dutchmen
Coach: Rick Bennett, third season
Record: 28-6-4 (18-3-1 ECAC Hockey, first)
How they got in: Automatic qualifier, ECAC Hockey playoff champion
Regional seed: First
Last NCAA tournament appearance: 2013
Best NCAA finish: National semifinalist, 2012
Why they'll get to the Frozen Four: The Dutchmen are no longer just an ECAC power; they're one of the top teams in the country in recent years. Union has plenty of depth and experience through the lineup and can match up with virtually any style of opponent.
Why they won't get to the Frozen Four: Faceoffs. It's one of the few areas that Union has struggled with this season, as coach Rick Bennett lamented after an earlier loss to Quinnipiac. The Dutchmen's penalty kill is also average, although it was 7-for-7 in Lake Placid.
The result on the ice was the same. But the mood afterward was different.
Union beat Colgate 5-2 last Saturday in the ECAC Hockey championship game to win the school's third straight Whitelaw Cup, which hadn't happened since Boston University did it in 1977.
Union began that stretch with a come-from-behind win over Harvard in the 2012 title game, which was followed by an emotional news conference as the Dutchmen celebrated their first league title.
It was a different scene last weekend. Sure, coach Rick Bennett and Union's players were excited, but it seemed almost an expected outcome for a team that has become a national contender the last few seasons.
"If you have to prepare for a question like that, I guess that's a good thing," Bennett said when asked how this year compared to the two previous seasons. "I'm not going to compare those last teams; I just know that this team is really special. … It means a ton."
The Dutchmen are a No. 1 seed in Bridgeport for the second time in three years. Union beat Michigan State and Massachusetts-Lowell at Webster Bank Arena to advance to the school's first Frozen Four in 2012.
It's the fourth straight NCAA tournament appearance for Union, which is 24-3-2 since the middle of November and enters the regional on a 13-game unbeaten streak. The Dutchmen also set a school record with their 27th win of the season last Friday and are ranked first in the USCHO.com Division I Men's Poll for the first time in program history.
Balance has been a strong point for Union this season. The Dutchmen and Quinnipiac are the only two teams ranked in the top five in both team offense and defense.
"There is so much depth to their game," said Colgate coach Don Vaughan. "They are hard to play against; they don't make a lot of mistakes."
Seven players have scored at least 10 goals, led by upperclassmen Daniel Carr (22) and Daniel Ciampini (19). The Dutchmen also have gotten production from their freshmen, including Mike Vecchione (12-19–31), Michael Pontarelli (10-13–23), and 6-foot-6 Eli Lichtenwald (8-11–19).
Junior goalie Colin Stevens has been a fine replacement for Troy Grosenick, who gave up his senior year last spring to sign a contract with San Jose. Stevens won the Ken Dryden Award as the ECAC's top goalie and is among the national leaders in save percentage and GAA.
But defensemen Mat Bodie and Shayne Gostisbehere are what make Union special, according to an opposing coach.
Both are stout defensively, play on both special teams units and aren't afraid to jump in the attack for a Union offense that's scary good in transition, according to the same coach.
Gostisbehere was voted the league's top defensive defenseman and was co-player of the year with St. Lawrence's Greg Carey. He's also a Hobey Baker Award finalist.
— Nate Owen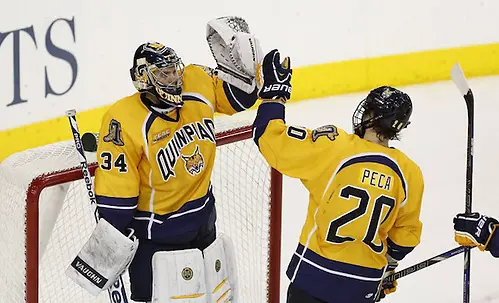 Quinnipiac Bobcats
Coach: Rand Pecknold, 20th season
Record: 24-9-6 (12-6-4 ECAC Hockey, third)
How they got in: At-large bid
Regional seed: Second
Last NCAA tournament appearance: 2013
Best NCAA finish: National runner-up, 2013
Why they'll get to the Frozen Four: Depth of scoring, team-wide commitment to defense and a lethal counter-attack will get a team a shot at any title. The experience borne of being there before can only improve those odds.
Why they won't get to the Frozen Four: Quinnipiac's goaltending isn't as remarkable as it was last year, and the team's 3.62 goals per game is a deceiving average. The Bobcats have been held to two goals or fewer in six of their last 10 games.
If Quinnipiac's success last year was a surprise, its achievements this year may well be a revelation. Despite losing eight of their top 12 scorers and arguably the best goaltender in the nation to graduation, the 2013-14 Bobcats put up more goals (3.62 per game this year, 3.02 last year) and boast a greater scoring margin (plus-1.65 to plus-1.34) than the team that lost the national championship game in Pittsburgh last April.
The top line, composed of freshman Sam Anas (22 goals, 43 points) and senior twins Kellen (18 goals, 42 points) and Connor Jones (15 goals, 38 points), sets the pace for the Bobcats, accounting for nearly 40 percent of the goals and a third of the team's total scoring.
Quinnipiac runs deeper than that torrid trio, however, as four other players scored double-digit goals this season and five averaged better than a point every two games.
Quinnipiac didn't steam into the NCAA tournament last season, falling in the ECAC Hockey semifinals before beating eventual national champion Yale in the league's third-place game. The Bobcats have followed a similar script so far this spring, dropping a heartbreaking double-overtime semifinal game to Colgate in Lake Placid. The only difference this year is that there was no consolation game.
Coach Rand Pecknold said his team has had its attitude this week shaped more by last weekend's loss than by last year's letdown.
"I guess we're more going into it after a bitter loss" rather than riding high on last year's experiences, he said. "Our mind-set is good. We've got some great leadership, our captains are doing a great job getting our guys prepared. We're feeling a bit bitter from Friday's loss, and that's not a bad thing."
The Bobcats face a somewhat familiar opponent on Friday — they hosted Providence the evening before Thanksgiving last fall. The teams tied 3-3 but Pecknold said he believes that there is information to be gleaned from that game.
"We've already done some prep for them; we have video on them," he said. "It makes it easier for both sides [having played once already]."
He said that since teams have tendencies, having prepared for and played the Friars once already will make PC's style of play more recognizable. They haven't made any "drastic changes" since November from what he's seen, "and we haven't either," Pecknold said.
"They play a real physical brand of hockey," Pecknold said, which will feel like deja-vu for Quinnipiac as well: Colgate took every opportunity to batter the Bobcats last weekend. The coach also pointed out that "their defensemen pinch [aggressively]," which could lead to odd-man rushes for the opportunistic 'Cats.
Finally, Pecknold and his players are acutely aware of the obstacle they face in U.S. World Juniors goaltender Jon Gillies.
"We've got to get in his kitchen, get in his face" to get some gritty goals, Pecknold said.
— Brian Sullivan
Providence Friars
Providence College Friars
Coach: Nate Leaman, 3rd season at Providence, 11th season overall
Record: 21-10-6 (11-7-2 Hockey East, third)
How they got in: At-large bid
Regional seed: Third
Last NCAA tournament appearance: 2001
Best NCAA finish: National runner-up, 1985
Why they'll get to the Frozen Four: Providence has arguably one of the top goaltenders in college hockey in Jon Gillies to go along with an offense that at times can be potent. If both are clicking, this team is a tough out.
Why they won't get to the Frozen Four: The Friars didn't seem overly inspired last Friday night in the Hockey East semifinals against New Hampshire and got outskated by the Wildcats. Performances like that against Quinnipiac or either Vermont or Union would be disastrous.
For the Providence Friars, short-term memory might be a good thing this time of year. After an impressive end-of-season run, the Friars were run out of the TD Garden and the Hockey East championship last Friday night in the semifinals by New Hampshire.
That was the bad news. The good news was that Saturday's game outcomes played in the Friars favor and they will head to the East Regional in Bridgeport this weekend as the No. 3 seed, facing off against Quinnipiac.
Coach Nate Leaman was clear that his team needs to put forth a tournament-worthy performance on Friday afternoon or the club's first appearance in the NCAA tournament in 13 years will be short-lived.
"We got outbattled and outworked by UNH and the better team won the game that night," said Leaman. "We have to learn from that and move on.
"It's hard to break down X's and O's when you're getting outbattled. We were losing a lot of the one-on-one battles [last Friday] and we weren't executing in any our transition to offense.
"On a simple standpoint, if you're not winning the battles and you're not winning loose pucks, X's and O's won't matter."
The Friars will take on a somewhat familiar opponent for Leaman in Quinnipiac. Leaman coached in ECAC Hockey for eight seasons before arriving at Providence.
One thing he knows about a Rand Pecknold-coached team is that it will be extremely patient in playing the game, not getting flustered. That's something Leaman hopes his team can bring as well.
"They bring a lot of experience to the table," Leaman said of the Bobcats, which a year ago reached the national title game. "They're patient and mature in how the play their system. And they have an older, experienced team."
In looking for an area where Providence can step up its game, you can look to forward Ross Mauermann. The Hockey East co-defensive forward of the year, Mauermann can do plenty more than score.
But his offense can also be game-changing, as he showed at times this year. Having just a single goal in Providence's last nine games isn't enough for the club's leading scorer. His ability to come alive this weekend offensively could be a major difference-maker.
On a positive note, Providence enters the tournament with a solid goaltender in Jon Gillies. No matter what is happening in front, knowing that a goaltender can be there at times to bail you out is important this time of year.
— Jim Connelly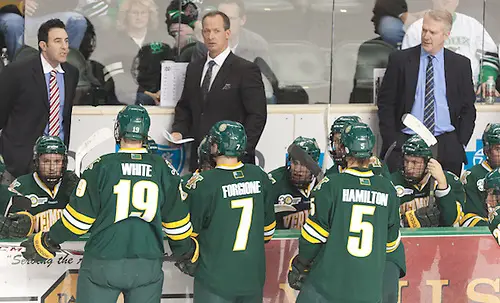 Vermont Catamounts
Coach: Kevin Sneddon, 11th season at Vermont, 16th season overall
Record: 20-14-3 (10-10 Hockey East, seventh)
How they got in: At-large bid
Regional seed: Fourth
Last NCAA tournament appearance: 2010
Best NCAA finish: National semifinals, 1996 and 2009
Why they'll get to the Frozen Four: Vermont has a defense that can stifle and a top line that can score. If the Brendan Bradley-Chris McCarthy-Mario Puskarich line gets hot and this team can jump out to a lead, it is good at closing out games. Additionally, goaltender Brody Hoffman played some incredible hockey down the stretch. If he stays hot, he can frustrate opponents.
Why they won't get to the Frozen Four: For one, Vermont's first-round opponent, Union, is one of the nation's best and hottest teams. It will be a difficult opponent that, similar to Vermont, likes to play a puck-possession game. Vermont must impose its will to play the game it wants to play or it will be early curtains for the Catamounts.
There will be something special when the Vermont Catamounts arrive in Bridgeport, Conn., for the NCAA East Regional. It was five years ago that the Catamounts played there and emerged as regional champs, punching their second ticket to the Frozen Four and first since 1996.
There will also be some familiarity to the route the Cats take to get there. In that year, as happened this year, Vermont lost in the Hockey East quarterfinals to Massachusetts-Lowell and had to wait around hoping things fell in a way that the Cats could make the tournament.
That, though, is where similarities end. The 2009 Vermont team was a favorite over Lowell before the start of the quarterfinals. Sneddon recalls having to mentally recover from that series loss to advance to the Frozen Four.
This year, Vermont played the River Hawks, which went on to dominate last weekend's Hockey East tournament at the TD Garden, as hard as any team along the way. In addition to the best-of-three quarterfinal series, Vermont finished the season with a two-game series at Lowell that was split.
In the end, the two teams played five games, Lowell winning three to Vermont's two, with the River Hawks holding a slim 10-9 lead in goals.
Knowing Vermont could go toe-to-toe with a team Sneddon says "might be the best team in the country" gives his team plenty of confidence heading into Friday's opener against top-seeded Union, a team Sneddon once coached.
"We have a smart group of players in the locker room," said Sneddon. "We left it all there [in the Lowell series]. So for our guys to have been able to say, 'We may have played Lowell as tough as anybody,' there's no question [Lowell] made us a better hockey team."
Also a positive to the week off was Sneddon's ability to rehab his team, whose top line had players sick and injured and who played a physical series of games in the Hockey East quarterfinals.
"After the Lowell series we were pretty banged up," said Sneddon. "We were able to get some rest and rehab and focus on our game not knowing if we're in the tournament and who we're going to play. Our team did a good job of staying positive. I feel like our team is in a good spot."
Vermont was switched with North Dakota in the final bracketing of the NCAA tournament, something that Sneddon is excited about, knowing his passionate fan base can travel easily to Bridgeport.
"We're thrilled to be heading back to Bridgeport," Sneddon said. "It's more special that we're able to share this experience with our fans. It's our 50th anniversary as a program. We've had a lot of pride in that aspect this year. We talk about it a lot. And we have the chance to make memories and a lasting imprint on our program. Our guys are doing that right now."
And if history of Bridgeport and the Catamounts can repeat itself, those memories could include a shot at a national championship.
— Jim Connelly