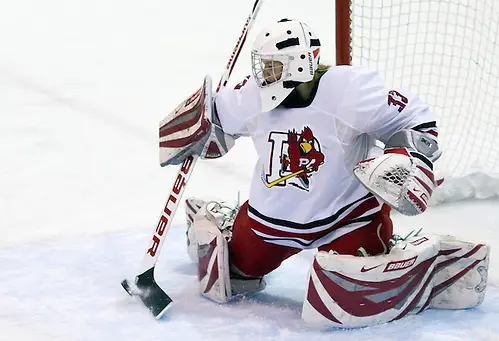 In a year that featured a wealth of outstanding goaltenders, Plattsburgh's Sydney Aveson stood alone.
The West Covina, Calif., native kicked out old marks from the record books, similar to the method she utilized on opposing forwards throughout the season.
"My teammates pushed me every step of the way since I was a freshman," Aveson said after the Cardinals had secured the national championship. "From my first year here, I certainly didn't have goals of breaking records. My goal as a Cardinal was to improve every day, every year. You cannot become good unless you are challenged, and I have to attribute my success for my teammates challenging me every day."
Aveson began the season with six consecutive shutouts; she didn't allow her first goal until a 1-1 tie with Amherst in late November. While Plattsburgh was in one-vision mode on the way to the final four tournament, Aveson was inevitably at the forefront of each Cardinals triumph. Aveson finished with a 22-1-1 record and led the nation with 14 shutouts and a .971 save percentage.
The Cardinals ranked as the best defense in the country, allowing 0.68 goals-per-game. For a touch of perspective on her influence in the Cardinals rise to the top of the podium, consider that through her sophomore season, Aveson had six losses in her ledger; two years and 50 games later, she completed her career with eight.