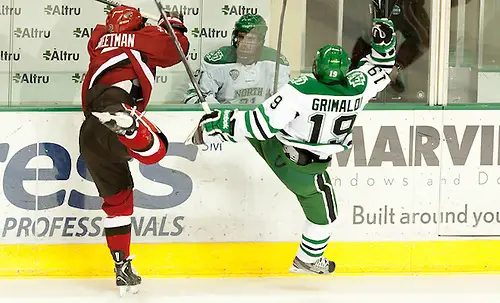 For the teams left standing on April 1, there's not much adversity left to overcome. And with such a strong field in this year's Frozen Four, picking an underdog is virtually impossible.
When the Frozen Four field emerges, it might be easy to forget that, at one time, each team faced a bout of challenges. Some more than others.
2014 Frozen Four
Follow all of USCHO's coverage at Frozen Four Central.
Whether it's in the middle of a game or as a result of a game's outcome, you'd be hard pressed to find a team that doesn't learn something critical about itself over the course of a season, leveraging the bumps in the road to rise to the occasion come March.
North Dakota counts itself as one of those teams.
Much focus has been placed on North Dakota's NCHC semifinal loss to a surging Miami team, which took advantage of three defensive mistakes to upend UND's path to the NCAA tournament. That game and the three wins since — including only three goals allowed in more than 10 periods of hockey — have produced a nice narrative.
But coach Dave Hakstol doesn't look at the semifinals as the turning point of the year.
"It's just playoff hockey," Hakstol said. "It wasn't any shock to our system. We just had to mentally regroup and get ready to play the next night."
Junior forward Stephane Pattyn pointed to UND's 5-2 loss to St. Lawrence in November, when the team sank to 4-7-2 and had only one victory on home ice.
"We were a very disappointed team in our locker room," Pattyn said. "We knew the potential our team had and how tight we were."
A players-only meeting was held. And the ability to hash everything out proved instrumental.
UND was able to grind out 3-2 win the next night. A second one-goal win followed. Then a third. Ultimately, it was the start of a 10-game unbeaten run.
"This team has always had the will to be a really good team but didn't know how to put it together," Hakstol said. "I fall back on the strength of character in our locker room. As a staff, we had to help bring that out and bring it to the forefront. The rest is [up to] the players."
Though not faced with as deep a hole from which to dig out, Boston College faced a similar test that same month: back-to-back losses in fairly ugly fashion.
First, the Eagles were outplayed for 60 minutes against Maine in a 5-1 rout, then outplayed for 40 minutes before a comeback bid fell short in a 5-4 loss to Holy Cross.
"It was a juncture in our season where we were a pretty good club — but just pretty good," Eagles coach Jerry York said. "Holy Cross played exceptionally against us and it was a hard process for us. We expected to win that game pretty easily and got upset on our home ice. It startled us."
Since then, the story largely has been focused on his explosive top line of Johnny Gaudreau, Kevin Hayes and Bill Arnold. But cohesion was needed elsewhere in the lineup, too.
"We had a young group of guys, a lot of freshman in our lineup," Gaudreau said. "We were still trying to figure out the defensive situation and line situation."
Not to mention the goalie spot. Thatcher Demko subsequently turned a battle for playing time into a one-man race, and a young defensive corps has come into its own. And yes, that top line proved to be even more indispensable than York had imagined.
Even Union, a team that has won 30 games this year, faced a crossroads.
Flash back to Feb. 15. With the calamity and resulting suspensions from a postgame brawl against Rensselaer and a two-game skid in the rearview mirror, the Dutchmen seemed to be back on track. Yet they trailed Colgate 4-2 entering the third period of that contest, the most goals they had allowed since December.
"We had some guys out of the lineup [but] we were playing well," senior defenseman Mat Bodie said, noting that "we just had a couple of defensive breakdowns."
They rallied to tie the game, but the message was delivered: Be better defensively.
Since then, goaltender Colin Stevens has shut the door and the defensemen in front of him have been extraordinary (as evidenced by Shayne Gostisbehere's goal-line stand against Providence last week).
It's helped that Jason Tapp, once solely a goalie coach with the Dutchmen, was brought on as a full-time staff member this year. He has also worked heavily with the Union defense, bringing the group into greater harmony.
"He's never worked with defensemen, but if you want to have the 'sacred seven,' I thought it was best that he would work with our D," coach Rick Bennett said.
Perhaps the one team that hasn't faced the same kind of crossroads moment is Minnesota.
One could point to a weekend in February when the Gophers were swept by Wisconsin. But coach Don Lucia said that one weekend didn't really change anything with his team.
"From our standpoint, even though we lost, we played well. And sometimes that's how you judge your team," Lucia said.
Even the prospect of emerging from the Big Ten bubble, playing against the same five opponents (and not surprisingly, where parity ensued at the conference tournament) didn't seem to change the Gophers' mind-set.
"The coaches did a good job with the nonconference schedule," senior forward Nate Condon said. "We played against St. Cloud and Boston College during the regular season, which prepared us well for what to expect come this time of year."
The ability to smooth over any potential bumps in the road has served the Gophers well to this juncture. A real test will be to keep that going against longtime rival North Dakota on April 10.