The IIHF Men's World Championship is an annual spring tradition that receives little fanfare in North America as its competition for attention with the Stanley Cup Final is a bit of a mismatch. However, the event has become a rather important one for several players at the end of their college hockey seasons.
The World Championship is held every May, featuring 12 teams comprised primarily of players whose teams missed or exited the Stanley Cup playoffs or are from European professional leagues. It is by all measures a pro's tournament.
It is a difficult tournament to win, especially for the United States. The last gold medal at the World Championship for Team USA outside of the Olympics was 1936. That was the only world title Team USA has claimed at the event. The U.S. has won four silver medals and five bronzes, most recently at last year's tournament when Team USA beat Finland in a shootout for the first medal in nearly a decade.
It's a tournament that is tough to get high-end players to agree to go to and it's even tougher in an Olympic year, which is why this year's U.S. roster is so young, with an average age of 24.3.
The World Championship has become a tremendous training ground for players that recently wrapped up their college careers. There is almost always one recent college player on the roster, but this year's team includes an unusual high of four: Boston College forwards Johnny Gaudreau and Kevin Hayes, Wisconsin defenseman Jake McCabe and Massachusetts-Lowell goaltender Connor Hellebuyck. All four will embark on pro careers after this and are getting a golden opportunity to get some professional reps against high-level competition.
Many players in their position have taken advantage of the Worlds as a springboard for their pro career. So often, the question asked about prospects making the jump from college or junior to the big leagues is, "Yeah, they were great in college, but will it translate to the NHL?" The Worlds doesn't necessarily answer that question, but it provides a brief preview and a small indicator of where these young players are at when it comes to pro readiness.
Over the last 11 tournaments, 21 players who spent the season preceding that year's World Championship in college have appeared with Team USA. They have had varying degrees of success at the tournament and after, but by and large, playing for Team USA against quality competition is a rather effective steppingstone to the next level.
Often, the college guys are relegated to spot duty and often play as the 13th forward or last defenseman on the team, but that hasn't been the case this year.
Gaudreau has been a key source of offense for Team USA through their first three games in Minsk, Belarus. He notched three points in the opening game against the host country and has been playing primarily on the team's second line. The Hobey Baker Award winner has even seen considerable time on the power play. He's getting put to work.
Kevin Hayes, who is joined on the team by older brother Jimmy, a Florida Panthers forward and former Boston College standout, has had a more limited role but was recently reunited with Gaudreau when Team USA took on Russia. The pair was centered by Justin Abdelkader, who is serving as Team USA's captain, so head coach Peter Laviolette has not been shy about using his college guys up front.
McCabe has played essentially top-four minutes while paired with Nashville Predators rookie Seth Jones, his partner from the 2013 World Junior Championship. The All-American with the Badgers is averaging more than 15 minutes of ice time per game.
Hellebuyck has yet to dress in the tournament, as he is behind former Vermont netminder Tim Thomas and former Clarkson standout David Leggio, but the Winnipeg Jets prospect could see time as the preliminary round progresses.
If this group of players has any doubt about what playing in this tournament can do for their careers, they need not look further than some of their teammates for shining examples that it helps.
Nashville Predators forward Craig Smith was a surprise addition for the 2011 U.S. Men's National Team. He had a sensational sophomore season at Wisconsin, registering 43 points, but was expected to return to school the following season.
No one really expected Smith to work his way up the lineup and finish as one of the team's leading scorers with six points in seven games. That helped show that Smith was probably ready for pro hockey. The Preds signed him later that summer and Smith immediately stepped into Nashville's lineup the following season.
Smith has appeared in the World Championship every year since and was a key player for last year's bronze medal-winning team with 14 points over 10 games.
They can also look at Jacob Trouba, who made the unlikely jump from Michigan freshman to the NHL in one season. He was part of last year's bronze-medal squad and played a regular shift toward the end of the tournament while registering three points. Now 20, Trouba bypassed the minors and was a top defenseman for the Winnipeg Jets, posting 29 points while averaging more than 22 minutes a night.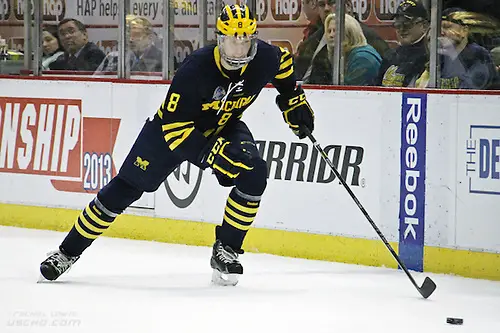 This year, Trouba is leading Team USA's young defensive corps despite being its second-youngest blueliner. The former All-American at Michigan is averaging 23:03 of ice time per game, has two goals and is second on the club with 13 shots on goal.
Another member of last year's bronze-medal squad was Nick Bjugstad, who was actually unavailable for the Worlds this year after wrapping up a rather successful rookie campaign with the Florida Panthers. He finished his degree and planned to walk with his Minnesota classmates in the graduation ceremony.
He had two assists in 10 games at last year's World Championship but was an impact forward, particularly late in the season for Florida, with 38 points in 72 games this year.
Last year's bronze-medal squad also included Hobey Baker winner Drew LeBlanc, who played a limited role on the team.
Perhaps one of the better examples of a college player who likely benefited greatly from playing in the World Championship is current New York Rangers forward Chris Kreider. The former Boston College star made the World Championship as one of those rare players who played for Team USA while he was still an active student.
Kreider made the team in 2010 and 2011, following his freshman and sophomore seasons, respectively. That was his only real strong professional-level experience before he famously signed his pro contract immediately after helping Boston College win the 2012 NCAA championship as a junior and hopped right into the Rangers' lineup.
Kreider was a standout player for New York that postseason, registering five goals — including a pair of game-winners — in 18 contests.
The World Championship is definitely a step or two below NHL competition, but it's a rather interesting bridge between college and the big leagues. As guys like Trouba, Smith, Kreider and now maybe even McCabe and Gaudreau are showing, the gap between college success and NHL readiness isn't all that wide for some players.
Other players that have gone to the Worlds after college seasons over the last 10 years include J.T. Brown (Minnesota-Duluth), Andy Miele (Miami), Colin Wilson (Boston University), Cory Schneider (Boston College), Erik Johnson (Minnesota), Jack Johnson (Michigan), Nathan Davis (Miami), Phil Kessel (Minnesota), Drew Stafford (North Dakota), David McKee (Cornell) and Keith Ballard (Minnesota).
A good performance at the Worlds doesn't guarantee immediate pro success, of course, but for so many of these guys it is a proving ground that can help them adjust to the pro pace and gain some confidence in a lower-pressure situation and perhaps at a more manageable talent level.
With so much unknown about their ability against pro players, watching the college guys go up against some NHL talent and some of the best the European pro leagues have to offer is a pretty interesting preview. And with NBC Sports Network broadcasting the tournament for the last few years, it's easier than ever to see what they can do.
Team USA has two regulation wins and one regulation loss in tournament play and will meet Latvia at 9:45 a.m. EDT Thursday.