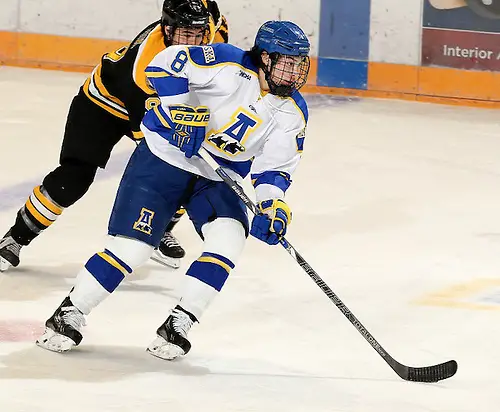 Alaska sophomore Justin Woods will miss the upcoming 2014-15 season after being diagnosed earlier this month with Ewing's Sarcoma, a rare form of bone cancer.
Woods will begin chemotherapy on May 22 at the Seattle Children's Hospital and will spend the next nine months there receiving treatment.
"Although I am missing the 2014-15 season, I am very lucky for this to have been caught early," Woods said in a news release. "My doctor promised that I would play hockey again, so I am holding on to that with my life while going through this long process of treatments."
"Justin is a very focused and determined young man and it is a pleasure to work with him," added Alaska coach Dallas Ferguson. "Although this is a battle he has not seen before, I know he will have the same determined approach to successfully complete his treatments. Our focus will be in supporting Justin and his family any way we can to ensure he returns to Fairbanks healthy."
Woods just completed his first season as a defenseman for the Nanooks, appearing in 33 games with six points on a goal and five assists with 36 blocked shots.
"I plan to come back healthier and stronger than ever so that I can continue to chase my dreams of playing hockey," Woods added. "I thank everyone for all the support that has come my way already. The Nanook hockey team will have a new No. 1 fan this season."
Anyone wishing to donate to the Woods family can do so HERE or can visit the Denali Alaskan Federal Credit Union where fans can donate and ask for account No. 155826 under the name Colang and Woods.
Woods is the second NCAA D-I player to be diagnosed with Ewing's Sarcoma this month following the announcement that Providence junior Drew Brown will undergo treatment for the same illness.