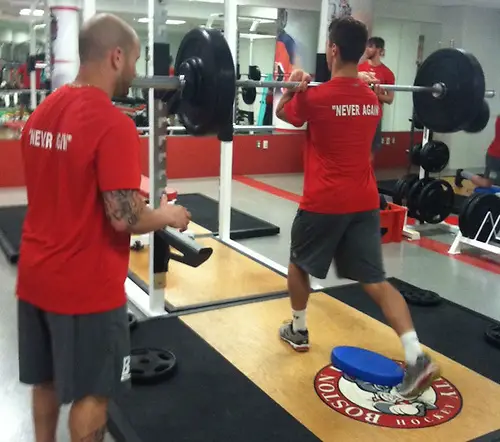 Before last season, there was a palpable anticipation in the Boston University locker room.
There were new faces aplenty, starting with the program's first new head coach since the 1970s. There was a group of ultra-talented raw hockey players, nine of whom were selected by NHL teams.
And there was the belief that a new crop of local talent could infuse a program and bring it back to heights last seen in the latter part of the last decade. The hope was to raise a banner similar to the one raised at Agganis Arena in 2009 and ones raised multiple times at the hated rival up the street at Boston College.
Any dream of raising a red and white championship banner ultimately failed and flopped on statistics alone, however. The Terriers limped to a 10-21-4 record, their worst winning percentage in 51 years.
Their win total was the lowest in 34 seasons, ultimately marking 2013-14 as one of the worst in BU's history.
Once the curtain fell on their ninth-place regular season finish and first-round exit from the expanded Hockey East playoffs, it felt more to their fans like the final nail of an execution than it was a rebirth.
"We had a really great group of kids, and we still have a really great core that will have more success moving forward," Terriers coach David Quinn said. "But there was a steep learning curve for that first year for all of us, and we all know a 10-21 record is not an acceptable season for Boston University."
For BU, the scars from last year run deep into the program's soul. Before last season, talk centered on how a group of Boston kids could infuse current talent in a sort of Terriers championship alchemy.
When that didn't happen, the talk required a sort of refocus and a summer spent in the weight room getting ready for a new day.
Under the watchful eye of strength coach Anthony Morando, himself a greater Boston native of nearby Malden, Mass., and Malden Catholic, there's been one creed and motto for the summer, emblazoned on their T-shirts:
"Never again."
"Our goal [this offseason] is to get down to an individual level and make sure nobody ever outworks us," Morando said. "That means looking at each member of the team and working day-in and day-out to ensure we can grind out every day.
"What happens in a game is a reflection of how we practice, and all of that is a reflection on the coaching staff. So it's personal for us to make sure we're putting the team in the position where they can win hockey games. This is a great group of players, and at the end of the day, my guys are my guys all the way. I want to see them win, so we have to make sure as a staff we're putting them on the right path."
For the Terriers, that means assistance from the higher powers of hockey.
While BU players past and present have honed their skills at NHL development camps across the United States and Canada, Morando, a Springfield College graduate, recently spent time with the San Jose Sharks and strength and conditioning coordinator Mike Potenza.
Potenza, himself a former Terriers graduate assistant in the early 2000s, joined San Jose after helping lead Wisconsin to national championships with both the men's and women's programs in 2006.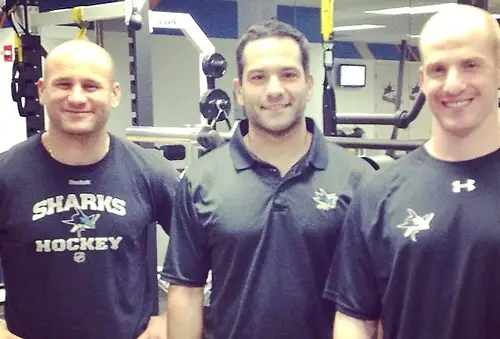 A former strength coach with Colgate, he now helps keep players healthy for playoff runs for a team that's been playoff bound for 14 of the past 15 NHL seasons.
"The first thing we do [with the Sharks] is consider an assessment and evaluation of every player for any structural deficiencies," Potenza said. "That allows us to plan and prescribe the right training at the individual level based on hockey qualities. The program has to meet requirements other than just having players sprint end to end. Forwards might have to sprint more but defensemen work more on footwork and turning so they can be quicker getting back [in transition].
"It's a very detailed approach that gets certain players ready for the scenarios they're more likely to see from the different elements found on the ice."
At the NHL level, it's hard to keep players at their best over what can amount to 100 games annually, including playoffs. But Potenza explained part of the challenge of conditioning is to "plan around the game schedule."
"We have to make sure to prescribe any strength or supplemental training for guys based on ice time," he said. "That means supplemental training for guys who play on the fourth line or who are more depth players on the roster. It's more maintenance to their core work, and we're addressing corrective action all the time to maintain and minimize any soft tissue injuries."
That micromanagement approach is stressed through the development season and summer training.
"We evaluate a young man's strengths and provide feedback as to where they're at [physically]," Potenza said of the NHL's development camps. "It helps to plan their development from a physical standpoint. We can work with them on their training habits, and for the college athletes, we work with how they warm up, get them to eat well, shop for the right food, and take care of themselves so they can regenerate their bodies quicker. That includes right down to their rest and their sleep pattern.
"We know [at the NHL level] that the bodies will develop and be there, so we really try to stress habits. Having been with college programs like Wisconsin and like BU, my goal is always to prepare by reinforcing those habits. From this level, it now gives me an opportunity to have great communication with guys like Anthony and be able to educate the collegiate systems as well as Canadian junior league players and even our minor league players."
Now, that approach is coming back to offseason training in college hockey.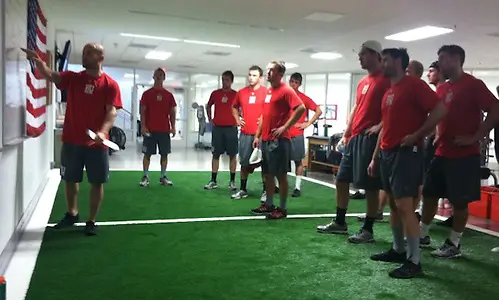 Boston University is no different.
"We're always tweaking our system to be more player-specific," said Quinn. "All the guys are here taking summer courses, and all 25 guys on our roster are working out on campus. We have some great depth where no one guy needs to carry the load, but our roster has guys who can step up on any night and provide what we need.
"Our success is going to be predicated on their progress, and the key is how our returnees play. We believe we can make the jump with the added talent that we have coming in with a solid freshman class."
Terriers forward Nick Roberto, who will be a sophomore in the fall, said he has noticed an attitude change in the weight room this offseason.
"We're a really tight group, but we're trying to maintain a complete edge every day," he said. "That means challenging one another and not being afraid to look at each other and ask for one more rep or 10 extra minutes.
"We all got along last year even through the tough times. We never got down on each other, and that's something we're using this year to drive us and make us even tougher and stronger before the season starts."
In the modern day of college hockey, that's a tougher challenge than in years past. There are more teams than ever before in BU's league, with tougher competition for national title contention.
Hockey East finished with one of its tightest top packs last season — five points separated second place from eighth. Breaking back into that pack will be equally as tough as programs like Providence, New Hampshire, Maine, Notre Dame and Vermont continue to vie for spots in what may be the nation's best top-to-bottom conference.
And while the 2009 banner will forever cast its shadow, traditions and history don't win championships, evidenced by first-time kings Yale and Union in 2013 and 2014, respectively.
"One thing I learned is that you never really know what a head coach does on the job until it happens to you," said Quinn. "There was a big learning curve in how to manage the extra non-hockey responsibilities, and it's something that a coach can get caught up in. It's tough to balance the on-ice practice and coaching with the recruiting aspects, which a coach has to be fully involved in. But with that year behind us, we're ready to go and move forward to a new season."
Said Roberto: "The goal [for BU hockey] doesn't change but we know the way in which we approach our goal has to change. And that's something that starts in the offseason every day that we're working in the weight room and on the ice with our coaching staff."
The best part about the offseason, Morando said, is gaining new knowledge.
"The guys on the ice are learning, and we're always studying new methods for training and improvement," Morando said. "That's our commitment to them. We're fully committed to them, and we're all committed to BU hockey. We know that there will be success, but it starts now and we have to make sure we're working hard each day to make it reality."