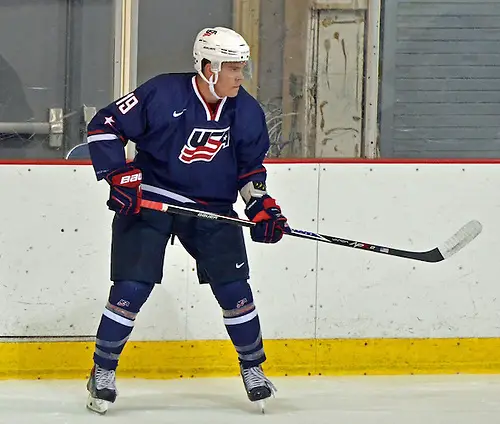 LAKE PLACID, N.Y. — It takes all kinds, and Sean Malone was out to prove that it took one of his kind.
The kind that can do whatever it takes — anything and everything, short of stepping into the goal crease (perhaps) — to restore Team USA to its World Junior Championship gold medal-winning form of two years ago.
Ultimately, Malone, a Harvard sophomore-to-be, saw his hopes of surviving the nine-day USA Hockey World Junior evaluation camp fall short when he missed Tuesday's cutdown following a pair of exhibition tilts against Sweden and Finland.
Malone, who suited up for the USA Blue unit, was strong in both tilts.
But with 42 hopefuls vying for 35 spots, Malone found himself caught up in a numbers crunch.
It was bad news for the native of West Seneca, N.Y., but an indication of just how strong the talent pool for this year's WJC entry might be.
"That's the toughest part of it," said Team USA head coach Mark Osiecki, who had to put his stamp on the final cut list. "There's a lot of good hockey players. Every kid that's here is a very talented hockey player, and are going to be good hockey players in the future."
"It [was] a special opportunity to show what I have, to get my name out there," Malone said. "[To] compete against the top players in the country, and other countries as well."
And to compete, the rock solid, 6-foot, 190-pound forward has to play the game his way.
With a ream full of sandpaper. The coarsest grade preferred.
"At school I'm the same way," Malone said. "I didn't change my game here."
Which is to say that he majored in the little things here. Just like at dear ol' Harvard.
There are faceoffs to be won. Netminders to disturb. Opponents to be nettled. Penalties to kill off. And when the occasion allows, points to be put up.
And Malone, who took turns at center and wing during the camp, excels at each of those tasks.
"I do a lot of things that other players don't," he said. "It would be an important asset to have. The coaches [here] tell guys to be versatile and I bring that. I just [wanted] to show that there's a spot for me."
To be sure, Malone is a well-known commodity to USA Hockey.
Festival camps, a year with the USA Hockey National Team Development Program and a silver medal from the IIHF U18 championship are on his resume.
Malone has done everything asked of him. He's also played with several of the other hopefuls, from John Hayden to Jack Eichel, which put him squarely in his comfort zone in Lake Placid.
"We have chemistry there," he said. "And socially, you feel more comfortable throughout the week. That takes the nerves off and it translates to your game as well."
Malone, who was drafted in the sixth round in 2013 by his hometown Buffalo Sabres, bounded into Lake Placid buoyed by a strong showing at the Sabres' prospect development camp, held in mid-July.
He said WJC would-be's who took part in NHL summer pro camps had a leg up on those who didn't.
"There was the same amount of skill out there as there is here," he said. "Maybe guys [there] are a little stronger and stuff. But you leave there with more confidence. At Sabres camp, you go up against guys way older than you [who] are way stronger. But you come here to go against guys the same age, and you know you can compete."
Despite missing this cut, Malone could still find himself suiting up for Team USA when the team assembles again in December.
Malone and the other candidates will be continually watched with a critical eye once they begin their college or junior seasons.
"The kids who were sent home," said Osiecki, "by no means were they off [the team]. They'll definitely be looked at. There will be a lot of contact. They are definitely tremendous hockey players."
Even so, Malone feels his WJC camp experience is bound to help him as he gets ready for his second season at Harvard.
"Usually during the summer you don't skate as much," he said. "But you come here and you go hard. It gives you more confidence going into Harvard's season. I'm just looking forward to that. I also know that having a good start to the [collegiate] season helps your stock to make this team."