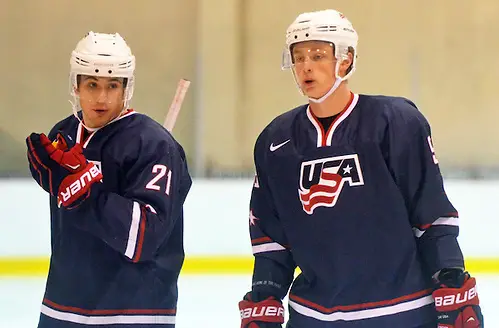 LAKE PLACID, N.Y. — Evaluation camp has ended for the 35 hopefuls trying to make USA Hockey's World Junior Championship squad.
Now it's off to college, or junior, for each of the talented U20's who would love nothing better than to help Team USA regain its golden touch.
Meanwhile, head coach Mark Osiecki and his assistants are left to sort through the myriad of impressions made during the nine-day camp, a precursor to the annual post-Christmas tournament to be staged in Toronto and Montreal.
At first blush, Osiecki said that the camp, which also included exhibition tilts against Finland, Sweden and the Czech Republic, produced a whole lot of good karma.
And that, to him, was far more important than any highlight-reel moments (and there were plenty of those, too).
"The whole key was just trying to find some chemistry," said Osiecki, the former Ohio State head coach who this year steps into the pro coaching ranks as an assistant with the AHL's Rockford IceHogs. "I think we found it. With the forward lines. I don't want to say it was a pleasant surprise, but it's a nice thing to come out of here with. That puts you ahead of the curve. That's one of the benefits of the Ann Arbor (National Team Development) Program. A lot of these kids have played together."
That cohesive strain was a strong one, particularly in the offensive end. Team USA overwhelmed its opponents by a 19-2 count during the final three tune-up tilts.
What emerged as the USA's top line, center Jack Eichel (Boston University) planted between wingers Alex Tuch (Boston College) and Tyler Motte (Michigan), piled up 12 points in a 9-1 rout of Finland.
Osiecki pointed to that unit as an example of what all that ionic bonding can produce.
"They have a very good awareness of where each other is," Osiecki said. "They do a great job communicating. On the bench they [were] always talking and sharing different thoughts with their teammates. It's a good chemistry and hopefully it's something we can build on."
Eichel, who had dozens of NHL scouts in attendance drooling over the prospect of nabbing him in next year's entry draft, came in for special praise from Osiecki.
"He'd be a lot of fun to coach for a long period of time, wouldn't he?" Osiecki said. "He's so talented. I think he's developed some leadership skills. He's a high-level skater. He'd probably be a top-10 skater in the NHL right now. His skating is effortless.
"He knows where everything is on the ice at any given point. Not only his own players, but the opponent. He has a great knack for knowing where everybody is at [and] a great feel for the game. More important, he's a great person."
Not to be overlooked was Michigan center JT Compher, who made his presence felt both on the ice and in the dressing room.
Every team needs a captain, and in Compher, who missed last year's WJC with a gimpy foot (suffered by blocking a shot, of course), Team USA may have found its.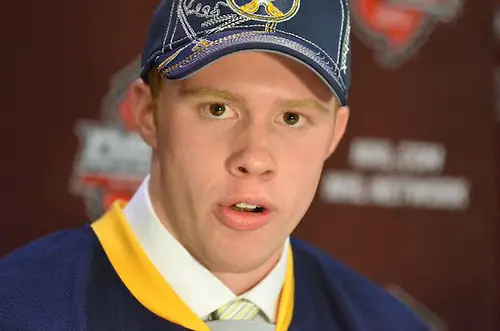 "It's a relationship we started to build right away," Osiecki said. "You're trying to build something in terms of leadership. Especially when you don't know the guys all that well. There's a great group of kids who are leaders, and JT has done a great job of stepping up and communicating with them."
Although camp may be over, the process continues.
No one left Lake Placid with a WJC guarantee in his pocket.
Final roster decisions won't be made until December, after each hopeful has settled in for the regular season.
"It's in their hands now," said Osiecki. "These guys have to go back to their clubs and find a way to get a little bit better."