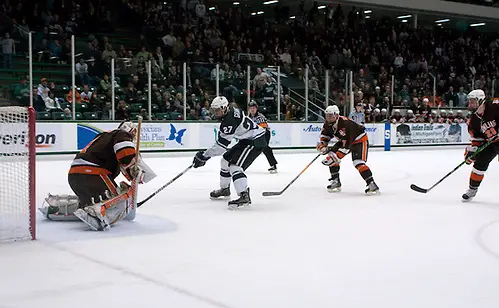 Michigan State's Munn Ice Arena will undergo enhancements over the coming year with several of the upgrades taking place over the course of the upcoming season as the opening phase of a complete building renovation.
"As Munn Ice Arena approaches on its 40th anniversary, we're excited to announce the upcoming improvements that will significantly enhance both the fan and student-athlete experience immediately," MSU director of athletics Mark Hollis said in a statement. "Our goal is for Munn Ice Arena to represent a tribute to Michigan State's rich hockey past and a commitment its future."
"These initial upgrades demonstrate yet another example of the commitment to Spartan hockey by our athletics department, alums and supporters," added Spartans' head coach Tom Anastos. "The immediate enhancements are part of a broader plan for Munn Ice Arena that will ensure it continues to be one of the marquee college hockey venues in the country. It's an exciting time for everyone involved with Spartan hockey."
This initial phase of building enhancements, made possible through private support, will begin immediately and will be implemented over the next 12 months. The upgrades include theatrical lighting, new high-definition video boards, LED ribbon boards, chairback seating, new concourse décor and dressing room décor
The building has undergone various improvements over the past two years including this past spring where the building's HVAC systems, ice surface, dasher boards and glass were all completely replaced at the cost of over $6 million. Prior to the start of the 2013-14 season, energy-efficient LED lighting was installed for approximately $575,000.