With last year's introduction of the Mike Richter Award, which recognizes the outstanding goaltender in the nation at the Division I level, the spotlight was cast upon many worthy candidates.
The inaugural winner, Connor Hellebuyck from Massachusetts-Lowell, has moved on to the Winnipeg Jets organization following his sophomore season but there are plenty of great puck stoppers from last year's nominee list that are gearing up for a great 2014-15 campaign.
Here are 10 goalies to watch this season, listed in alphabetical order:
Thatcher Demko, Boston College sophomore
As a freshman, Demko posted solid numbers in 24 games for the Eagles. He had two shutouts while going 16-5-3 with a .919 save percentage and 2.24 GAA.
With the departure of the offensive juggernaut that was the Bill Arnold-Johnny Gaudreau-Kevin Hayes line, the defensive group and Demko will be looked to tighten things up even more for Jerry York's Eagles.
"Thatcher understands how big of a season this will be for him," assistant coach Mike Ayers said. "With a different looking squad this year, he knows that our defense will be a big key to BC's success. We expect Thatcher to be the anchor of that defense. He has worked extremely hard this offseason and I am looking forward to seeing what he can do here in his second season."
Jon Gillies, Providence junior
The returning junior has turned down the opportunity to go pro in the Calgary Flames organization and returns to a team poised to make a run at the Hockey East and national titles.
Last season, Gillies played 34 games for the Friars, posting four shutouts while going 19-9-5. He recorded an impressive .931 save percentage and tidy 2.16 GAA.
Already picked as a preseason all-conference selection, Gillies will try to help his team meet the expectations of both the coaches and media polls, which had the Friars first in Hockey East.
"We are very happy to have Jon," coach Nate Leaman said. "I don't know how many goalies are in your top 10 from Hockey East but this conference has been known for some pretty good goaltending. You really can't compete in this league if you don't have solid goaltending. When Jon is on top of his game he is one of the best out there."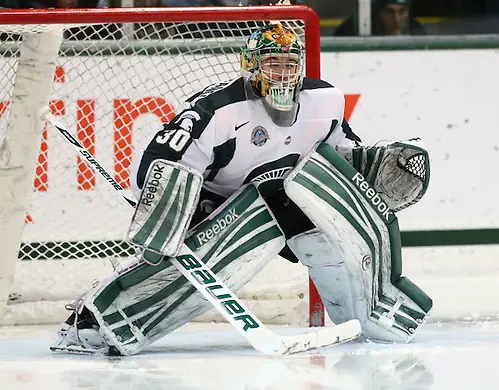 Jake Hildebrand, Michigan State junior
In what has to be looked at as a rebuilding year, Hildebrand was a bright spot for the Spartans last season. His 32 games played included one shutout and an overall record of just 9-15-7.
The key stats of save percentage (.923) and GAA (2.44) were solid, so there are high expectations for the junior this season. Hildebrand was picked as a player to watch this season in the Big Ten.
"We really expect big things from Jake this season," said coach Tom Anastos. "We were very young last season and really had trouble scoring goals. We skated seven or eight freshmen every night last season. Jake battled and kept us in some hockey games, and I expect that to continue on this year's team which will largely be made up of sophomores and juniors.
"Our league is very good with some top goaltenders among the other teams but I really like Jake's competitiveness. Just to see him in practice battle for each and every puck really displays his commitment to getting better and leading by example. He is a quiet leader for us and I strongly believe that he will be at the top against all the other goalies in the conference."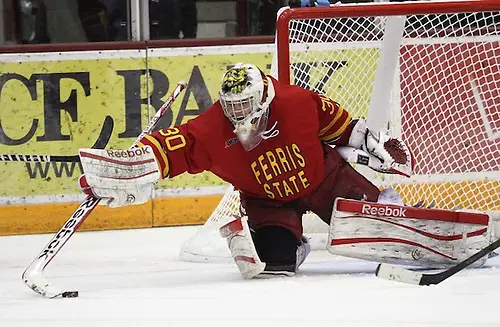 CJ Motte, Ferris State senior
Motte has demonstrated he is a key factor in Ferris State's continued success. He finished last season with a 28-9-3 record that included five shutouts. He posted a .928 save percentage and GAA of 2.17.
For his career, Motte has already played in 87 games and posted 2,396 saves. This year likely will find him surpassing the 100-games-played and 3,000-save plateaus for Ferris State.
"The strength of our team coming into the year will be our back end, and CJ plays a large part in that," said coach Bob Daniels. "He's a two-year starter and we're in good hands with him in net. He means an awful lot to our team and I'd venture to guess that he's probably as good of a goaltender as there is in the nation coming into the year."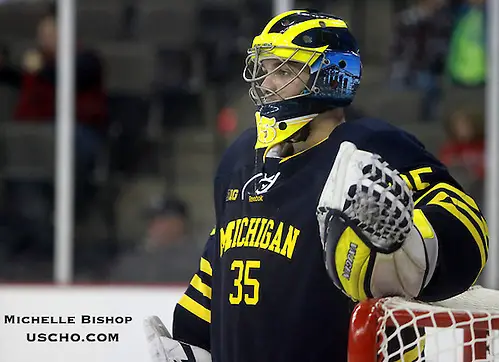 Zach Nagelvoort, Michigan sophomore
Last season, Nagelvoort emerged as the No. 1 goaltender for Red Berenson's Wolverines. He played 24 games as a freshman with one shutout and an overall record of 11-9-3. He posted a .929 save percentage and a solid 2.20 GAA in the inaugural Big Ten season.
"I really like the kid and the goalie," Berenson said. "Last year, Zach wasn't our starting goalie and stepped up when our starter went down to injury very early in the season. He was really a bit of an unknown when he came here after bouncing around all over the country through major midgets and juniors.
"He had a pretty good season last year but the expectations are higher especially after being drafted this past summer by Edmonton. I talked to Zach and told him when you aren't a first-round draft pick you have something to prove. Then again, when you are a first-round draft pick you also have something to prove. We are looking to Zach as well as the rest of the team to take the next step forward.
"We open against another top team and goaltender at Ferris State on Saturday night," Berenson said. "It will be a great test for our players right at the start of the season."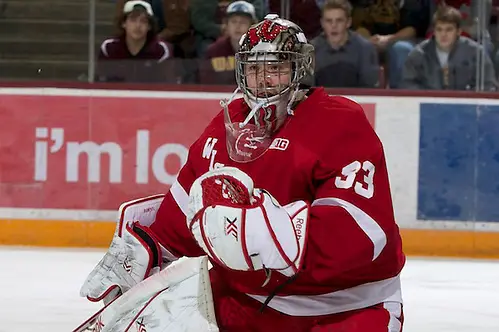 Joel Rumpel, Wisconsin senior
The big Badgers netminder played in 29 games last season, posting a 21-6-1 record and two shutouts. His .929 save percentage was among the leaders in the nation and a 2.07 GAA had Wisconsin competing to win every night.
Also named as a player to watch in the Big Ten, Rumpel has been the hallmark of consistency for Mike Eaves' Badgers as evidenced by his career 2.16 GAA and .926 save percentage.
"With his experience and what he's seen over the last three years here, we're going to have to have him be good to very good to excellent some nights because we're going to have a bunch of young kids out there," Wisconsin coach Mike Eaves said. "But having him there, our hope is that it will settle us down, pause us and give us time to grow and learn from our mistakes. With 11 freshmen, I'm glad we have seniors in that position because that should buy us some time."
Jimmy Sarjeant, Mercyhurst senior
A workhorse for Rick Gotkin's Lakers, Sarjeant played all but one game last season for Mercyhurst. His 18-5-6 record included one shutout and a solid .930 save percentage.
A 2.46 GAA helped keep the Lakers in every game, and Sarjeant will be looked upon to carry the load again this season. The Lakers were picked to finish first in Atlantic Hockey in a preseason poll, so Sarjeant and company will be carrying the extra burden of the spotlight being on them from the first drop of the puck this season.
Colin Stevens, Union senior
Stevens will be without key blueliners Mat Bodie and Shayne Gostisbehere this season after Union's first national championship last April.
Stevens' numbers were a big reason why Union skated off with the title. In 36 games, he recorded five shutouts while going 28-4-2. He posted an incredible 1.91 GAA and equally robust .932 save percentage for the Dutchmen.
Despite last year's results, Union was not picked in the top three places in the ECAC Hockey preseason poll — something the senior netminder and his teammates may have something to say about once the season starts.
"We're looking for Colin to have the same consistency as last year, keeping games close and giving us a chance to compete every night," coach Rick Bennett said. "Our approach this season is that we're not trying to defend anything. We're going out there just like the other 58 teams. We're going to play like we don't have the [national championship] trophy and that's the mind-set we've had the last three years together. We want to stay hungry."
Adam Wilcox, Minnesota junior
There was no question about who would be between the pipes for the Gophers last season, and Wilcox backstopped the team to the national championship game.
He played in 38 games with a 26-6-6 record and four shutouts. He had a 1.97 GAA and .932 save percentage. Whether you are talking about conference play, overall records or career numbers, Wilcox has a GAA under 2.00, which means he has kept the Gophers in a position to win every night.
Clay Witt, Northeastern senior
Witt returns to the Huskies as a redshirt senior looking to augment his breakout season last year, when he recorded four shutouts on the way to a 17-12-3 record. He had an impressive .932 save percentage and 2.37 GAA.
Witt played 32 of his 48 career collegiate games last season for Northeastern, and his conference numbers were better than his overall record last season.
"With Clay Witt returning, having come off a very good year, our expectations are high," Northeastern coach Jim Madigan said. "He's a student-athlete who works very hard, both on ice and off-ice, and his mental and physical preparations are second to none.
"I fully expect him to add on to where he left off last season, to be one of our leaders, and be that strong force between the pipes to give our team the confidence that we need each game to go out there and win.
"He's driven, he's dedicated, and he knows that last year wasn't the way we wanted to end the season. He had a tremendous year, but he knows that there's more opportunity for improvement in his game to take it to the next level. I fully expect him to be one of the best goalies in the East and make a run to be one of the best goalies in college hockey this year."